It's very easy to use the Alexa app and voice assistant to turn lights on and off with simple commands. To connect any smart lightbulb to Alexa, follow the guide below. It only requires a common Wi-Fi network for initial setup and supported Alexa apps installed on Android/iOS smartphones and tablets.
1. Locate Your Smart Light Device in Alexa App
The Amazon Alexa ecosystem is compatible with a wide range of smart lightbulbs, LEDs and fluorescent tubes. First you need to identify and locate your own smart light device in the Alexa app.
We are using Philips WiZ A60 smart Wi-Fi lightbulb for this demo. It's an affordable bulb running on Alexa and Google Assistant. You can find different variations of WiZ A60 on your local Amazon website.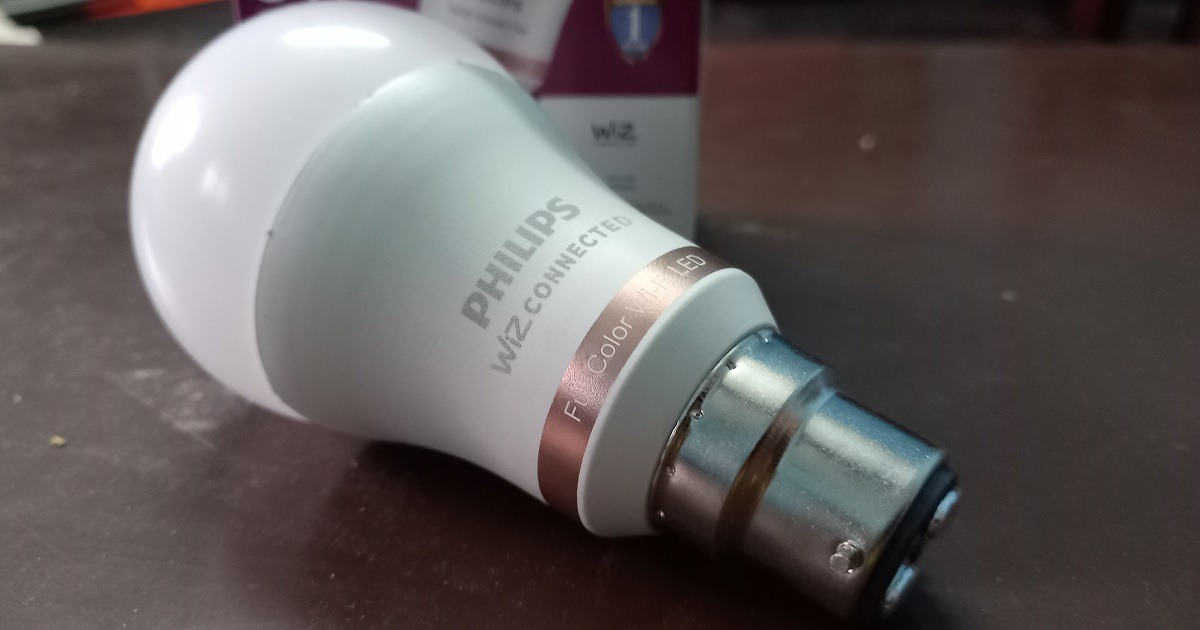 Before purchasing any smart home device, don't forget to check for a "Works with Alexa" symbol next to the product. Apart from Philips WiZ, you may go for Philips Hue, Sengled, Syska, GE, TP-Lighting, YEELIGHT, Lutron, and many other brands.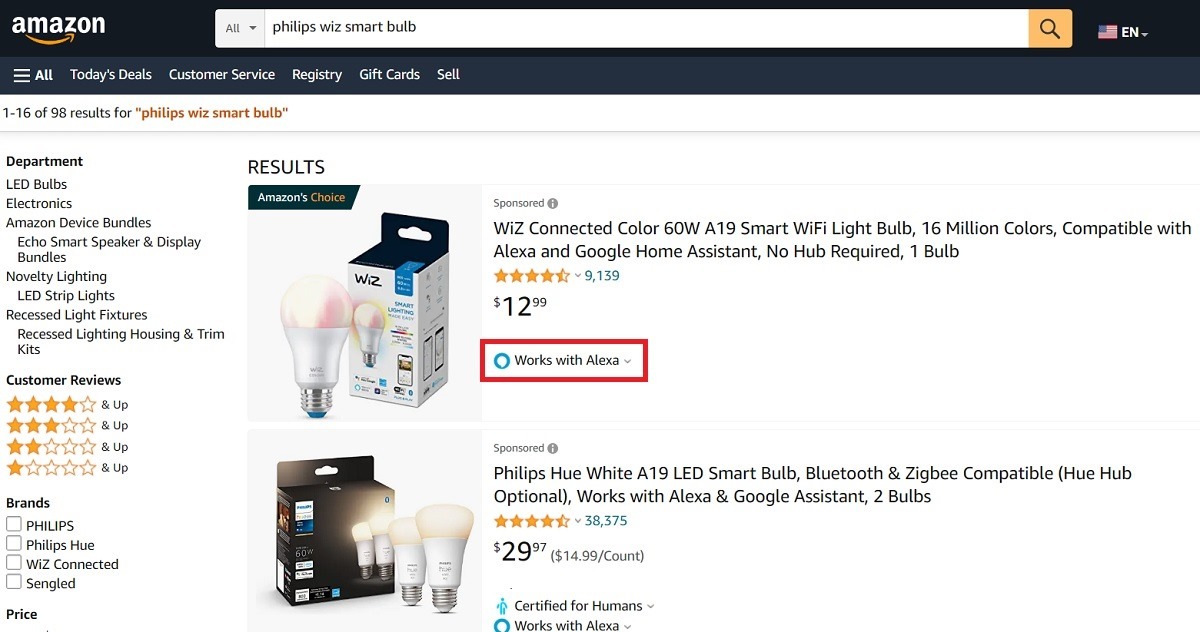 To locate your particular smart light in Alexa app:
Head over to your Echo device installed in the Alexa app from "More -> Settings -> Device Settings."
Click a prominent "+" button on top to add new devices to your network.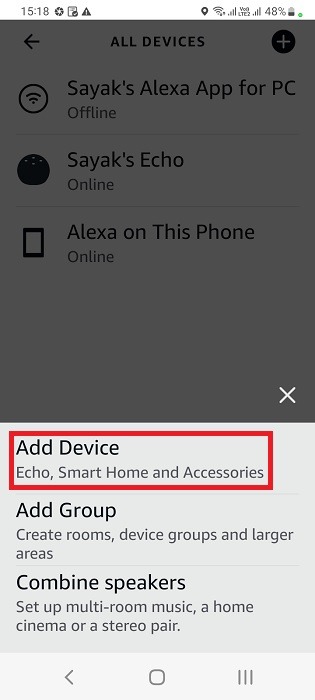 When it asks, "which device would you like to set up?" click "Light" to go to the next screen. You may also click one of the popular brands on the dashboard or use the search button.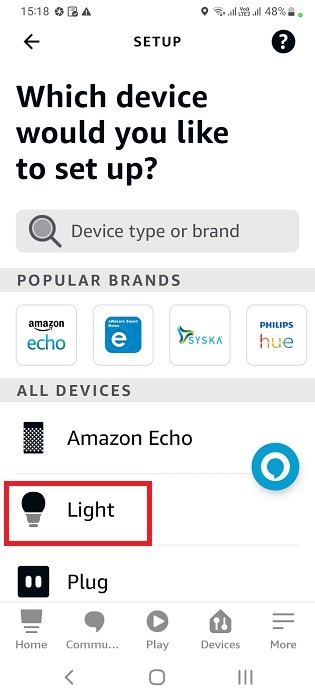 Choose your desired light brand from the dropdown menu. We have chosen "WiZ" in the following example.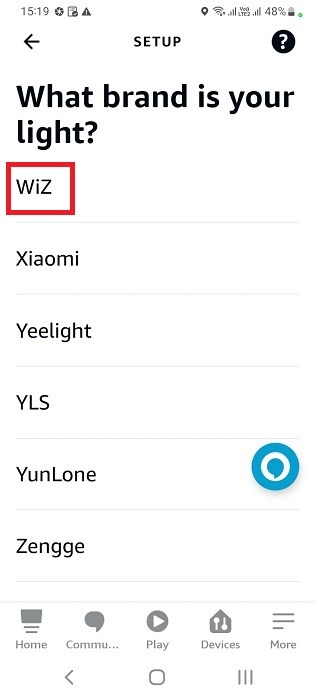 2. Set Up an Alexa-Recommended Companion App for Smart Lighting
Most smart home products have their own apps that support integration with Alexa using Zigbee, Wi-Fi, Bluetooth, and other protocols. These are the "companion apps." Without these, it is not possible to establish a device pairing. Here we will demonstrate how to set up WiZ Light as a companion app for the Alexa-compatible lightbulb.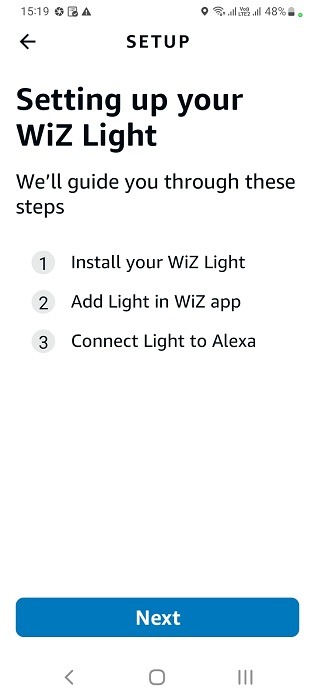 Check if the companion app has a term of use agreement and click "I acknowledge" to proceed.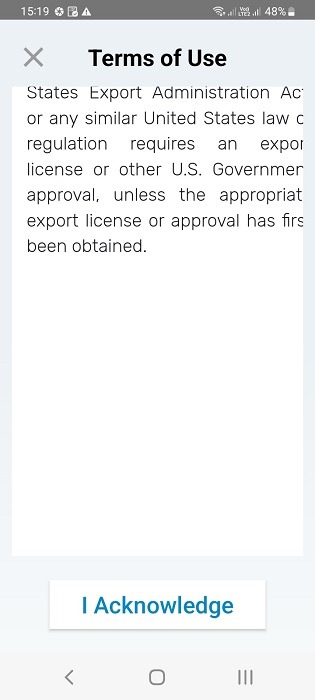 You will either be asked to create a new user account, or you may directly set up device connections using an option such as "create a home."
Give a name to your smart home.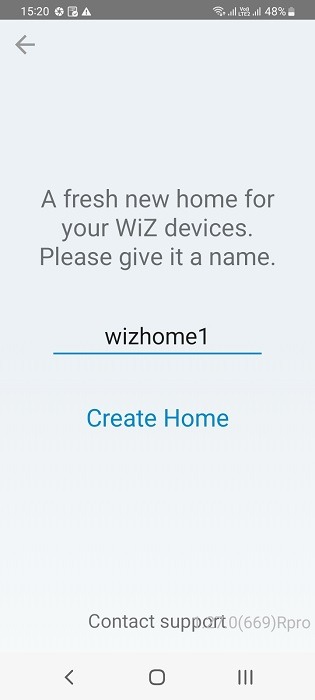 The WiZ Connect app requires setting a room name, such as Bedroom.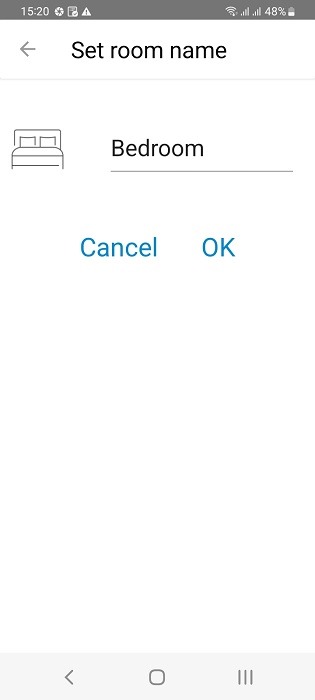 At some point, you will be asked to add a device in your companion app. Click the relevant option.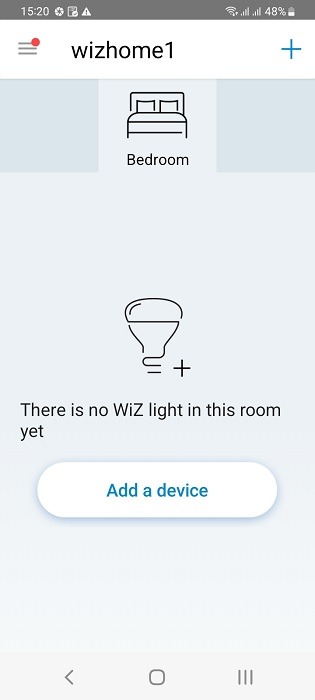 If asked the type of device to install, select "light" as applicable.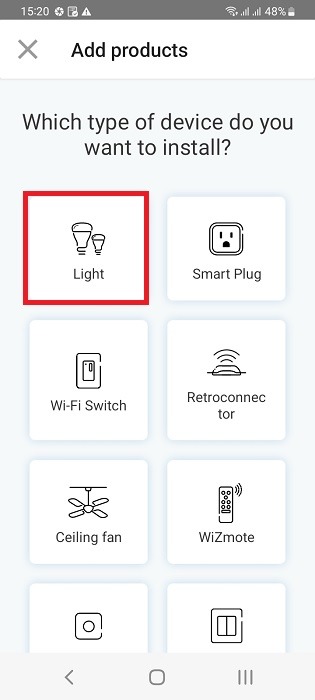 To establish a pairing between your physical device and the companion app, you may require precise GPS coordinates. So, turn on your smartphone's location.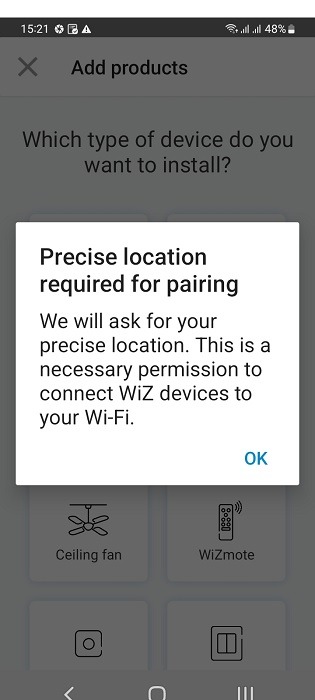 In some cases, the pairing requires Bluetooth to be turned on in your smartphone/tablet.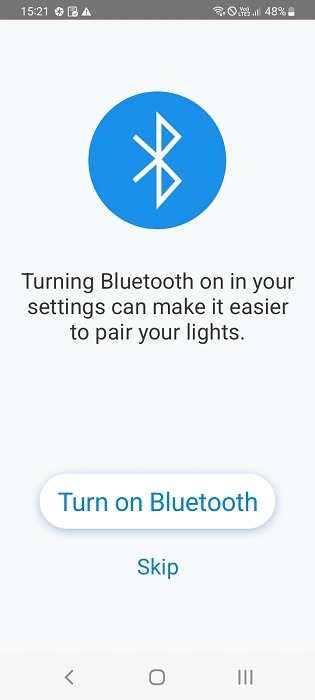 The initial pairing happens over a common Wi-Fi network. You will have to enter the SSID and password for the Wi-Fi network you are using. This can be changed later.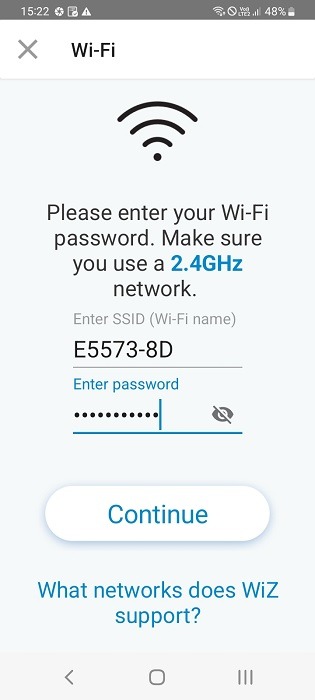 You can either have a manual pairing between the device and the app, or a smart pairing which connects as many devices as are present. Here, we have chosen a smart pairing.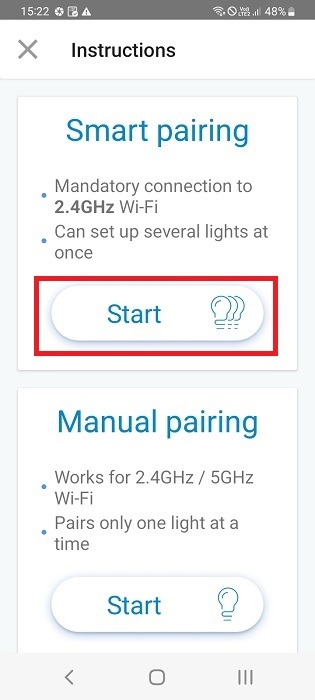 Wait a few seconds or minutes for the pairing to establish between the companion app and your smart bulb.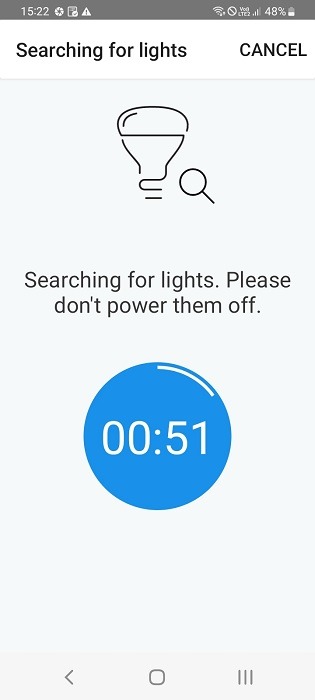 The app will search for as many devices as are available to finish pairing all of them.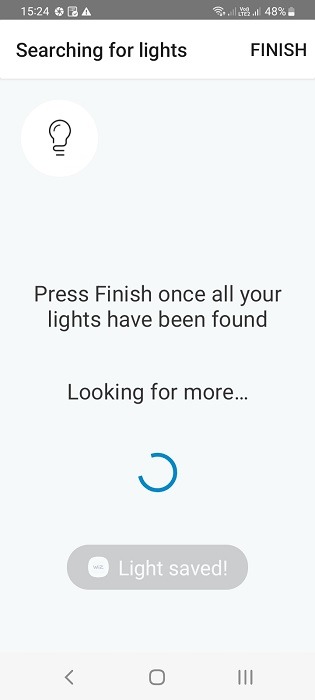 The following screen demonstrates WiZ Connect app connected to a Philip WiZ A60 smart bulb. You can change the luminosities using a slider scale, set up scenes in the app, and operate everything from it.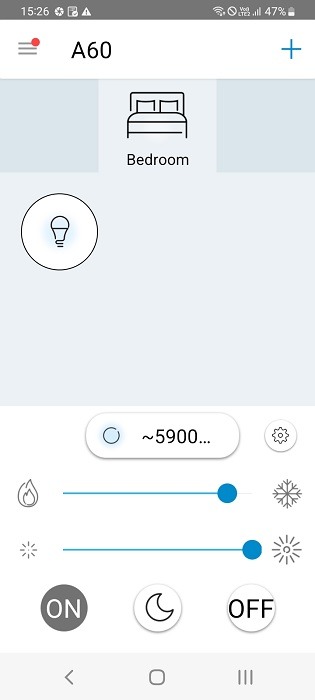 However, to realize the full potential of your purchased smart bulb, don't forget to integrate it with Alexa.
3. Pair Alexa with Companion App to Enable Smart Lighting
To turn on lights with Alexa, you will need to pair Alexa app with the installed companion app.
After installing the smart bulb in companion app, you will find the companion app available as an Alexa "skill." Click Next to proceed.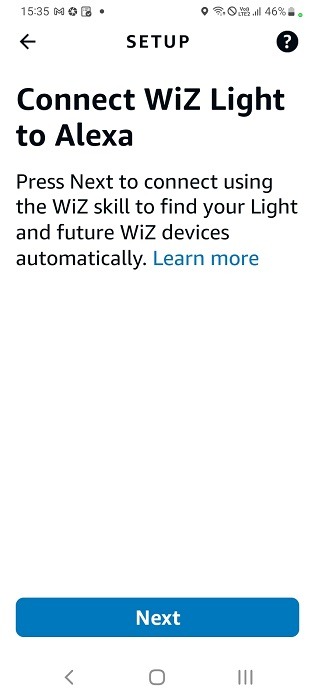 Once directed to the right Alexa skill for the smart bulbs, click "Enable to use."
The following shows the skill for WiZ Smart Home in Alexa app.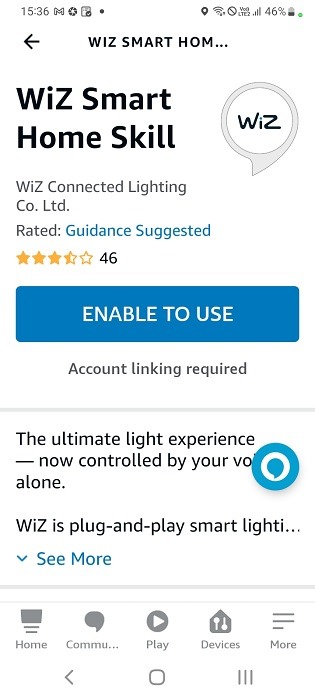 You will have to click "Agree" to link your companion app account to your Amazon Alexa account.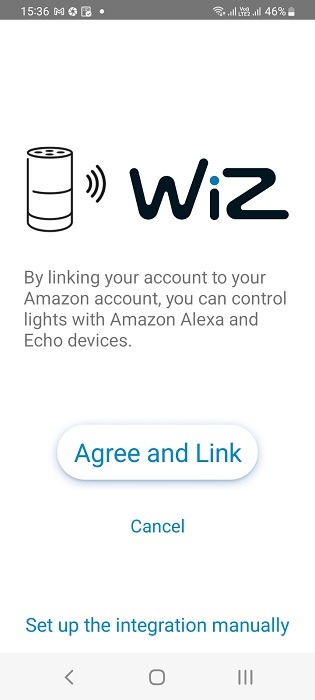 Once you enable the smart skill for the companion app, you can control any devices it features directly from the Alexa app or voice assistant.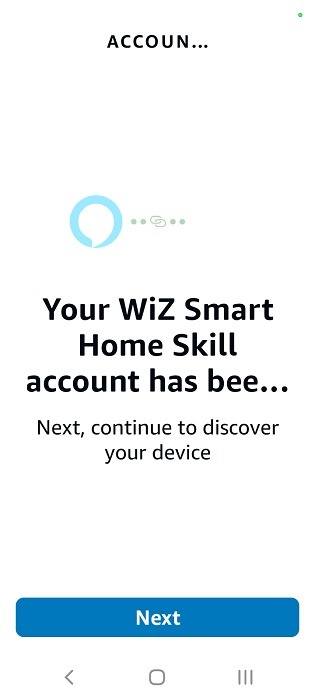 Alexa will be searching your home for other compatible devices to connect.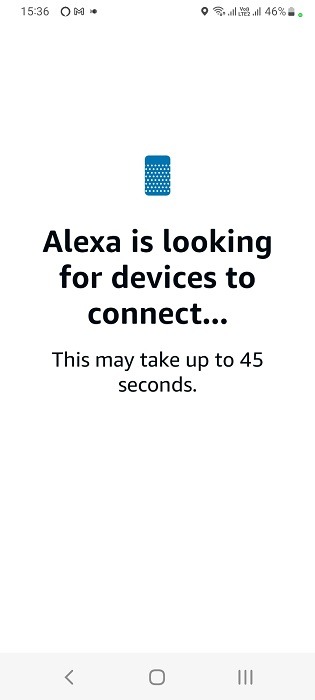 After Alexa has found a number of devices and scenes to integrate into the Echo speaker, click "Next" to continue setting each one of them.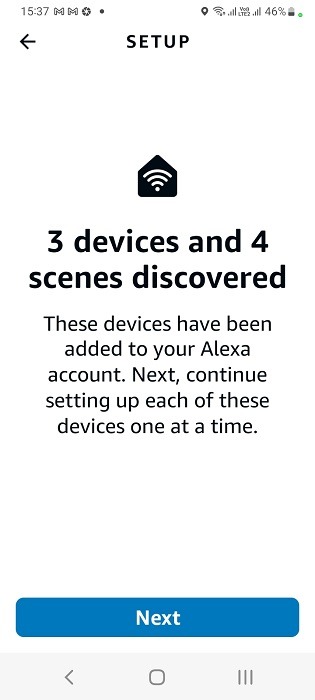 Review all the devices you are connecting to Amazon Echo speaker through the Alexa app. Click "Next" to confirm them.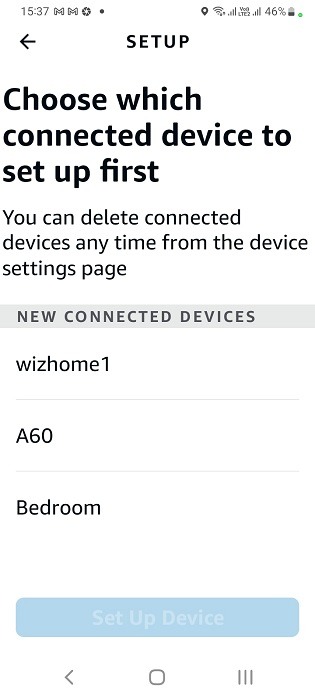 It takes a few minutes to set up all the connected devices with Alexa app and voice assistant.
Wait for a message that says, "All your devices are set up." Click "Done" once it is established.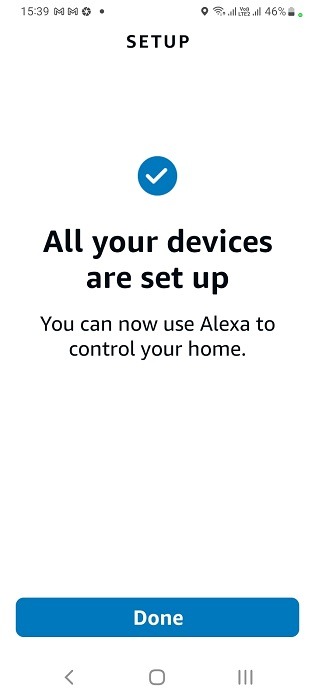 You should find your smart bulb and other connected devices in the Alexa app "All Devices" home screen.
The following shows Philips WiZ A60 smart lightbulb connected to Alexa.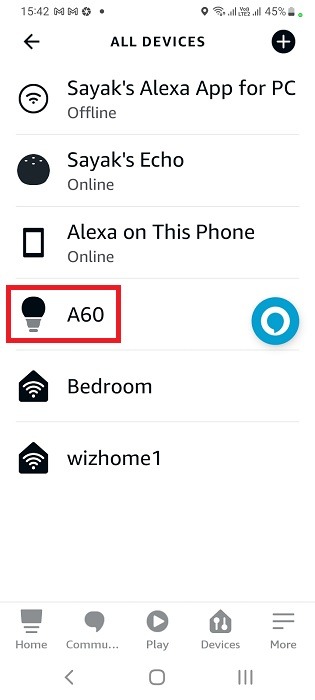 While your companion app is sufficient to control a smart light, with the Alexa app you get many more options. You can increase or decrease the brightness using a slider. You can also have a customized color or routine.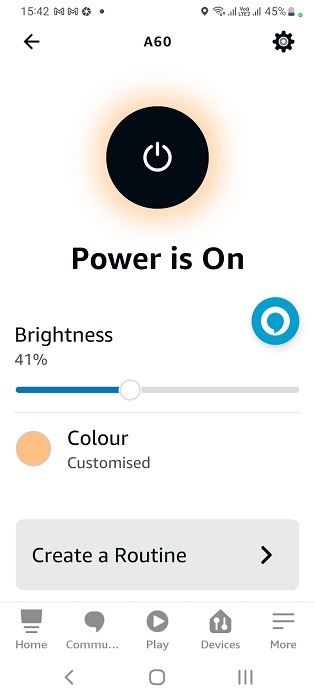 The best part of connecting a smart light to Alexa is that it supports hundreds and thousands of color combinations in its "Device color" settings.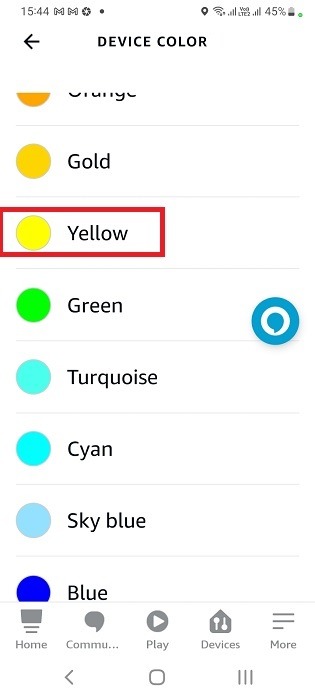 You can use Alexa on an Amazon Echo speaker to turn on or off the lights whenever you want. You can select light shades or colors as your favorites.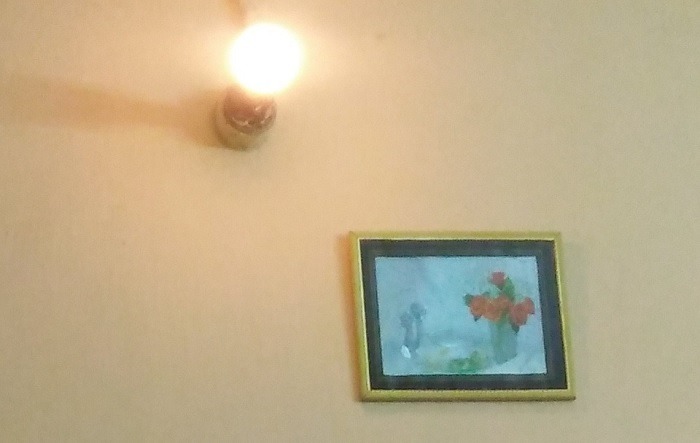 You can change colors, increase or decrease brightness, add a schedule or routine, and much more with Alexa.
Here are a few standard Alexa commands to remember in order to operate your smart lights. If you are using another wake word, use that instead.
"Alexa, turn on the lights in the *Insert room*" will turn the lights on.
"Alexa, turn off the lights in the *Insert room*" will turn the lights off.
"Alexa, change the color of the light to *Insert color* in *Insert room*" will change the light colors to all the ones supported on the device. If you want a study ambiance, white lights work best. If you want something more relaxing or upbeat, try crimson or pink. If it's late at night and you need to fall asleep, blue lights are the best to have.
"Alexa, increase/decrease the brightness of the bulb in *Insert room*" will brighten or dim the lights as per your mood.
Learn to play some music on YouTube, Spotify, Amazon Prime Video or an online radio station while the mood lighting is set at an optimal brightness.
Frequently Asked Questions
Why is Alexa not turning on lights?
Alexa may fail to turn on lights if the "lights" option in Alexa's "Devices" is turned off, the power supply connected to the Alexa Echo speaker is off, there are some problems with the Wi-Fi source. If you haven't set the skills and scenes correctly on the Alexa or companion apps, you may notice another problem with Alexa saying: "I don't know how to set light to that setting." In the last case, it's just a matter of trial and error. You need to give it a few days for Alexa to get used to the scenes you created.
Can Alexa turn on lights away from home
Yes, your Alexa app can turn on/off lights away from your home provided the light's power supply is switched on, and the Amazon Echo speaker is connected online to a reliable Internet source. You can therefore schedule the lights to work automatically from another location. Your smartphone does not need to be connected to the original Wi-Fi source used during the setup.
Do I need a hub to use smart lights with Alexa?
If the smart lights suggest "Works with Alexa" in their product description, they don't require a hub. Amazon Echo speakers provide the back-end integration for such a connection.
Can Alexa control multiple smart lights?
Yes, Alexa has a feature called "Alexa Groups" to help connect multiple smart lights at once.
How do I reset my Alexa lights after a power outage?
Dealing with a power outage is the biggest disadvantage of a smart home. If you face this issue, disconnect the cables for Amazon Echo speakers. After the power returns, turn it back on. You can restore your saved light settings from Alexa app.
Image credit: Ricardo Annandale at Unsplash. All screenshots by Sayak Boral.
Subscribe to our newsletter!
Get the best of IoT Tech Trends delivered right to your inbox!