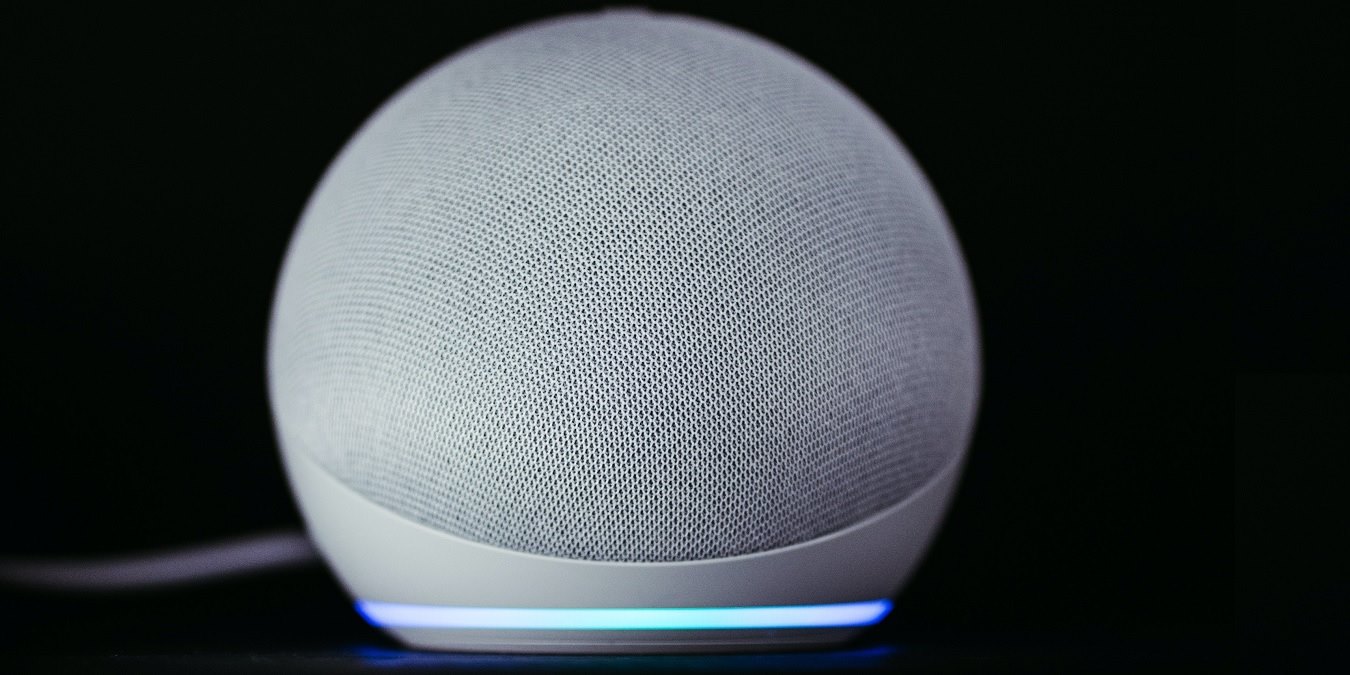 A cyan spotlight on a blue ring universally means that Alexa is processing a voice command through its Echo range of speakers. That's not always the case though. When Alexa's blue light keeps spinning continuously, it can indicate many different statuses from speaker problems to an ongoing update. We have identified the top main reasons behind the continuously spinning blue lights, along with appropriate solutions to put Alexa back in listening mode.
Reason #1: Alexa is Taking Too Much Time to Start Up
Solution: Unplug the Echo Speaker and Restart
There are many different shades of blue available with an Echo/Echo Dot/Show speaker, and only one of them refers to its prominent listening mode. Instead of the rapidly moving cyan-blue colors, you may otherwise see a slowly spinning teal and blue combination after your device is plugged in. These colors would, therefore, indicate that the Echo device is starting to get ready.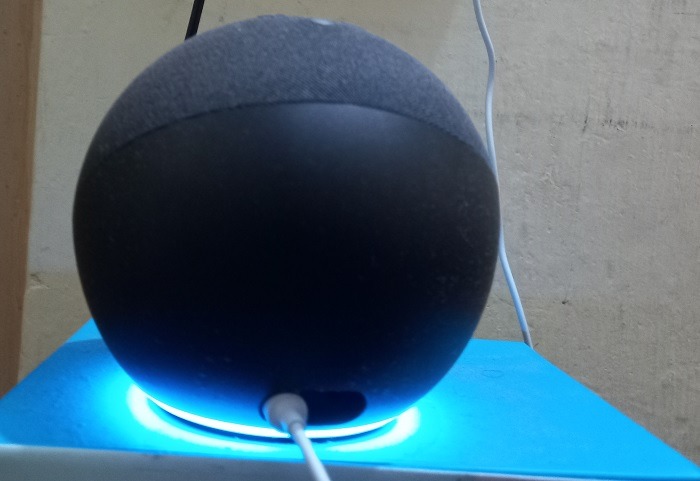 Occasionally, the Echo speaker is stuck in a start loop that extends well beyond a normal duration of 20-30 seconds. In most cases, the problem due to continuous blue lights should resolve automatically after a few minutes. But if you think you've waited too long, simply unplug the speaker and let it rest for an hour or two. Once you plug it back in, the rapid blue lights should be blinking in no time.
Reason #2: Ongoing Firmware Updates
Solution: Wait for the Updates to Finish
A briefly glimmering blue light means a firmware update is going on inside the Echo speaker. It looks slightly different from the more common cyan-blue lights which are visible while the speaker is in listening mode. The concentric blue ring appears somewhat faded, and the spotlight isn't very bright either.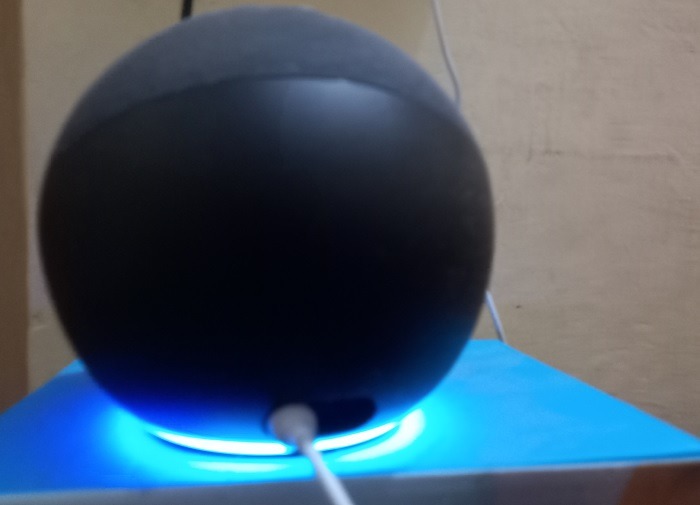 As with any other device, you should wait for such updates to finish on your Echo/Echo Dot/Echo Show. It should be noted that Echo speakers also have an intermediate orange light indicating a Wi-Fi connection setup right before you get the update blue lights. Since most Alexa updates occur in the background, you wouldn't even notice these lights. But when you do, avoid using Alexa speaker.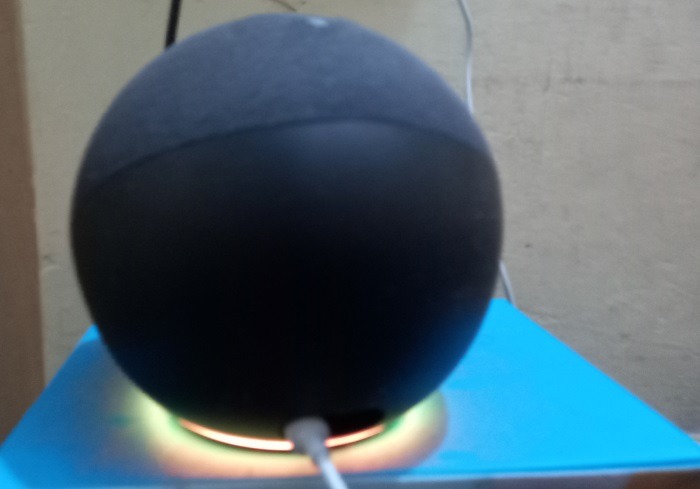 Alexa doesn't have to inform you whenever an update is going on, so if its blue lights are spinning continuously, you can ask:
"Alexa, do you have any ongoing software updates?"
To this, it may respond:
"this device is up to date," or
"one moment while I check. There is an update for this device. It will take about XX minutes to install and I won't be available during this time. Should I continue?"
After you give your consent with a "yes," the update setup starts, and you will receive a notification when the Echo device is ready.
Reason #3: Alexa is in Do Not Disturb Mode
Solution: Turn Off Do Not Disturb Mode
Whether by accident or purpose, you may have turned Alexa's "Do not disturb" mode on which is indicated by a purple light (shown below). The purple usually follows a similar blue light. After both lights are displayed, the Echo speaker would totally fall silent, and the randomly spinning blue light should stop immediately.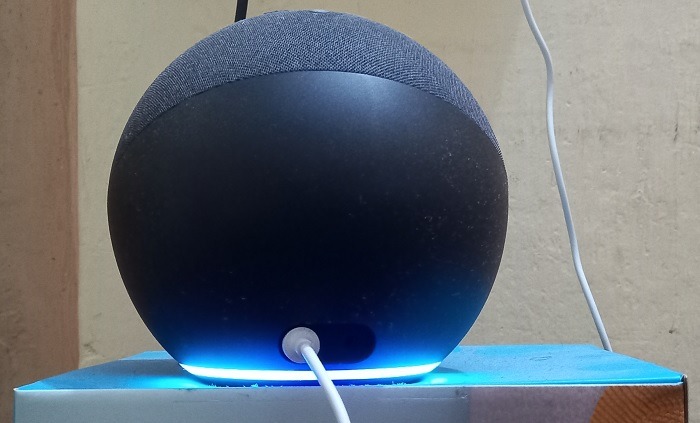 To undo the "Do not disturb" mode, you can either go to Alexa's device settings on your phone. A much easier way is to simply tell the speaker to cancel the mode, with a command like: "Alexa, turn off the Do not disturb mode." Wait a few more seconds before giving your Echo speaker a proper voice command test.
Reason #4: Problems with Wi-Fi Network
Solution: Switch Alexa to a New Wi-Fi Network
Alexa can't receive any updates if it isn't connected to a Wi-Fi network. This can cause software errors in the device which can lead to Alexa keep turning blue for no reason. First you can ask the speaker whether it has any ongoing updates. If it doesn't, and the continuously spinning blue lights do not vanish, it will be time to switch Alexa on another Wi-Fi network.
To disconnect Alexa from the network, visit the Echo device main page from "All devices," and click the settings icon.
Click "Change" next to your current Wi-Fi network.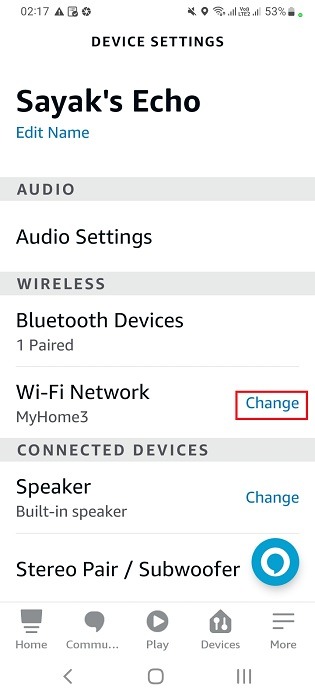 In a while, the Echo device is ready for setup. Click "Continue" to proceed with the task.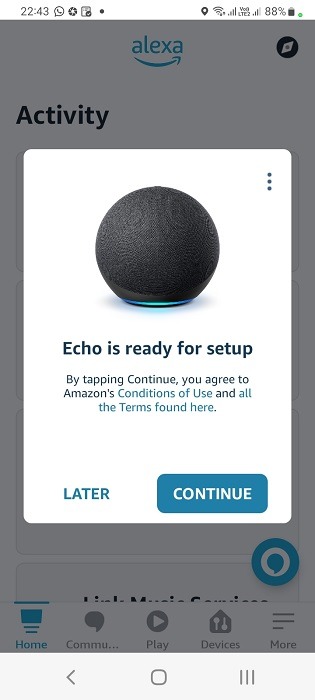 Enter your new Wi-Fi network name and password.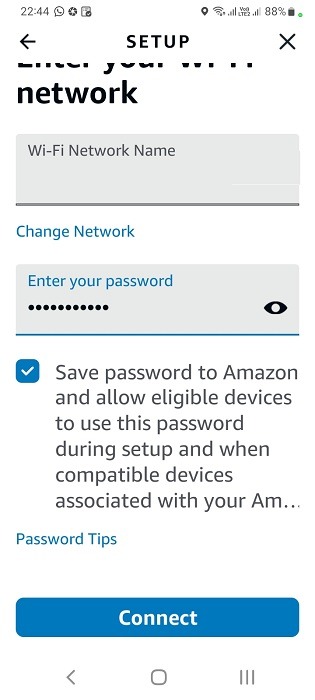 Wait a few seconds for Alexa to connect to a new Wi-Fi network.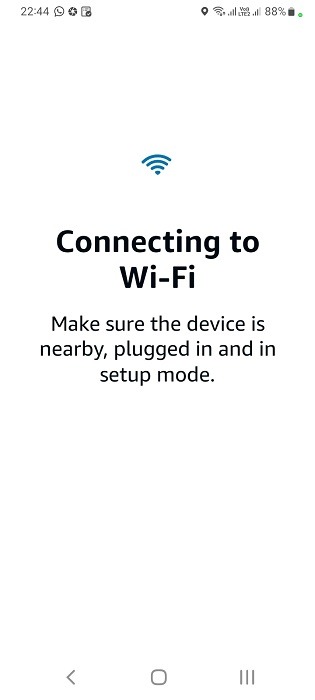 You should see a message: "Your Echo is now connected" once the Wi-Fi network has been captured by the device.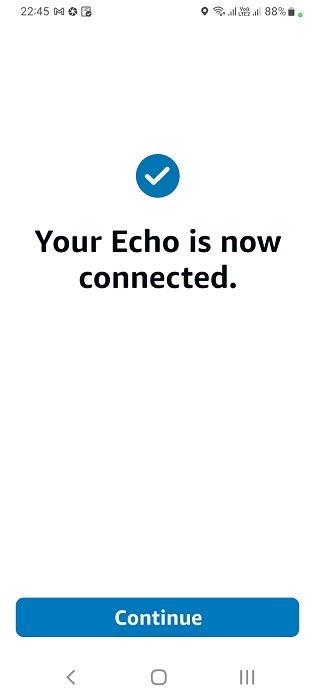 Are you having any other issues with Wi-Fi networks on your Alexa devices? We have a detailed troubleshooting guide that gives the exact solutions.
Reason #5: No Pairing Mode Available for Alexa Device
Solution: Turn On Bluetooth Pairing Mode
During an initial registration of the Echo devices, it may ask you to complete a Bluetooth pairing. If you've already done this, you should be able to use Bluetooth to have a proper connection. However, if you haven't done this, the Echo will keep spinning blue. Go to your Echo speaker from "All devices" and select its settings followed by the Bluetooth Settings. Here you can see other paired devices connected to your phone (on which Alexa app is installed.) Click "Pair a new device" to receive instructions on how to add the Echo speaker to your paired devices network.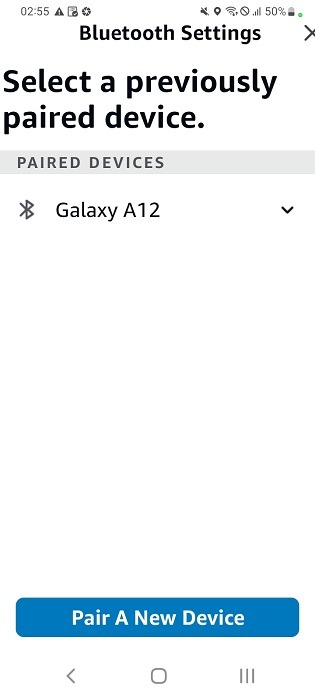 Apart from Bluetooth, Alexa's commands have many cool applications. Check out this list of secret Alexa commands for every occasion.
Reason #6- Unknown Device Errors
Solution: Do a Simple Reset
Doing a simple reset of the Alexa device is one of the best ways to deal with serious device errors. If the blue lights keep on spinning without stops, press the Action button on top of the Echo speaker, and hold it for up to 20 seconds. This would again put the light color as orange which indicates a set-up mode.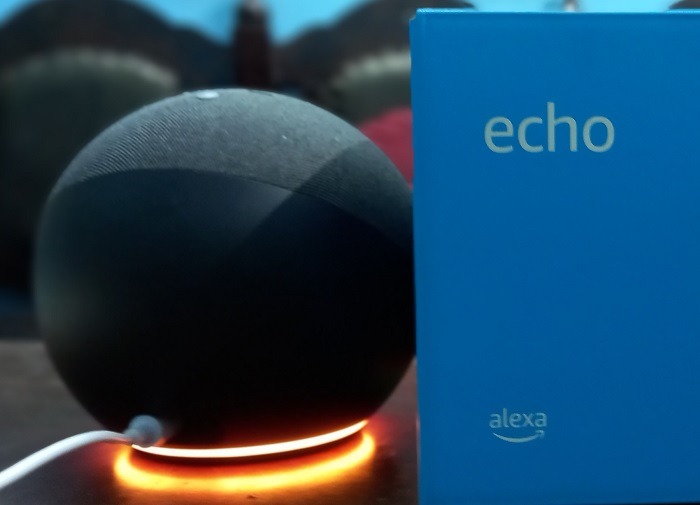 You will see bright orange lights as shown above. From here, the Alexa app will take over and give you a simple reconnection with the current Echo device. Follow the on-screen instructions to complete the reset activity. You don't have to provide voice ID and other checks again.
Reason #7 – Service Not Available
Solution: Deregister Your Alexa Speaker and Re-Register
Deregistering your Alexa speaker from your phone and adding it back later can help you get rid of any corrupt files due to faulty updates on your phone/tablet. You can easily deregister the Echo speaker from "Device settings."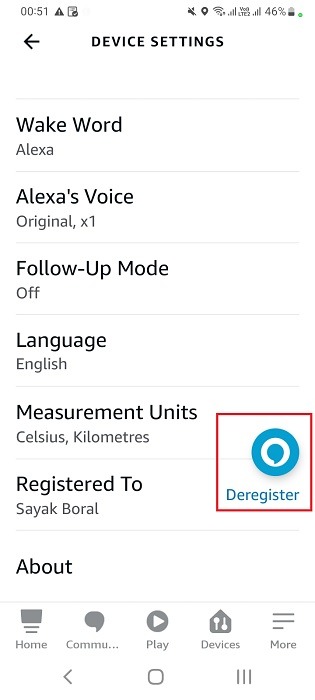 After you deregister Alexa Echo from the phone, you can add it back again after a few hours or days. This gives enough time for the updates to resolve on their own.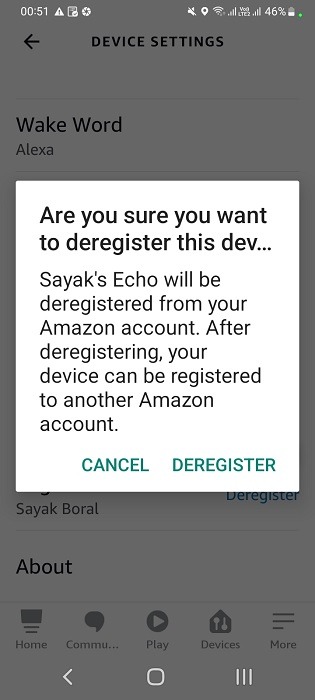 Frequently Asked Questions
Why does my Alexa keep spinning blue and green?
A pulsating green light means Alexa is receiving/handling a phone call on your device. So if it's spinning both blue and green, it means it is really stuck in a start or update issue, and also handling a phone call at the same time
Why does my Alexa keep spinning yellow?
If Alexa keeps spinning a yellow light, it means you have new messages and notifications. You can disable them from the Alexa app on Android or iOS.
Image credit: Jonathan Borba at Unsplash. All screenshots by Sayak Boral.
Subscribe to our newsletter!
Get the best of IoT Tech Trends delivered right to your inbox!