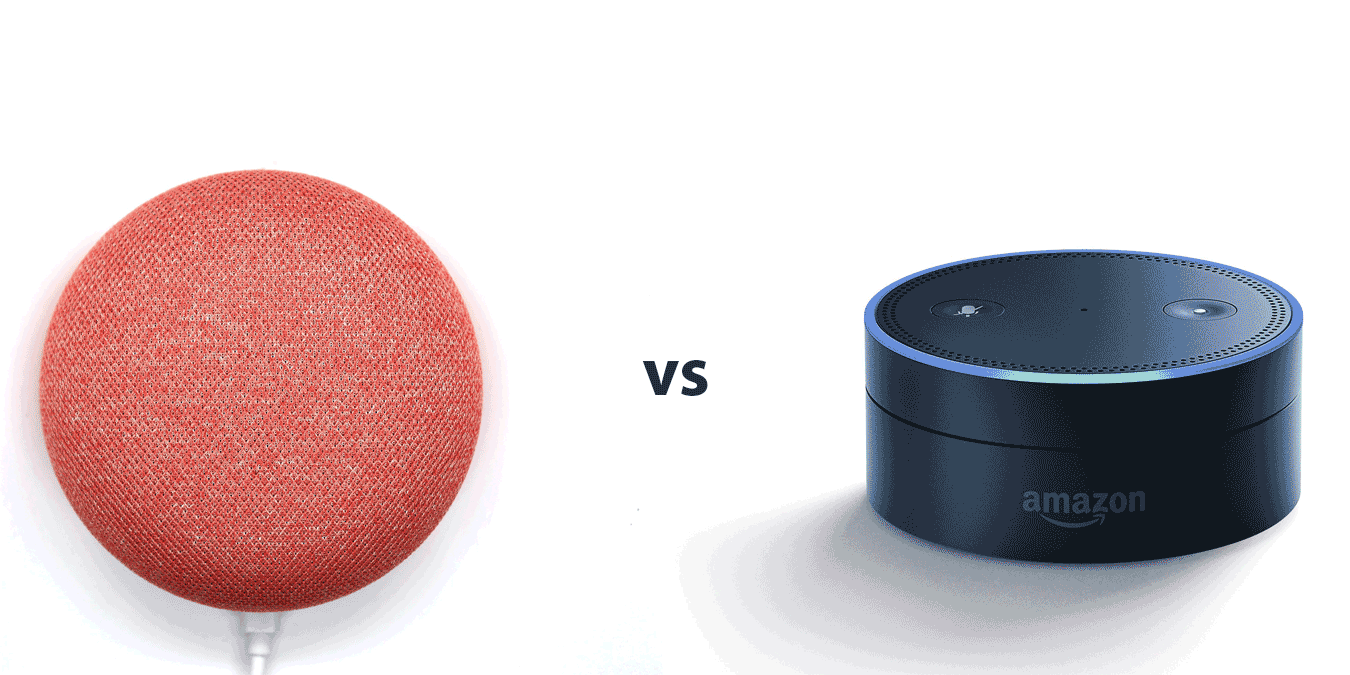 The market for virtual assistants is heating up, with every big tech manufacturer trying to get in on the act. (We're looking at you, Samsung.) Combine them with a powerful smart speaker, and you have a talking AI, capable of performing tasks, searching the Web, playing music, and making phone calls.
There are only two real contenders in the smart speaker market – Google and Amazon. We've looked at Amazon Alexa vs. Google Home to help you decide which smart speaker is the best choice for you.
Different Models and Cost
Google and Amazon have both launched a pretty similar selection of smart speaker models, in direct competition with one another.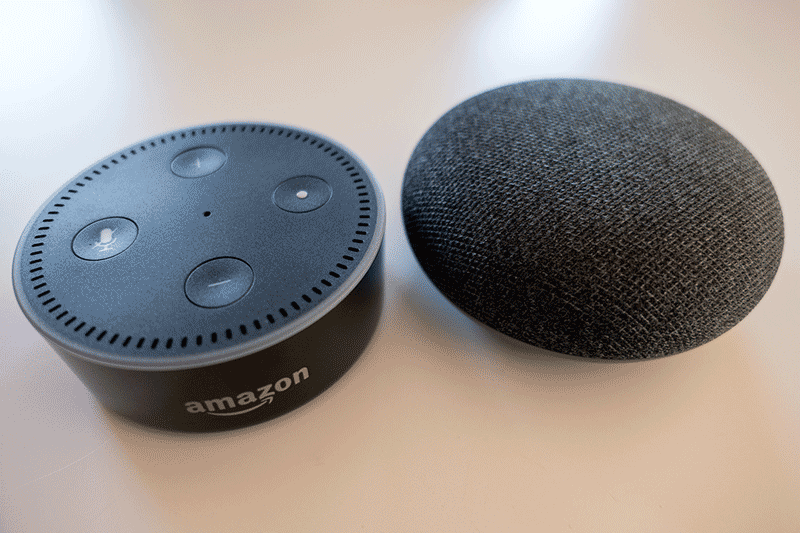 The Amazon Echo, standing at around 148mm tall, was the first smart speaker on the market and costs $99.99. It's been followed up since by the Echo Dot, a much smaller speaker for $49.99, as well as the Echo Show, a speaker with a 5.5-inch touchscreen for $89.99. There's also the Echo Plus, an Echo replacement with premium speaker quality, costing $149.99.
Amazon also offers the Echo Spot, a smaller touchscreen smart speaker in a round casing, for $129.99. In direct comparison, Google's Echo competitor is the 143mm tall Google Home and matches the Echo's pricing at $99. The Google Home Mini matches up to Google's Echo Dot, being a smaller, rounder, and cheaper alternative to the main Google Home at an equivalent $49.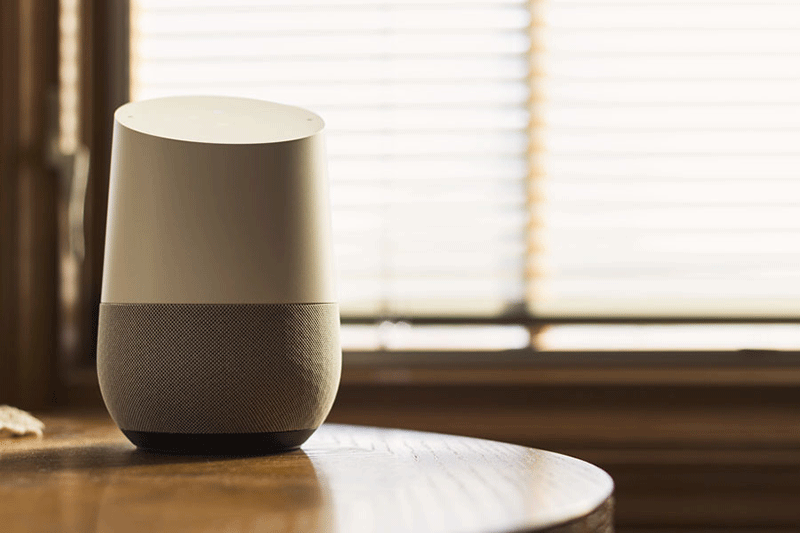 Google Home Max is, like the Echo Plus, a more premium alternative to the Home with better speakers and USB-C connectivity but costs a much higher $299. To compete with the touchscreen Echo Show and Echo Spot, Google offers the Home Nest Hub, with a larger 7-inch touchscreen (costing $129) as well as the soon-to-be-released 10-inch Nest Hub Max (costing $229).
Where Amazon leads, Google often follows with bigger screens, better speakers, and additional tech (like USB-C) included. Google's premium products, however, are a lot more expensive than their Alexa equivalents.
Features
If you've never used a smart speaker before, you might be amazed by the whole process. Ask your Alexa or Google Home device a question and it'll provide you with an answer or perform an action.
When it comes to features, you'll see a lot of crossover between the two. They'll each perform searches, play media from your favorite media services, and control your other smart devices.
Google lets you stream content to your Google Chromecast and control it, while the Echo will control your Amazon Fire TV. You can also make calls to other smart speaker owners (Alexa owners to Alexa owners, for instance). Google has taken the lead here, allowing hands-free calling for free to landlines and cell phones.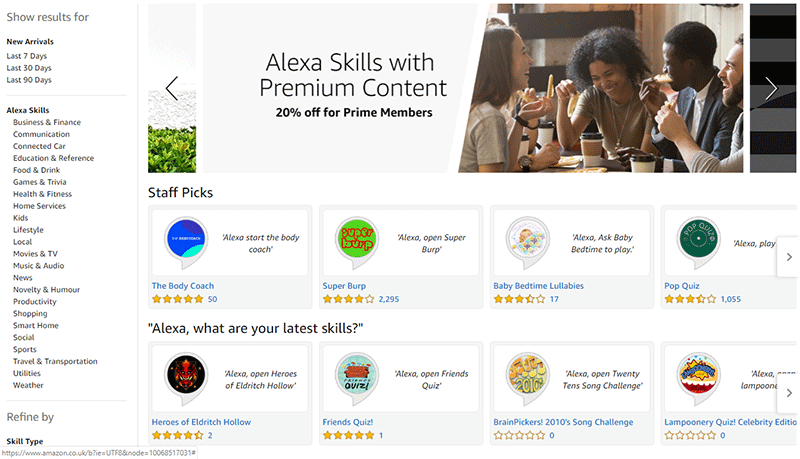 One thing to consider, however, is how easy it is to link your smart speaker to services outside the Amazon or Google ecosystem. As long as you're logged into a service like Netflix or Spotify, your Google Home will be able to speak to it and operate it.
For Alexa, you may find that you'll need to install "Skills", which act as plugins to extend its capabilities, to be able to get it to work with certain services.
Audio Quality and Media Playback
The quality of audio (whether it's the assistant responding or music playing) will depend on the model of Amazon Alexa or Google Home that you own. Alexa will play content from Amazon Prime services for TV and Music, while Google will default to YouTube and Google Play.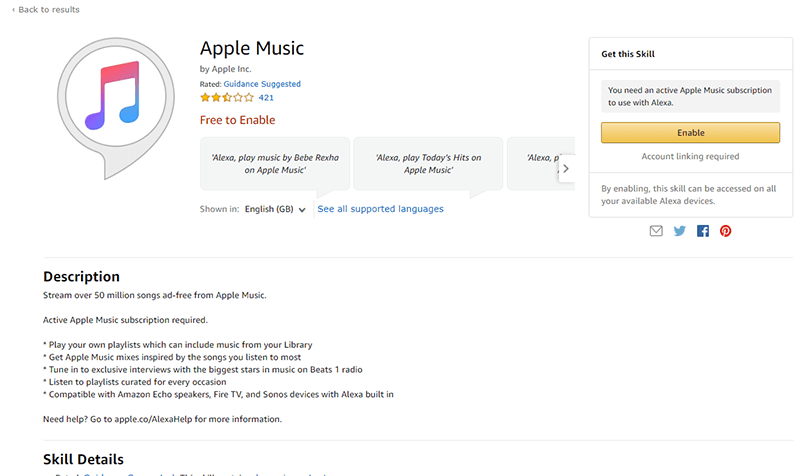 As mentioned, you can expand these with Alexa Skills (for example, if you want to play content from Apple Music). Google will allow you to play from services like Spotify if you're logged into your media account in your Google settings. The playback quality on these devices will vary, depending on your model.
Some devices, like the Dot or Home Mini, are at the cheaper end of the scale, with poorer speakers to match. While the quality may be acceptable in small environments, they won't match the premium quality of the Echo Plus and the Home Max.
If you want a little bit extra out of your audio, Amazon takes the lead here with the Echo Sub, an extra subwoofer you can combine with your Echo (available for $129.99). You can also hook your Echo or Home devices to another speaker system using the 3.5mm connection, or via Bluetooth (depending on the model).
Alexa vs. Google Home: Which Assistant Is Best?
Both Amazon and Google have tried hard to match the other with their Alexa and Google Home devices. Google Home has better support for Google tech and services, as well as the more natural conversation out of the box. You can make Alexa smarter by adding "skills" from the Alexa Skills Store, however.
If you want the smartest speaker, Google Home takes a slight lead over Alexa, but the competition between the two is pretty strong. Once you've made your decision, you can start to use the Google Assistant in IoT projects.
Image Credit: Echo Dot and Home Mini, Google Home, Echo Dot
Subscribe to our newsletter!
Get the best of IoT Tech Trends delivered right to your inbox!