Looking to do more with your Raspberry Pi? That may be one of the best factors of single-board computers: the possibilities seem endless. And those possibilities are growing. The Ready! Model 100, an SBC enclosure, is making an appearance on Kickstarter.
Ready! Model 100 SBC Enclosure
The Ready! Computer Corporation introduced its SBC enclosure on Kickstarter. The Ready! Model 100 includes a mechanical keyboard, stereo speakers, a touchscreen display, and several I/O ports. A 4×4 SBC will fit inside the enclosure, and it can be carried around via the attached guitar strap.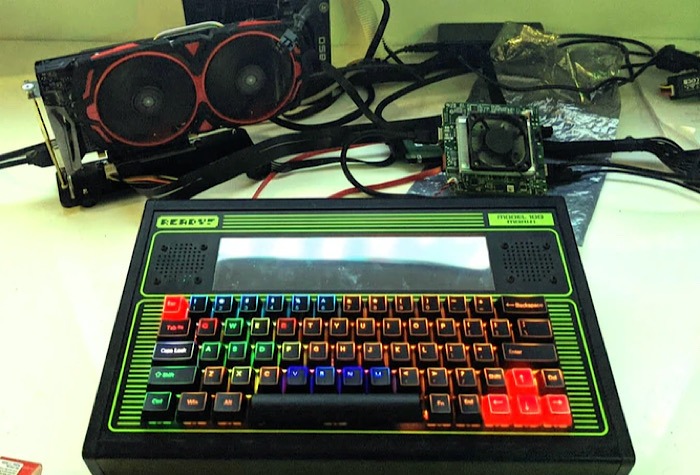 There is also a choice between Pro and Neo versions. The difference between the two lies in how much kit you get. The Neo includes everything you need to start using it, while the Pro does not include an SBC or keyboard. But you can also B.Y.O.B. (bring your own board!) to the NEO or go all out and get a 4×4 Ryzen board, 16GB of RAM, and a 512GB SSD.
The enclosure has many possibilities. Perhaps even more important is that it's so configurable that it will never be out of date. You can just reconfigure it to meet your changing needs. Jesse Lafleur, Ready! Model 100 creator, noted he was tired of throwing his "planned-obsolescent technology" away.
The Ready! Model 100 can be used as a computer or in addition to your existing computer or mobile device. Lafleur considers his product to be a cross between a DIY kit and a laptop. He explained that "there was no system out there that empowered people to create something that met their specific needs."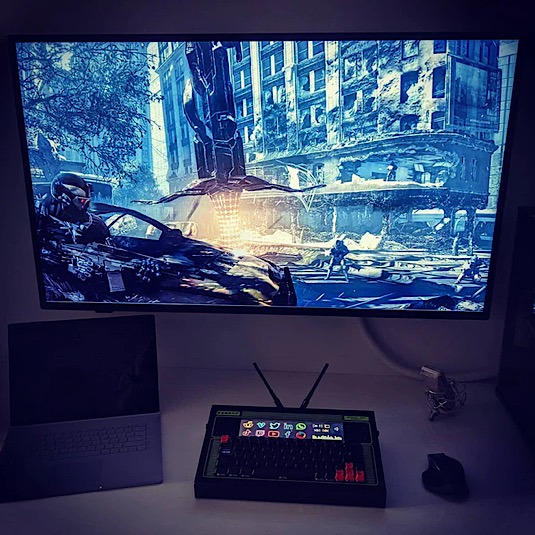 "I wanted something I could easily repair or upgrade, and I was inspired by vintage machines of the 1980s," he told Engadget. "I've launched this Kickstarter to find other like-minded folk who either want a machine they can upgrade for years to come or just liked my design."
Ready! Model 100 on Kickstarter
At the time of writing, the Ready! Model 100 has five days left to go on Kickstarter. It has raised $84,020 out of its goal of $158,898.
The Ready! Model 100 Pro includes:
Aluminum enclosure with non-metallic side panels
Your choice of two colors: Silver and Cyberpunk Black
Ultra-wide 1920 x 480 touchscreen IPS LCD with HDMI output and USB power/data
5w + 5w stereo speaker system
64-key programmable mechanical keyboard with RGB LED lights
Twelve universal port panel mount cutouts
Digital copy of READY! OS free and open-source Debian-based Linux OS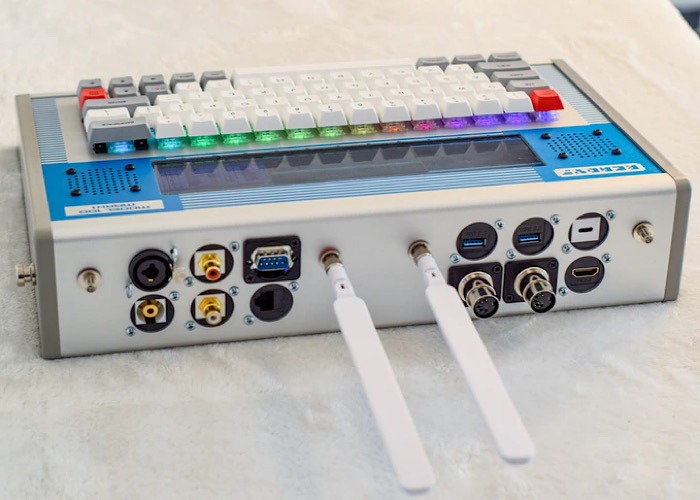 The Ready! Model 100 NEO includes:
Everything included with the Pro
30w 5v power management system + battery holder (batteries not included)
All necessary cables
2GB RAM
MicroSD card with READY! OS Debian Linux-based free and open-source OS
64 mechanical key switches
Full keycap set plus stabilizers
It's noted that neither kit includes an antenna for the simple reason they are application-specific.
There are so many pricing options, but the most basic Pro package will set you back $238.
Have you always wanted to dip your toe in the water of single-board computers? Read on to learn how to get started with Raspberry Pi.
Image Credit: Kickstarter