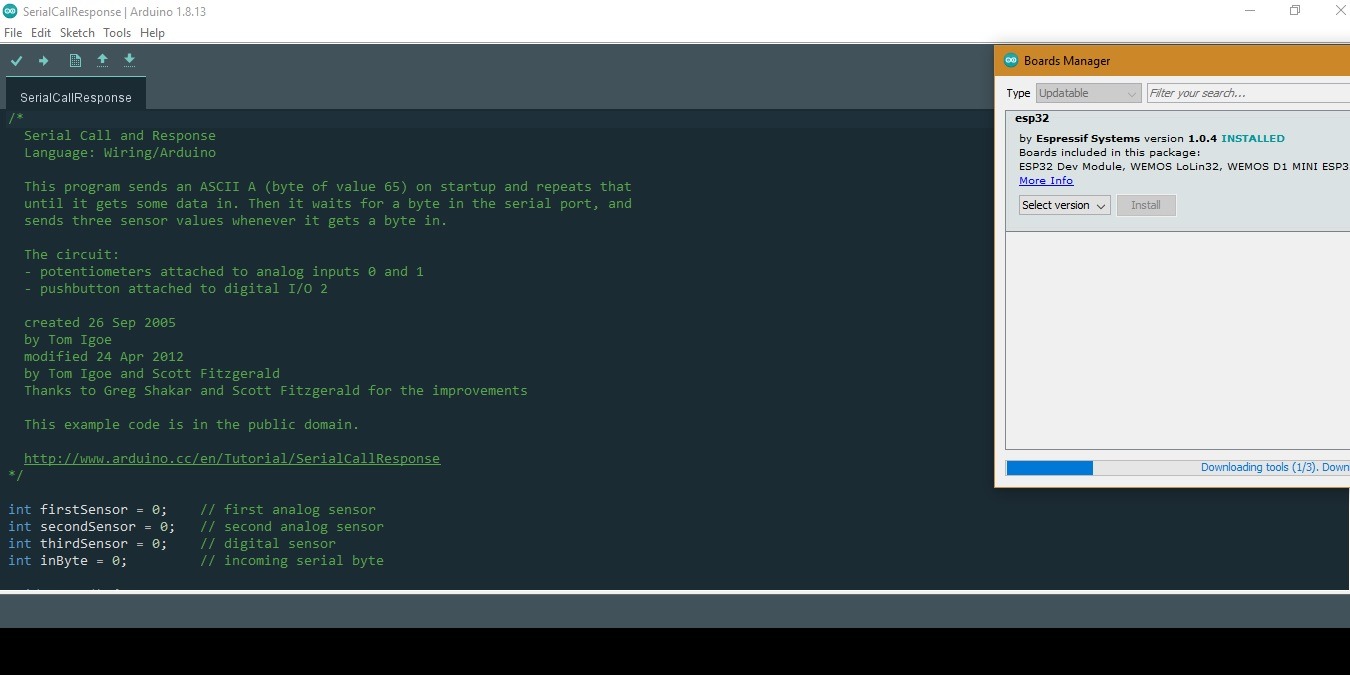 If you use Arduino frequently, the default interface can feel monotonous and boring. Against a white background, the text may be hard to read. Ever thought of adding more color and variety to your IoT development? For this, you should be able to customize your Arduino IDE with different background themes, colors, and font schemes.
As the following steps illustrate, it's actually quite easy to personalize your Arduino IDE experience. Whether you prefer a Count Dracula dark theme or an ocean-green font style, we have you covered. There's no need for any advanced programming editors, such as command shell, Atom, or Notepad++.
How to Change Background Theme in Arduino 2.0
Arduino has recently launched its 2.0 version, which is currently in Beta. We've covered the steps on how to download and install it for Windows. The new version supports more advanced capabilities of text editing and a neat, uncluttered interface. It also comes with built-in themes, which don't exist in the present Arduino 1.8.13.
To access these new themes in Arduino 2.0, go to "File -> Preferences." There are four different themes to choose from: light (theia) – which is default, light (arduino), dark (theia), and high contrast (theia).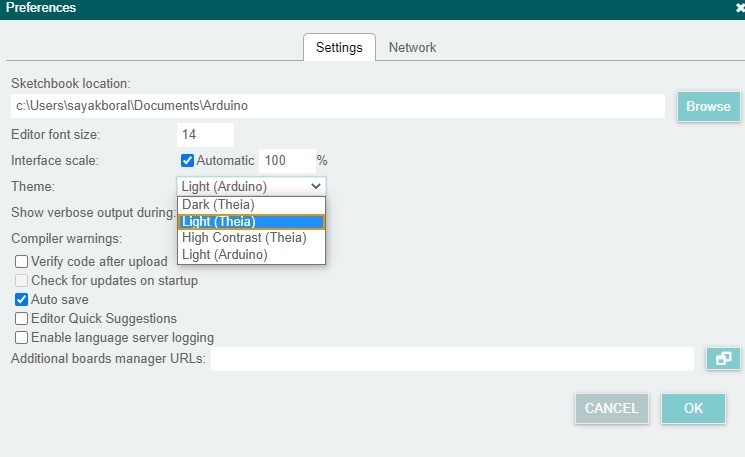 You can also change font size here – but not the font style which we have covered separately below. The following screen is for Arduino 2.0's dark (theia) theme. As shown, the pitch-dark background offers a stunning contrast to the light-green font.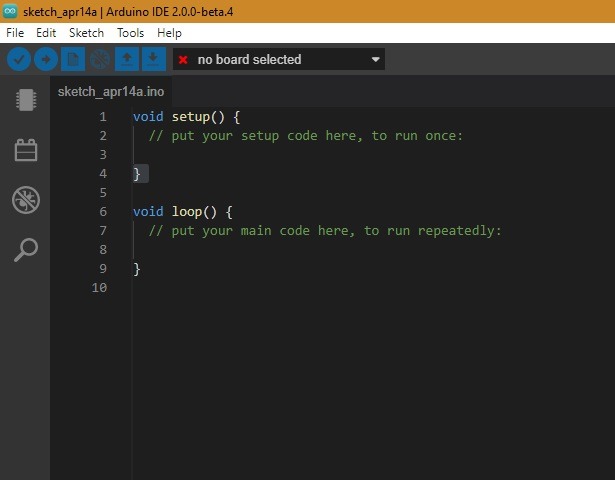 If you want even more contrast, use the High Contrast theme, which uses white text against a slate-black background. This is indeed very clear compared to the default light background due to more evenness in spacing.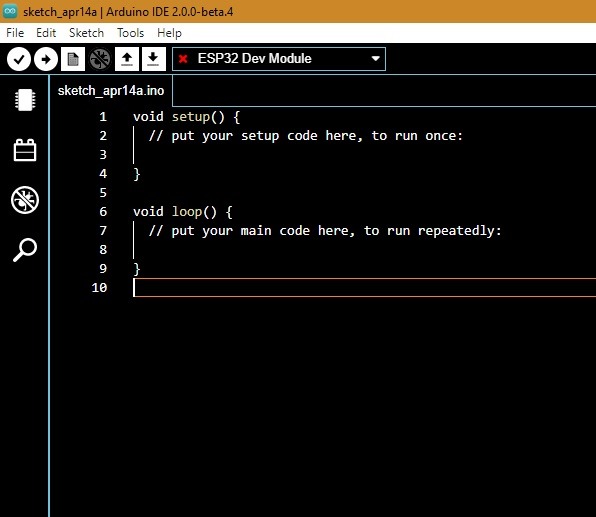 All this feels good, but let us remember version 2.0 is still in beta. Apart from the limitations of just four themes, Arduino version 2.0 can still feel buggy, unresponsive and slow. That's why it's important to be able to customize the latest, fully-tested Arduino IDE.
How to Change Background Theme in Arduino IDE
The following screen illustrates the challenge in changing the theme with the present Arduino version, 1.8.13. Once you access Preferences, you will find out that no extra themes have been provided here.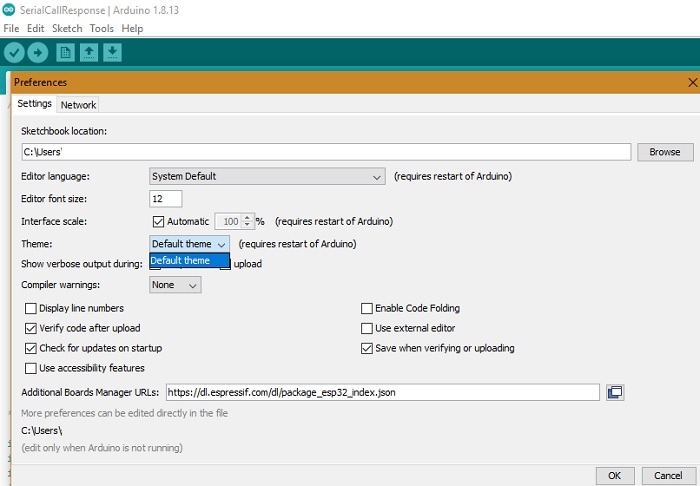 The only way to change the theme to say, a dark one, requires using another theme from an outside source. The Arduino store recommends a theme repository called "One dark Arduino." It can be downloaded here.
Just download the ZIP file in the link and open it with your favorite ZIP extractor. Keep it aside for a moment.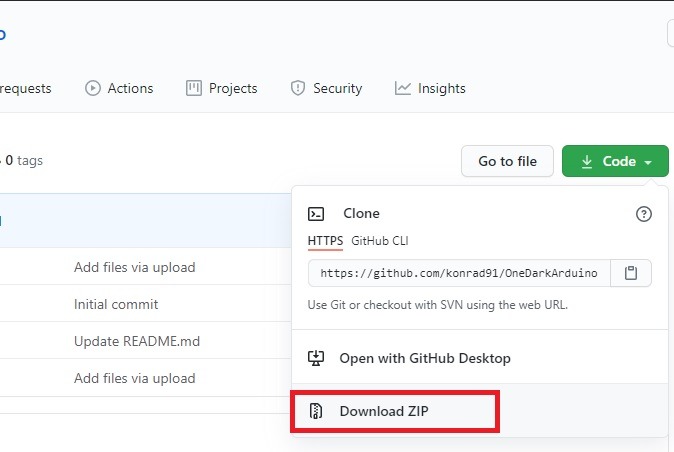 Next, locate your Arduino .exe file. It can be found in the folder where you installed the Arduino software.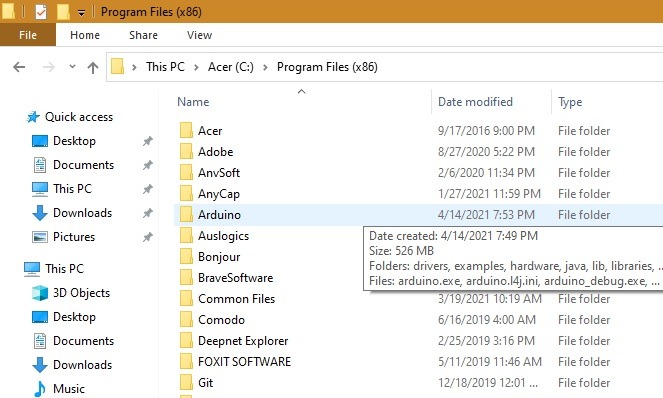 Go deep inside this folder down "lib," and you'll find a subfolder named "theme." It can be easily renamed to anything else, as shown here.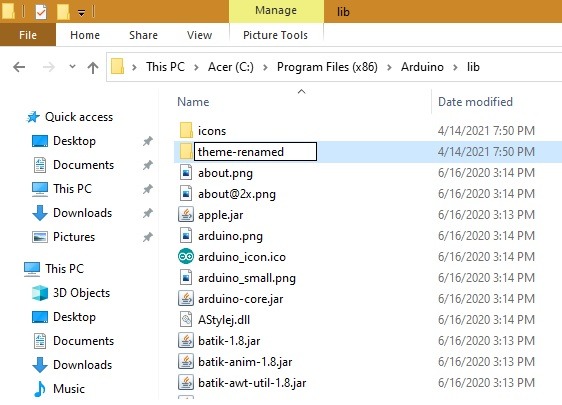 After renaming the theme folder, go back to where you downloaded the zipped file for the new dark theme. Open it using your favorite Zip extractor software.
Once inside, you can find an identically-named subfolder, "theme," buried inside the "DarkArduinoTheme-Master" subfolder. Extract this and save it on another PC location different from your ZIP file.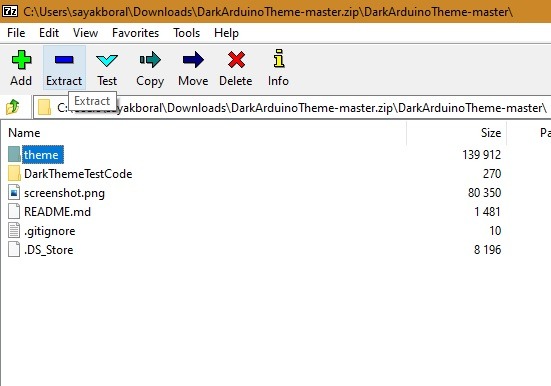 Copy-paste the entire "theme" folder containing the new dark theme to your destination folder in Arduino lib. As shown here, the original theme folder was already renamed to something else.
You may need to provide separate administrator permission to copy the new folder in the Arduino default categories. Click Continue to proceed. The new dark theme subfolder has successfully replaced the older default subfolder.
Typical Error Screens in New Arduino Themes
It's highly recommended to save the extracted theme subfolder in a different location from where you downloaded the online ZIP file. For example, if you saved the original ZIP file to your "Downloads" folder, save the extracted theme in "Desktop."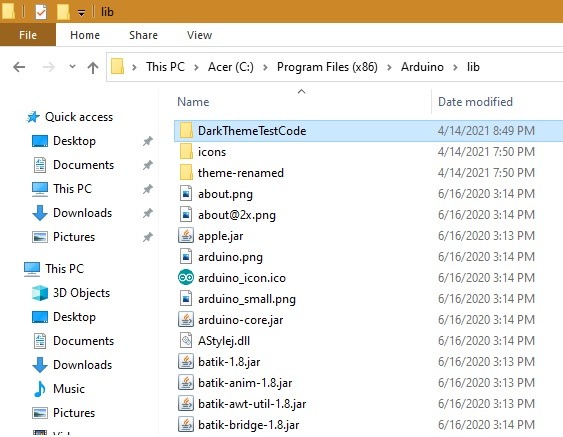 If you save it to the same location, you may later encounter an error called "cannot read color theme settings" while running Arduino. Just un-rename the default theme subfolder, and the IDE should open once again.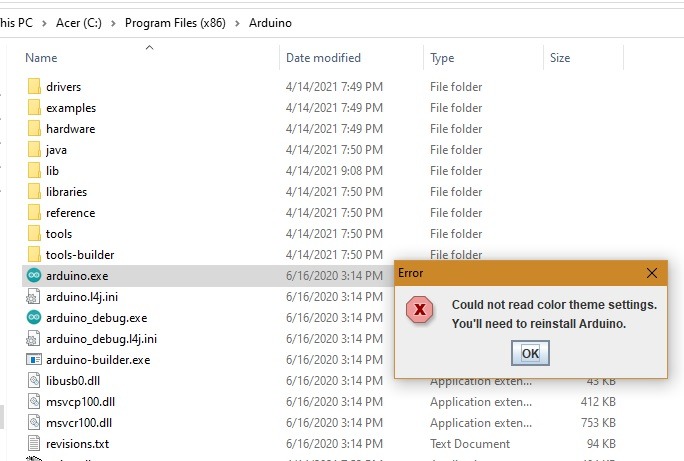 How to Change Font Style and Colors in Arduino IDE
Before seeing the effect of the new theme in Arduino IDE, let's calibrate the font style and colors a bit. Again, go back to Preferences from the File menu and click a link related to the preferences text folder.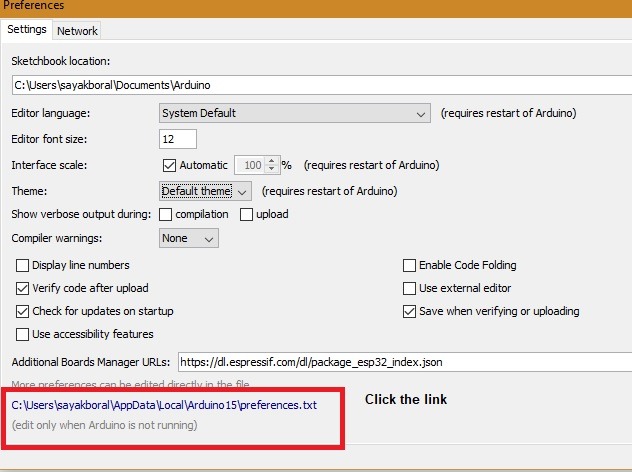 The subfolder containing the Preferences text file will open in its new location. Open the text file in Notepad.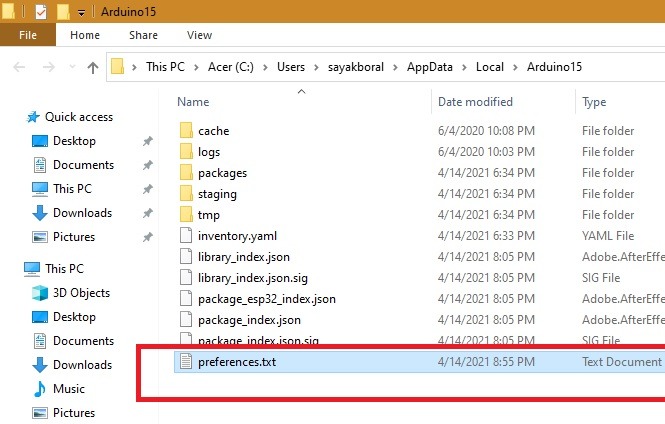 Use Ctrl + F with search term "font" and replace the editor.font property from "Monospaced, plain, 12" to "Consolas, plain, 14." Of course, you can experiment a bit more with the font style. Whether you like "Times New Roman" or "Arial," this is where you can change it.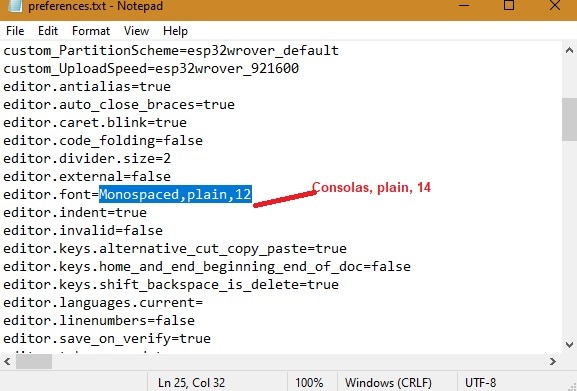 To change the color scheme a bit, use Ctrl + F with search term "color" and identify the run.present.bgcolor property from its default color. As shown here, it's set at "#666666," which is a very dark color.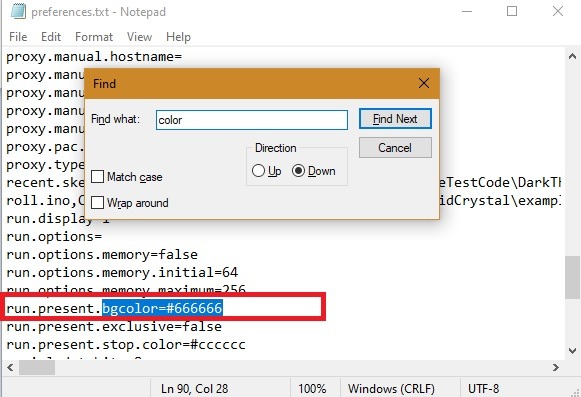 To tweak the background color settings, run a simple Google search for the color term you found in the code snippet. Here, I have used Google's color picker to change the run.present.bgcolor property from "#666666" to "#6e6e6e."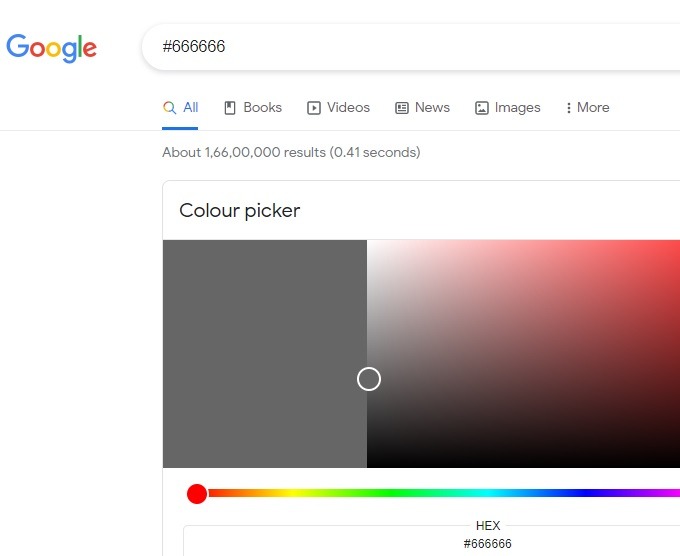 Applying New Themes in Arduino 1.8.13
After changing the background theme subfolder and color/font properties as shown in the above sections, you'll get a whole new dark theme in Arduino 1.8.13.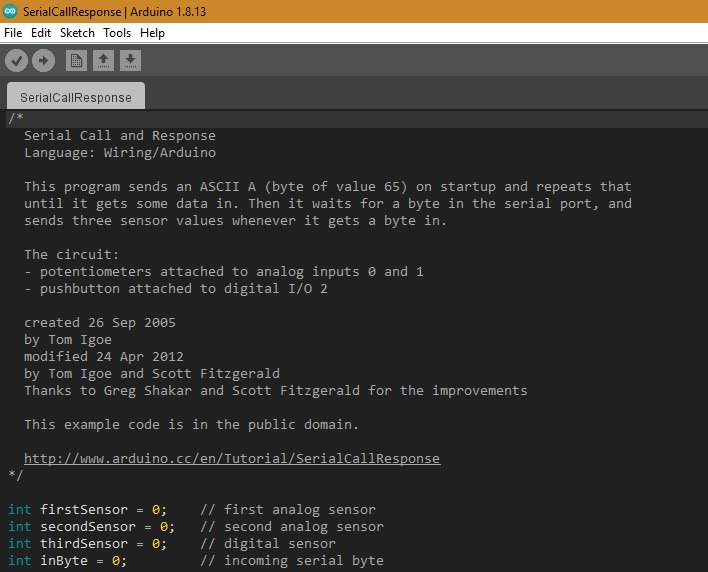 Let's repeat the entire procedure above for an Arduino-theme Ocean. The download link can be found here.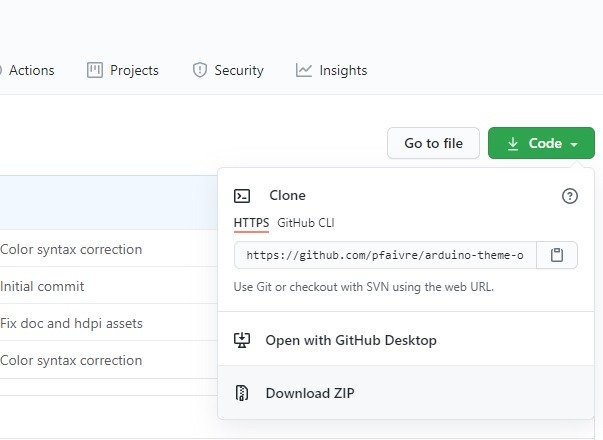 Again, after unzipping, you have to extract a subfolder named "theme" (shown here), which is then copy-pasted in the Arduino lib subfolder (provided the original theme subfolder was renamed). The same procedure can be repeated wherever you find a zipped folder related to Arduino themes.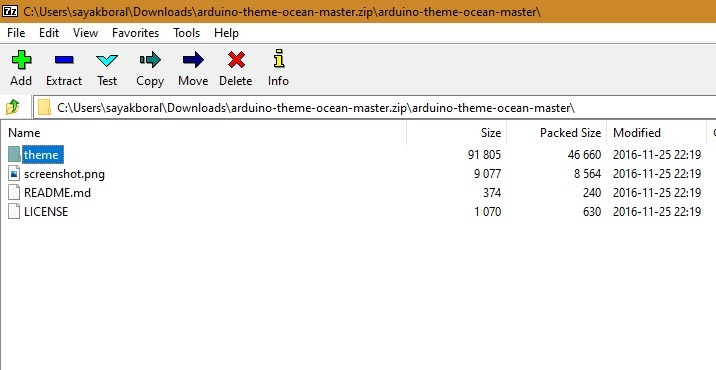 For the above link, enjoy the new beautiful ocean-like interface for Arduino 1.8.3.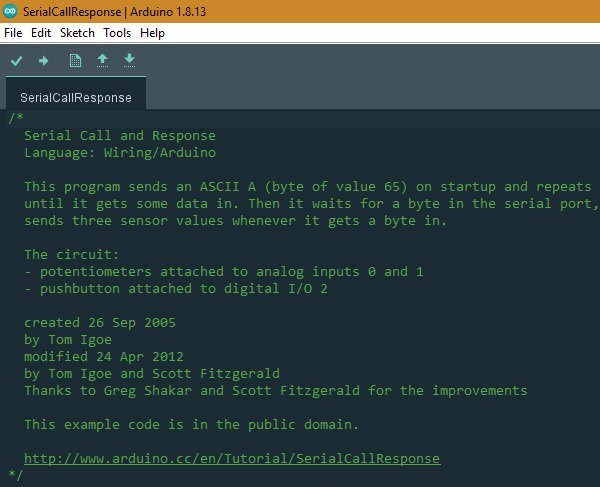 List of Interesting Arduino IDE Themes
We discussed above the detailed procedure of how to change the default theme, colors, and font scheme for Arduino IDE. There are many useful themes you can find on websites,such as GitHub. Here is a small yet interesting list.
Are you new to Arduino? Check out our exhaustive list of tutorials on it and other boards, including Raspberry Pi.
Subscribe to our newsletter!
Get the best of IoT Tech Trends delivered right to your inbox!