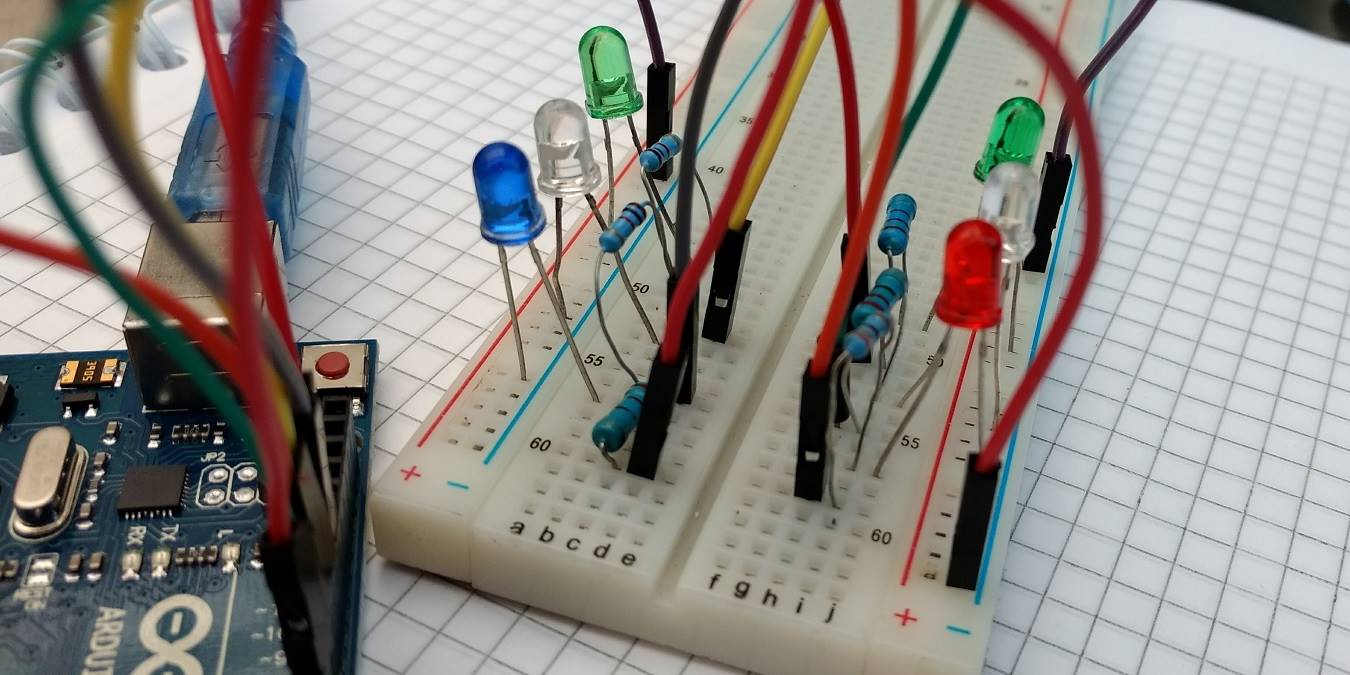 Arduino starter kits save developers time and money with cut and paste components. Most kits are designed for absolute beginners but support advanced projects with circuit flash cards. If you're considering buying one, read our comparison of the best kits that you can get online. We will review each one of them and suggest what level of users would find them more appropriate.
How to Consider an Arduino Starter Kit
At a minimum, a good starter kit should consist of an Arduino controller board, USB cables, breadboard, solid core jumper wires (the more the better), potentiometers, an alphanumeric LCD, LEDs of different colors, a variety of sensors, transistors, resistors, capacitors, DC motors, and push buttons.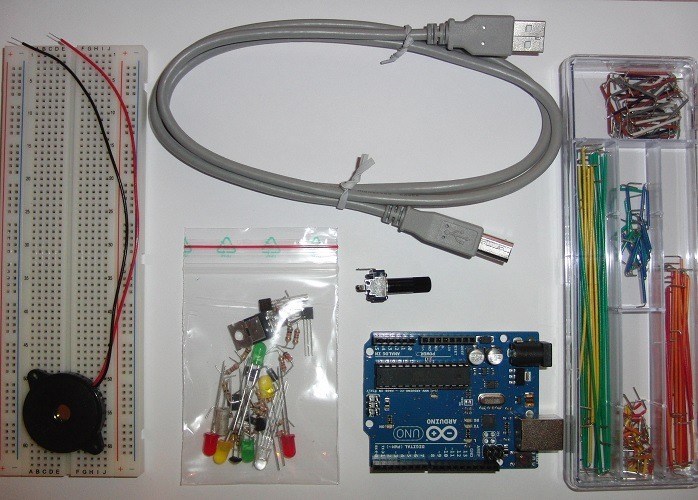 While there are many desirable Arduino kits that meet this criteria, their usefulness depends on more than the diversity. Many of these components are easily replaceable and can be found online cheaply, so that shouldn't be the only buyer consideration. It is what you're able to achieve with them that matters more.
It's especially important to have a superior quality of materials, as you don't want to deal with poor build for your prototyping work. That eliminates many of the unknown, cheaper Arduino starter kits that you can find in the $20 to $50 range. The ones we will review are quite well known and widely available with popular e-Commerce websites.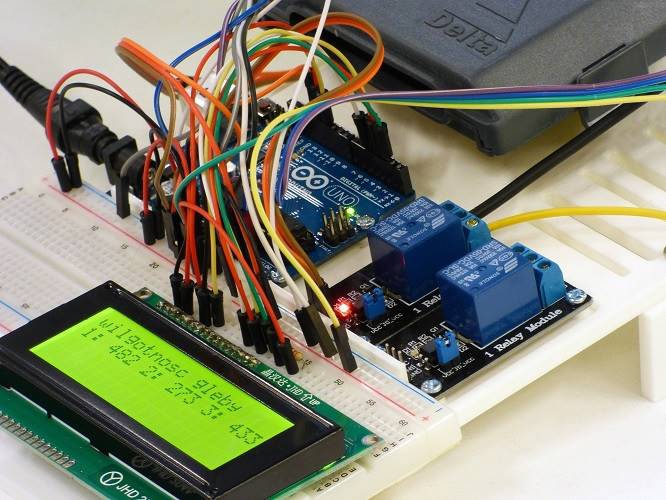 On the other hand, you don't want to overspend on a starter kit, as it only teaches you a finite number of projects. Since you have to keep buying new components in the long run, go for a mid-range kit that is well-known for good manufacturer build: anything over $100 is spending way too much.
Another main criteria we had was whether the Arduino starter kit has ready-to-download comprehensive online materials. This is a must, because while working, you need to know everything about the kits in plain English. Even a novice with no experience in electronics and programming should be able to follow the online materials to learn Arduino on their own. For some of the Arduino kit manufacturers, we couldn't find enough reading material on their websites.
Here are our recommended finalists in Arduino starter kits.
1. Elegoo Uno R3: The Most Complete Starter Kit
Elegoo is one of the best names in Arduino starter kits. If you're going to work with an Uno board, you should consider their "most complete starter kit for Uno R3." At less than $70, it brings over 200 pieces of 63 components (some of them mentioned below), making it excellent value for the money.
Uno R3 board which is further compatible with Mega and Nano
5 pc. LED of different colors
5 pc. ceramic capacitors, 2 pc. photoresistors, 5 pc. NPN transistors
1 pc. seven-segment display and four-segment display
Temperature sensors and buzzers
1 pc. joystick and keypad modules, 1 pc. LCD module
20 pc. female-to-male DuPont wires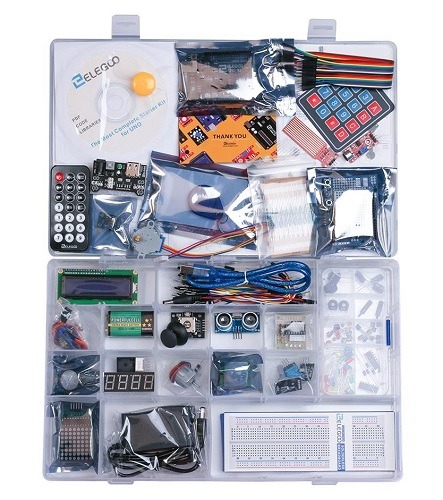 The best thing about the Elegoo kit is the availability of plenty of project walkthroughs online. The reading materials are 400 MB in size and range from a packing list to 25 modules for learning and the use of all modules for a variety of projects. With fully-colored connection schematics. circuit designs and explanations, you have enough reading material to tinker away.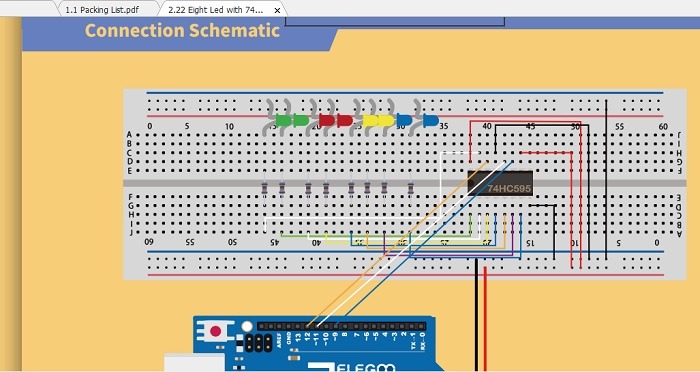 There are no missing or non-functioning parts in the Elegoo Uno R3 Most Complete Starter kit, and all the items are packed neatly. If you're an absolute beginner in the world of Arduino, this is one kit that we will surely recommend. It even beats the official Arduino starter kit in terms of price, breadth of online information, and even available components and is a top choice of many professional learners.
2. Keyestudio Mega 2560 Starter Kit
For the next level of hobbyist that wants to work with Mega boards, Keyestudio Mega 2560 starter kit will absolutely fit the bill. Costing less than $90, it comes with a grand total of 32 exciting included projects and covers almost all the components in previous recommendation. The build quality is premium grade, and there is simply so much under the hood that it's impossible to be unimpressed.
The Mega 2560 Starter Kit also includes some premium components such as RFID modules, flame sensors, humidity sensors, PIR motion sensor, ADXL345 three-axis acceleration module, 30 jumper wires, and 10 DuPont connector wires.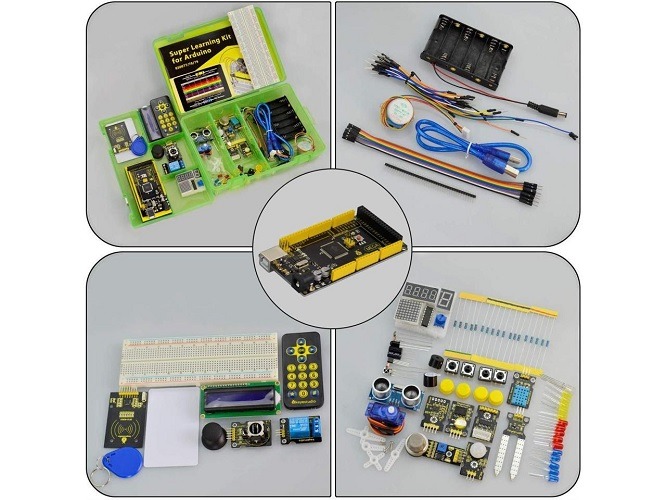 The Keyestudio official site has a comprehensive Wiki tutorial page as well as a comprehensive download resources section for robotics projects. It consists of ready-made examples for many robotic cars, so this kit is highly recommended for college students who want to experiment with robotics.
All the learning material you would need is right there. Keyestudio has comprehensively tested its components to ensure your compiled code does not show errors. This is one starter kit we recommend for both beginning and intermediate Arduino learners.
3. Osoyoo Arduino Advanced Learning Kit
This one is for the serious Arduino enthusiasts. If you can't decide which board to work on, Osoyoo advanced Arduino kit gives you a dual choice of both Uno and Mega 2560 boards which are included. Apart from the regular high-build components, you get an infra-red remote controller and receiver, a 2-channel relay module, jumper wires, an acrylic test stand, an 8×8 LED matrix, and an array of sensors. When it comes to the most premium components you need, Osoyoo should definitely be considered.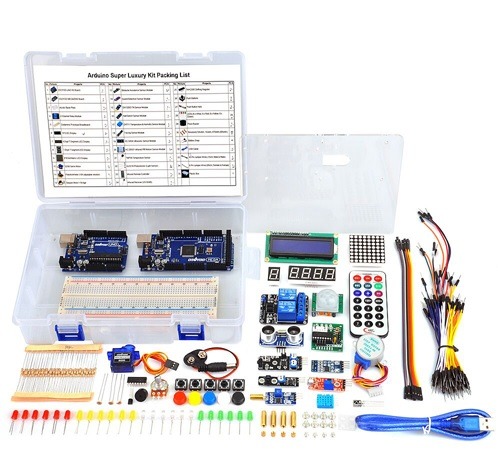 As for the learning, the official website has you entirely covered for a variety of tutorials which come with full color graphics to illustrate everything you need for an Arduino assembly. If there is one kit you need to guide your Arduino learning from beginner to advanced with the most premium build materials, this one is it!
An Arduino starter kit will get you only so far without some accessories that are required for complete project roadmap. You also need a cordless soldering kit to fix the components in their respective pins and need to learn to work with Arduino IDE for which you can search many tutorials on this website. With one of these starter kits, you are ready to begin your journey into Arduino.
Subscribe to our newsletter!
Get the best of IoT Tech Trends delivered right to your inbox!