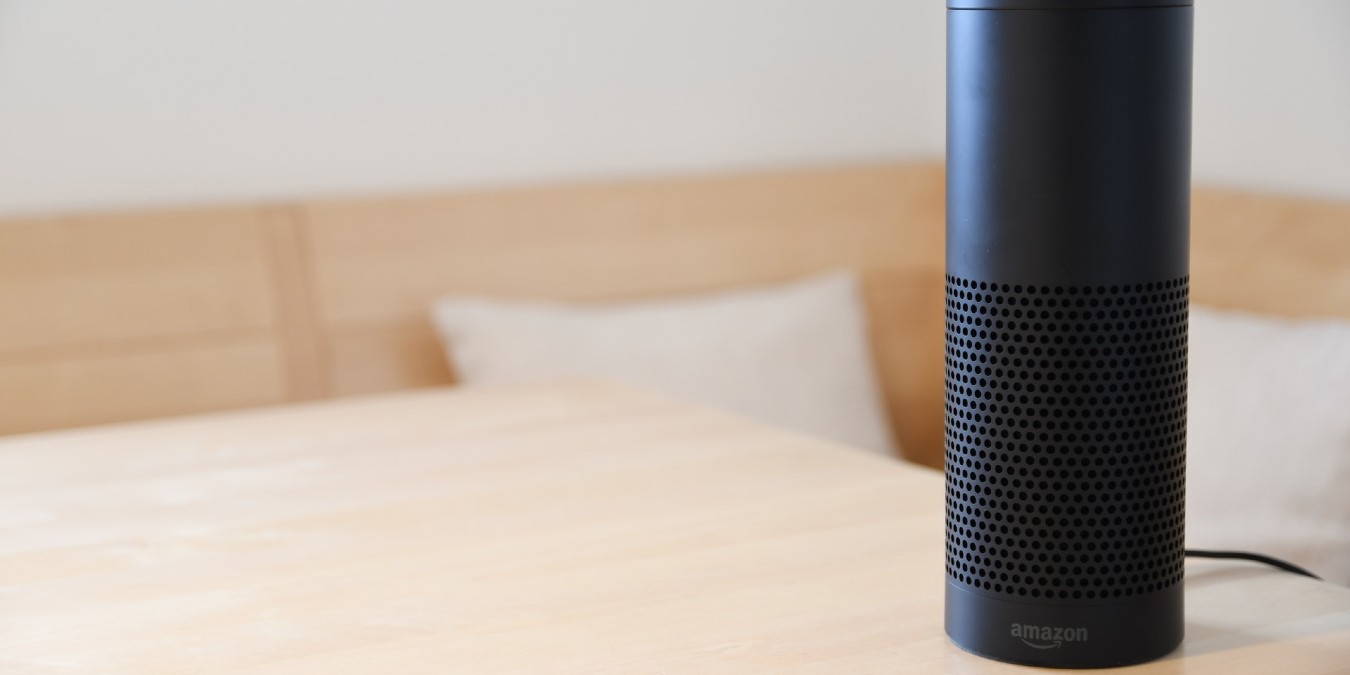 In the time since Amazon launched its Echo lineup, Alexa has become a household word around the world. As more than 100 million Alexa devices sit in homes, many users still have much to learn about how Alexa works. For example, most people know that Alexa can play your favorite song but did you know it can read the news to you every morning at a set time? Alexa routines are a not-so-hidden secret that still seems to be ignored by many. Let's take a look at some of the best ways Alexa routines can help you in your day.
What Is a Routine?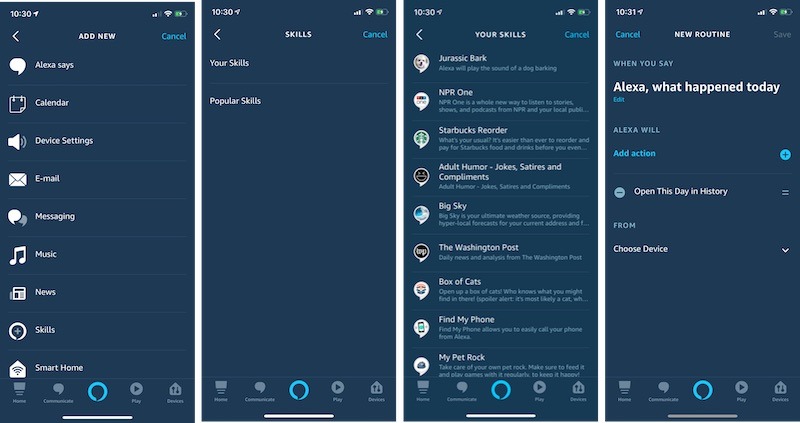 While Amazon's Alexa skills normally grab all the glory, routines help automate tasks using nothing more than a single voice command. Customizable and easy to set up, Routines can complete a series of actions after uttering the words "Alexa, good morning." At that point, Alexa might turn on the kitchen lights, start the coffee maker and read you the latest news headlines. In this example, you are taking what should be three separate commands and turning them into one single action. That is the power of Alexa Routines.
What Do I Need?
To use Alexa's routines, you only need to have an Alexa-enabled product in your home. That includes one of Amazon's own products like the Echo speakers, Fire tablets and TV sticks or Spot. Separately, you can also use any of the dozens of third-party Alexa-enabled products like the Ecobee smart thermostat or Sonos One voice-controlled smart speaker.
Set Up a Routine
Before diving into the world of what routines can do, we need to first learn how to set them up. All of that is done right from the Alexa app on iOS or Android.
1. Open the Alexa app and press on the three-bar "hamburger menu" in the upper-left corner.
2. Look for the label "Routines" and click on it.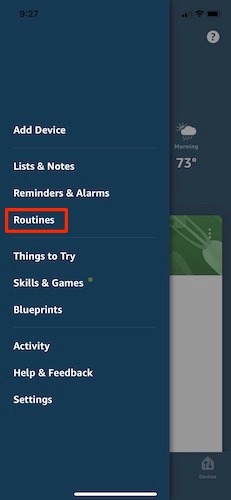 3. If you haven't set up a routine, select the giant "+" button and the option to "Create Routine."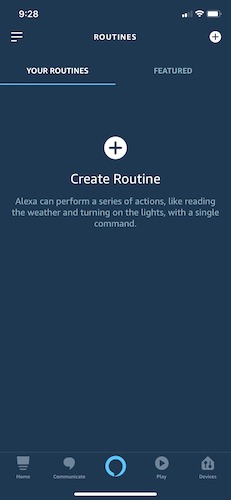 4. Enter a routine name and select done, then press "next" at the upper-right corner.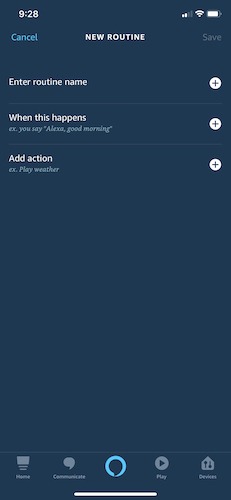 5. Hit the plus sign on "When This Happens." You are presented with a series of choices for how to activate your routine. Select a particular time, location, voice activation, etc.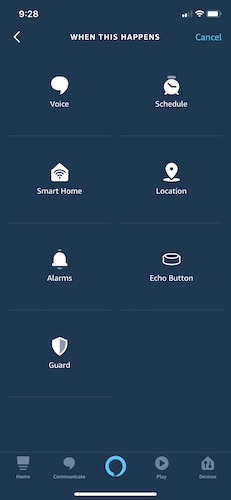 6. For the purpose of learning, click on "Schedule" and add a time you want to activate this routine. There is the option for repeating tasks during the weekdays, only on weekends, etc. Confirm the time and hit next.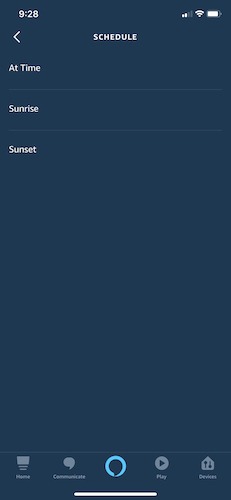 7. This is where the real fun begins by hitting "Add action" with the plus sign.
8. Select the action you wish to have Alexa perform. It can be anything from a phrase, checking your calendar, sending an email, reading the news, playing a song, or getting the current traffic and weather.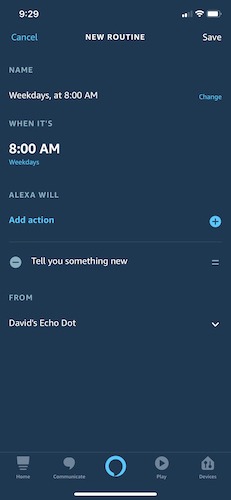 Now that you know how to set up a routine, here are some good ways to make use of Alexa routines.
Program Your Kid's Bedtime
Now that you know how to set up Alexa Routines, let us take a look at some of the most popular setups to help inspire you. Bedtime Routines are unsurprisingly some of the most popular, especially for parents. To help get bedtime going, you can program an Alexa Routine to set up a reminder for ten or fifteen minutes before bedtime. Program this Routine to announce that bedtime is near and dim the lights with each reminder. Then, with five minutes left before bedtime, have this Routine automatically turn off a television if connected to an Amazon Fire Stick.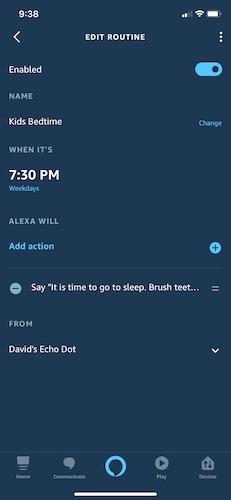 Morning Routine
Likely one of the most popular Routine actions, morning routines will ensure you are fully informed before you step out of the house. Establish a Routine to trigger calendar reminders for the day as well as a traffic report so you know how early you need to leave. This same Routine can also let you know the day's weather forecast as well as a recap of the morning news.
Take your morning a step further and set up a second Routine that turns off all of the lights when you leave the house. This Routine will utilize the GPS location of your smartphone that has the Alexa app installed to know when you are away from the house. Go even deeper into your morning Routine and have it adjust your smart thermostat to help save money when no one is home.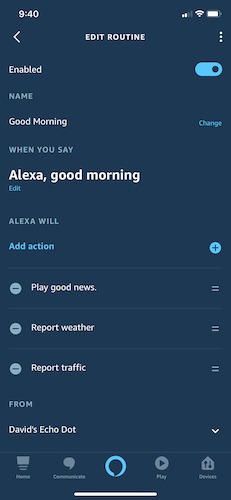 Conclusion
As you can tell, the functionality and customization of Alexa's Routines are pretty extensive. Determine what is most important to your morning or evening schedules and set up a Routine to help work with it. Everything from Routines that play music when you come home to announcing the front door is open is there to help improve your life. In that sense, Amazon has shown us a glimpse of what the future holds and we cannot wait to see where it goes.
Subscribe to our newsletter!
Get the best of IoT Tech Trends delivered right to your inbox!