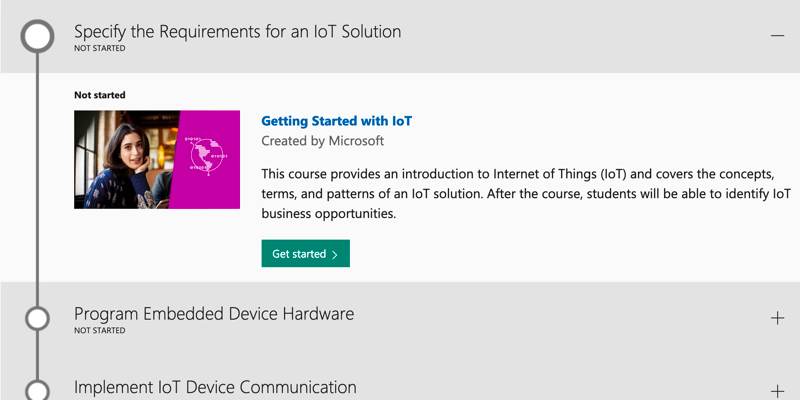 It's no secret that the Internet of Things is taking off, and with this explosive growth comes new jobs. From creating new devices to managing security, new jobs are popping up around IoT all the time.
Whether you're looking to change careers or just level up in your current one, adding IoT skills to your skillset can't hurt. Learning IoT is one thing, but proving what you know is another. That's why you may want to look into a certification to demonstrate your IoT skills.
1. hIOTron
Good online feedback is important to reassure you that you're picking a useful and legitimate online course, and hIOTron passes the test. The Indian company sells its own IoT products, and has been involved with various major development projects, reinforcing its credentials. It's a company that's involved in IoT at all scales on a day-to-day basis, so you know the training you get from them is relevant.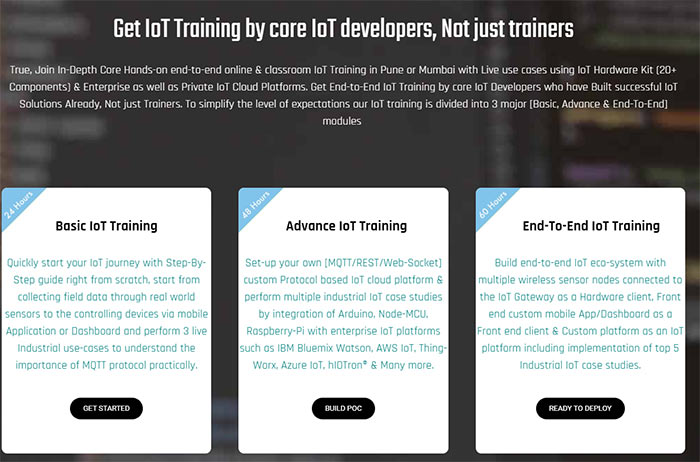 The company offers three types of courses – Basic, Advanced and End-to-End. It will teach you plenty of things ranging from smart city automation to learning how to use SBCs like the Raspberry Pi and Arduino to set up IoT architecture.
It's a mix of theoretical and practical training, with the courses ranging from 40 to 60 hours. You'll receive a free IoT hardware kit to give you everything you need for the hands-on modules.
2. UCI Intro to Programming IoT
It's always reassuring to find a course that's hosted by an established and well-regarded university. UCI (University of California, Irvine) offers an excellent beginners' course that will teach you how to design and program IoT devices using the popular Arduino and Raspberry Pi platforms.

It's a three-month beginner-level course that's undertaken entirely online. The UCI doesn't just give out these certifications for free, though, and you'll need to complete a hands-on project for every specialization you undertake here.
The specific courses within this specialization include an intro to IoT and embedded systems, C programming, and interfacing with the Arduino and Pi platforms. You'll learn some Python programming, too, as well as putting all your skills to good use by building your own test systems.
3. Microsoft Professional Program for Internet of Things
The Microsoft Professional Program for Internet of Things is one of many such programs that the company offers. To do this, it has teamed up with online education provider EdX. The program walks you through every aspect of IoT, from programming devices to data analytics. Even IoT architecture design and business planning are covered.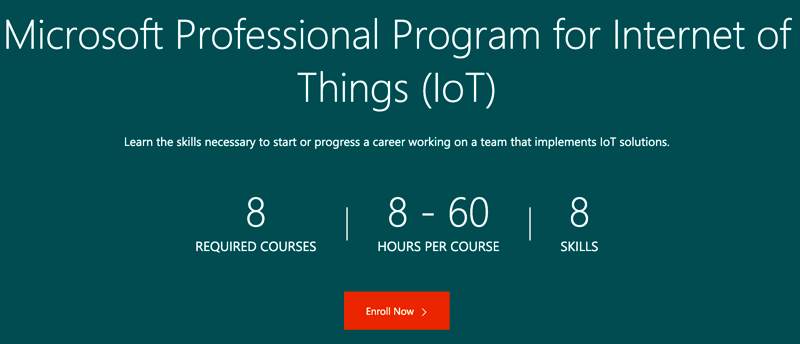 The program consists of eight courses, each of which has its own certificate of completion. If you don't want to learn, you can take the courses for free, but you won't get a certificate. If you want the certificate of completion, the cost is $99 per course.
Each course lasts four weeks. The time needed ranges from three to four hours a week for most courses to six to nine hours per week for the final course.
4. Cloud Credential Council Internet of Things Foundation Certification
The Internet of Things Foundation certification from Cloud Credential Council is aimed at system administrators, software engineers, and application developers. It covers concepts and terminologies, the basic building blocks, security, and more.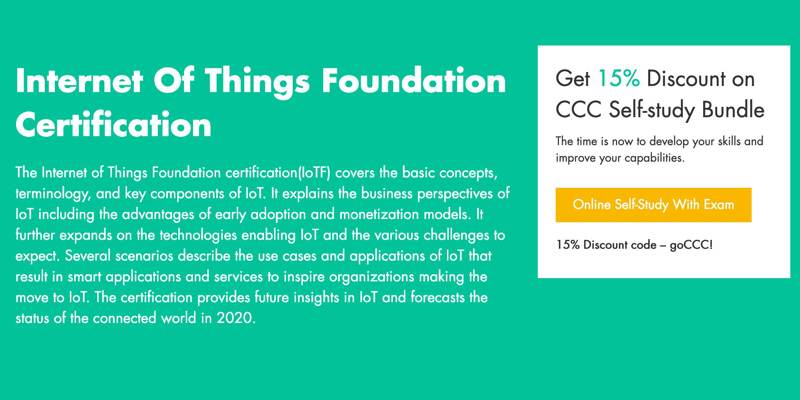 The easiest way to complete the certification is to opt for self-study and pass the final exam. This method costs $349 for the course materials. You get an ebook, exam voucher, practice questions, and even a mock exam.
Self-study is expected to take sixteen hours, while the final exam lasts sixty minutes.
5. IoT Inc Certified IoT Professional Program
The Certified IoT Professional Program by IoT Inc is the most expensive certification on this list, but you'll learn a lot in obtaining it. The certification consists of three courses made up of 45 modules and 163 individual lessons.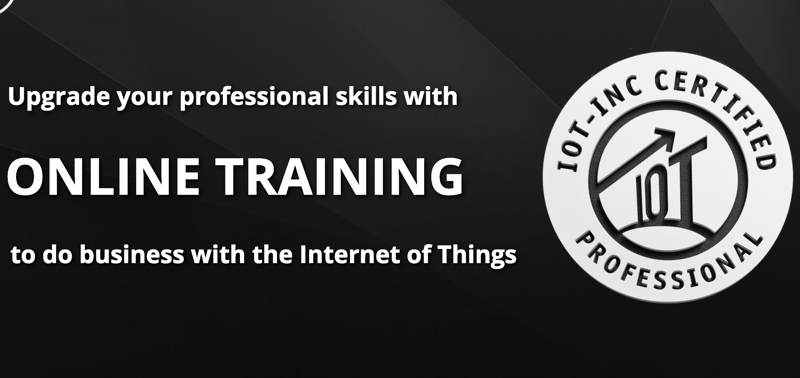 In addition to the IoT basics, you'll learn the purpose of IoT tech. You'll also learn why virtualization is important and different IoT architectures. The various modules cover hardware, software, analytics and Big Data, and cybersecurity.
For the complete IoT Inc Certified IoT Professional Program, you'll pay $1,199, though there is a 30-day money-back guarantee. There are add-ons available as well. An audio version of the program is available for $599, and a thirty-minute session with an instructor is available or $400.
IoT Inc doesn't give a time estimate for the certification. Given the sheer size of the course materials, we're assuming the time commitment is probably as much as or more than any other certification on this list.
Conclusion
You can absolutely get a job in IoT without a certification, but in most cases it can't hurt to have one. If you just want to make sure you have the knowledge you need, take a look at our list of technical skills you need to be successful with IoT projects.
Subscribe to our newsletter!
Get the best of IoT Tech Trends delivered right to your inbox!