Although smart glasses are yet to take off in the consumer market, the idea behind the technology, which is still in its embryonic stages, is to produce a kind of ubiquitous computer that'll seamlessly blend human vision with the virtual world.
The sheer bulkiness and limited feature set of most current options indicates how these devices are still a work-in-progress, and there are several innovative models designed for different purposes.
While the world waits for companies like Apple and other tech giants to go all-in on smart glasses, here are some of the best smart glasses available in 2020 to experience the new way of seeing things.
What Are Smart Glasses?
Before going any further, let's examine what smart glasses are. Generally, the aim of smart glasses is to provide life-monitoring services while creating a platform for taking authentic pictures and videos.
When coupled with augmented reality technology (AR), smart glasses help people with their everyday home and business lives. For instance, instead of racing to silence your smartphone during a business meeting, you can see an incoming call and ignore it. Similarly, you can see words on the lens of your glasses instead of referring to a pad of handwritten notes during a presentation.
Now that we have a basic understanding of smart glasses, let's take a look at some of the best smart glasses that are available in 2020.
1. Lowdown Focus
You get the feeling with many smart glasses that they get some of their looks through their quest for functionality, but that's not the case with the Smith Lowdown Focus specs.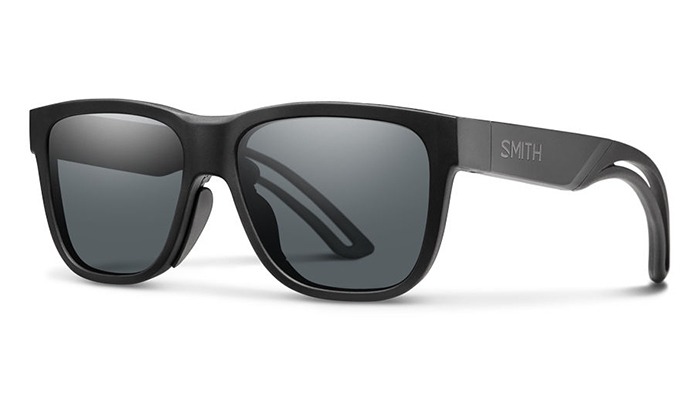 Also, they monitor brain activity. In other words, they're an electronencephalogram.
Yes, using sensors on the nosepads and arms of the glasses, the Lowdown Focus track your brain activity, and they include a whole bunch of mindfulness and meditation exercises that help you relax and alleviate anxiety throughout the day. It sounds bonkers, but according to many reviewers and user experiences, it actually works!
These glasses sync with the Smith Focus Mobile app, which lets you keep track of your focus goals and apply them to your day-to-day life.
2. Vuzix Blade
The Vuzix Blade smart glasses are powered by AR and look almost like regular eyewear. They pack a surfeit of advanced features, such as Alexa, which you can issue commands to through the integrated microphone. The glasses utilize Digital Light Processing (DLP) technology and project displays in front of the right lens using waveguide-based, see-through optics in full color.

Its quad-core ARM CPU works with Android OS, and its 8MP forward-facing camera can record Full HD (1080p) videos that you can control through touchpad gestures. You can also handle texts, calls, check your calendar schedule, watch videos, control music playback, look up navigational directions and much more.
With Bluetooth and WiFi for connectivity, you can pair the glasses with your Android or iOS smartphone and see all notifications within eyeshot.
It also has 4GB storage, a microSD expansion slot, built-in rechargeable batteries, and you can get the glasses in photochromic or prescription lenses or pick from a variety of other lens options.
3. North Focals
North Focals smart glasses are attractive and conventional-looking and probably the closest thing to what big tech companies may have in mind for such devices.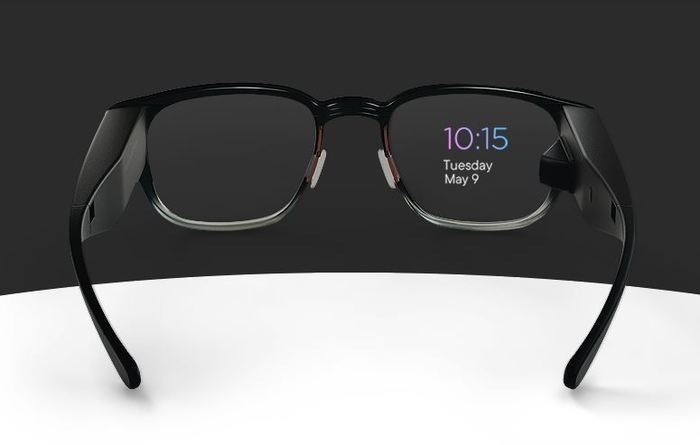 They're custom-built to fit your face perfectly while featuring a tiny projector that beams the user interface against the right-side lens, displaying incoming messages from your smartphone, simplified app versions and turn-by-turn walking directions.
You can use Alexa to speak to the glasses and control smart devices like you would with Amazon Echo at home. The main control is called the Loop, which you wear on your finger, using the four-direction joystick to navigate the menu on the glasses.
The company recently announced that the North Focals 2.0 will be coming out in 2020, weighing 40 percent less and offering an improved retinal display. Stay tuned!
4. Epson Moverio BT-300FPV
The Epson Moverio BT-300FPV smart glasses are great, especially when used while flying drones or quadcopters and similar UAVs like Mavic Pro, Spark, Phantom 3 and 4, Matrice 100 and Inspire 1 and 2. They give you a better, real-time aerial footage compared to the display you get on your smartphone, so you can see exactly what the drone sees.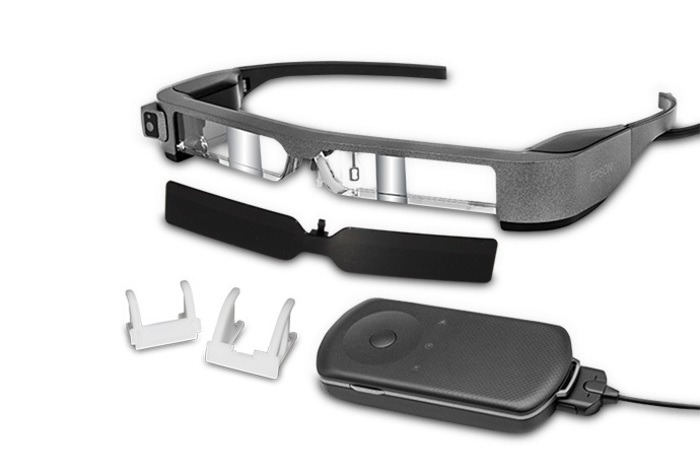 FPV, which stands for first person view, projects a transparent display that lets you see the video feed from the drone while monitoring flight statistics with the drone in sight. The 5MP forward-facing camera records the footage of the drone in Full HD (1080p) from the pilot's point of view, with a 23-degree field of view and 1280×720 pixels of resolution.
They are one of the world's lightest Si-OLED powered binocular smart glasses and are powered by a quad-core Intel Atomx5 CPU, with 16GB internal storage and 2GB RAM and support for microSD cards up to 32GB.
Bluetooth, WiFi and GPS connectivity are included as well, along with and a compass, accelerometer and gyroscope on the glasses and controller. Plus, they run Android 5.1, and you can get several pre-installed apps like a calculator, browser and the Moverio app market.
5. Google Glass
It's often used in manufacturing facilities where it offers a camera and user interface to factory workers who need hands-free access to these tools via Google Glass and Google Assistant.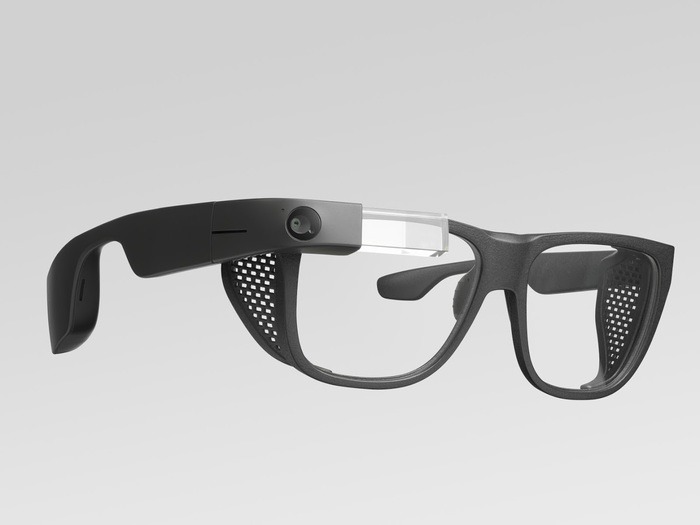 Google Glass may not be exactly the mainstream product Google was hoping it would be, but it's best for enterprise thanks to its Enterprise Edition 2 that has a faster processor and longer battery life than its predecessor. Plus, it offers enhanced machine-learning capabilities, a faster charger via USB-C and new safety frames.
The wearable computing device has a head-mounted display that shows information to users in a hands-free format. They can also use voice commands to interact with the Internet on the go.
They resemble a pair of glasses and offer excellent computing power and functionality in a lightweight, slim-form factor. Through a micro-projector, you can get small packages of information delivered to you via a private channel of communication that only you can access.
Glass can also function as a spy camera or recorder, thanks to its advanced features, high-quality image recording, and audio and HD video using voice commands, natural language or simple hand gestures. They also have accelerometers, built-in location awareness, gyroscopes and other features that constantly track your movements.
Wrap-Up
Smart glasses have the potential to take connected specs mainstream. If you're ready to jump into the smart glasses lifestyle, our four picks are a good place to get started. Ultimately, it depends on what's best for you and your lifestyle.
Image credit: Google, Vuzix, Epson, North Focals