It can be a small investment to make your house completely smart, between a smart speaker and/or hub, a doorbell security camera, a smart deadbolt, and assorted other smart home devices. But why not kill two birds with one stone and get two of these needs taken care of with the Gate Lab Video Smart Lock?
With this Gate Lab device, you can do everything you want to on your front door. It works as a doorbell, records video of visitors, both wanted and unwanted, allows you to speak with visitors on your doorstep, and it also provides backlit keyless entry.
The Gate Lab Video Smart Lock is the only all-in-one smart lock available that both keeps your home safe and prevents unauthorized access. An accompanying app allows you to control access to your home from anywhere. Additionally, it's easy to install, only taking a few minutes and not requiring any drilling or wiring.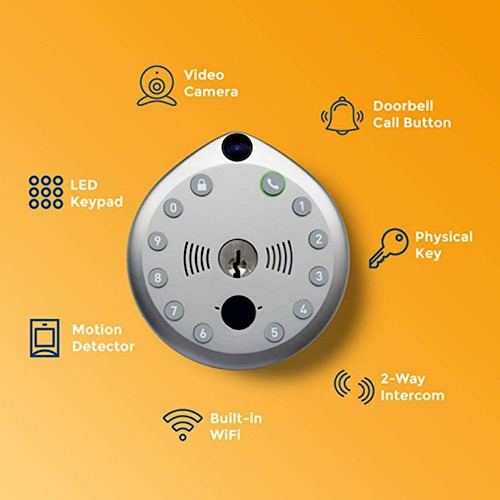 The camera feature on the device provides motion-activated video that will alert you when someone is on your doorstep. Combined with the two-way audio feature, it allows you to speak with the person on your doorstep and watch them in real-time from your smartphone.
This one device features a doorbell, keyed lock, keyless entry, two-way audio, motion-activated live streaming, video cloud storage, app notifications, backlit keypad, remote access, unique passcodes, a rechargeable battery, and entry log.
But the best news of all is that you can save $50 with a coupon on Amazon to bring the price down to $199. Certainly, your family's safety is worth that much.