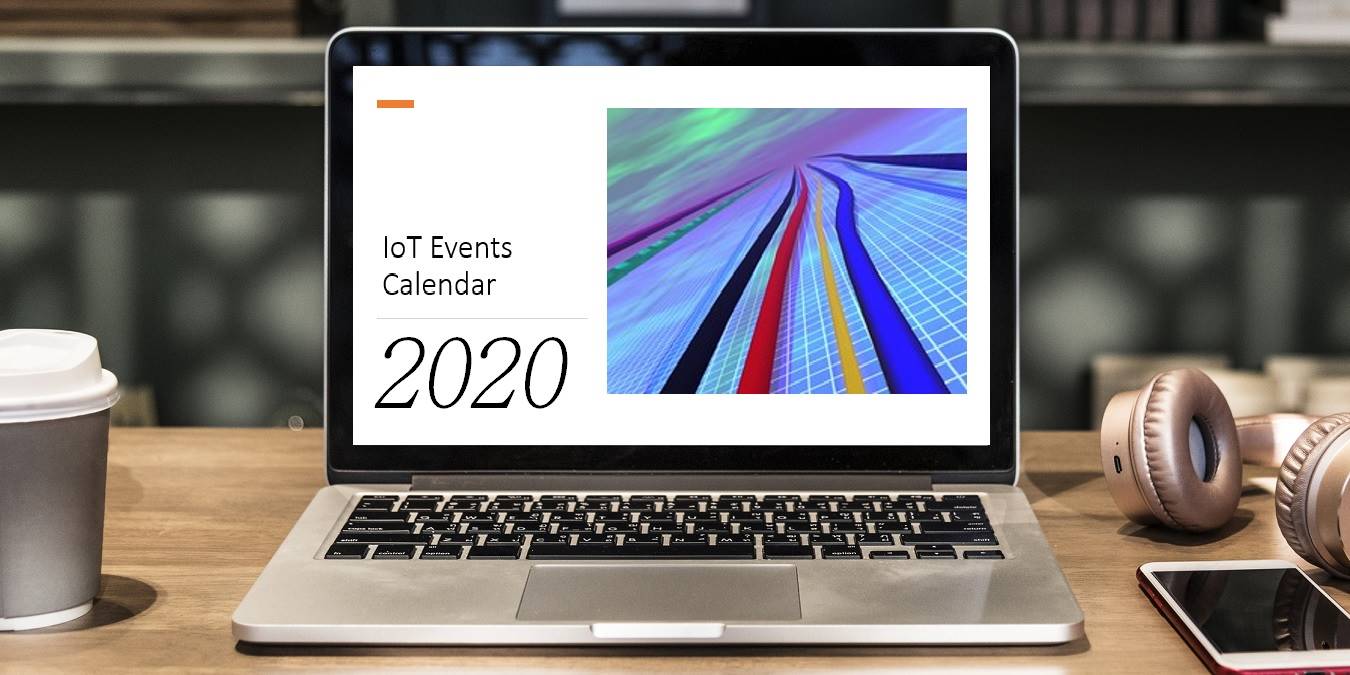 As we welcome a bright new year, it will be jam-packed with interesting IoT conferences and tech workshops. Book your 2020 calendars with one of these exciting IoT events close to your part of the world.
North America
Feb 11-14 | IoT Evolution Expo, Fort Lauderdale, FL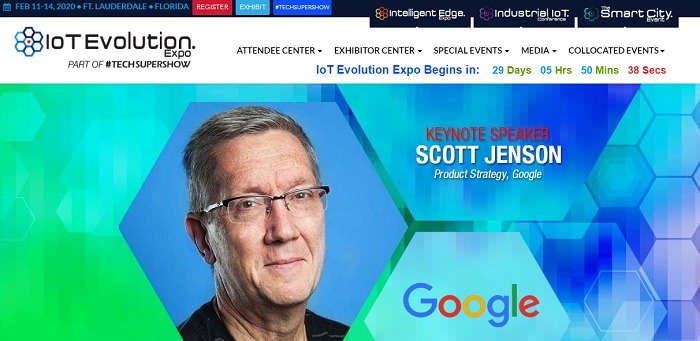 This keynote event will cover edge computing, industrial IoT, smart city technologies, and cover the IoT landscape across multiple industries including travel, hospitality, and healthcare. An expo pass is available for only $99 and a superpass from $1395.
March 26 | IoT Device Security Conference, Santa Clara, CA
Device security has been a consistent focus on this site. The IoT Device Security Conference in Silicon Valley will give the latest lowdown on device security trends, and we will cover the findings of this conference as and when it happens. If you want to attend this event in person, registration is free, although there may be charges afterwards.
April 6-9 | IoT World, San Jose, CA
A major event in IoT circles, IoT World is one of the largest events in Silicon Valley. This year the focus will be on 5G, connectivity, artificial intelligence, edge computing, and IoT Security. Tickets are available from $195, which covers just the expo, to an $1895 everything pass.
May 13-14 | IoT Innovation North America, Chicago, IL
IoT Innovation North America is a premier conference in the Midwest focused on AI, 5G networks, Blockchain, advanced sensor technology, fiber optics, big data, the cloud, edge computing, and enhanced security. An early bird pass before March 6 is currently at $750 and a full rate pass at $895.
September 28-29 | IoT in Oil & Gas Conference, Houston, TX
The sixth edition of the IoT in Oil & Gas Conference is an industry niche-specific IoT event covering the oil and gas industry. Featuring the A-list oil companies, the attendees will gain first-hand insights into how IoT is transforming the energy sector. Registration starts at $895 per person.
November 3-4 | IoT Big Data Healthcare Summit, Toronto, Canada
The 4th annual IoT, Big Data Healthcare Summit is focused on healthcare and big data retail providers. Registration starts at $350. You can also keep track of many other IoT events taking place in Canada on the site.
November 4-5 | IoT Tech Expo North America, Santa Clara, CA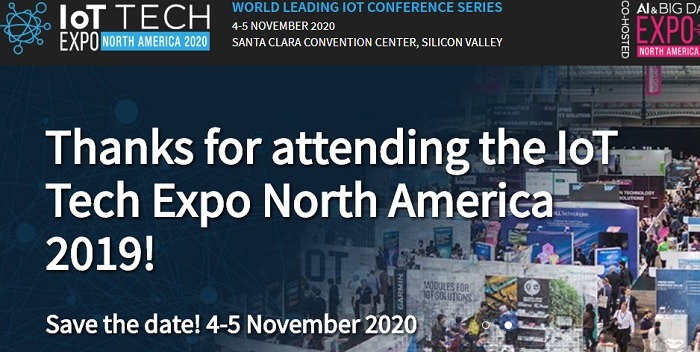 Another important Silicon Valley event, IoT Tech Expo will return to its fifth edition covering everything from IoT, 5G, cyber security, cloud, blockchain, AI and big data. With over 9000 attendees and several A-list IoT technology companies, you will understand the future direction and course of IoT. You can attend the expo itself for free while early bird entries for such a mega event are going for as little as $169 before July 20.
Asia
February 24 | 5th IoT Middle East 2020, Dubai, UAE
Want to attend an event at the iconic Burj Khalifa? IoT Middle East 2020 is reaching its fifth edition and promises to be an exciting event full of all IoT topics of your interest. Full day conference events start at $745.
July 20-21 | Industry of Things World Asia, Singapore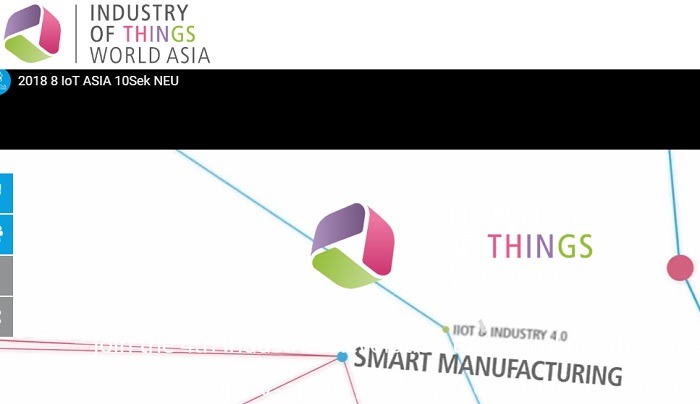 This two-day event promises to be a jamboree of industrial IoT giants such as Rockwell Automation, Accenture, Gadgeon, and PTC Inc., among others. Interact with them to enlarge your understanding of smart energy, digital factories, Supply Chain 4.0, commercialization of IIoT and much more. Go for a three-member team pass at $995 per person.
August 5-6 | Asia IoT Business Platform, Bangkok, Thailand
IoT is promising to be a significant growth enabler in ASEAN countries. Attend this event to know more about local IoT initiatives of the government of Thailand, including setting up an IoT park, smart mobility, smart transport, and more. Registration starts at $1200 per person and is all-inclusive. After this, you can also attend other local chapters of Asia IoT Business Platform events in Vietnam, Malaysia, Philippines, Indonesia, and other ASEAN countries. Check the website for dates.
August 21-23 | Smart IoT Taiwan, Taipei, Taiwan
This is a very important exhibit in Asia demonstrating smart transportation, smart retail, consumer appliances, and more. You can register for a free show and need to keep track of pre-registration which will only be available later.
September 2-4 | Smart Cities & Buildings Asia, Singapore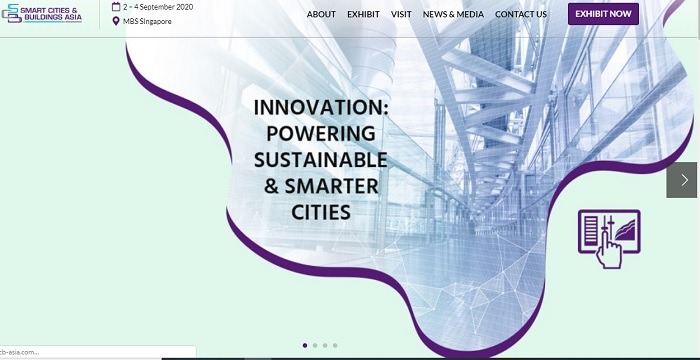 Smart buildings are going to be a way of life in the near future. Attend SCB Asia to learn more about smart buildings, smart facility management, security & surveillance, smart construction, and HVAC automation. You can connect with over 550 vendors in smart city solutions. There is still a lot of time, as registration is not yet open.
September 22-23 | Internet of Things World Asia, Singapore
One of the largest tech shows in Asia, this event is part of a number one leading global IoT series by Informa. It is a comprehensive event which covers all IoT topics straight from the experts. Follow #IoTWorldAsia for more updates on this mega event.
September 22-24 | 5th International Conference on Cloud Computing and Internet of Things, Okinawa, Japan
CIOT 2020 is an invitation-only academic conference at the University of Ryukus in Okinawa. It is an annual prestigious event which brings the latest knowledge in IPv6, 5G, cloud computing, and other networks of the future. The cut-off date for submitting the paper is April 30, 2020, but you can register on the website as a listener much after that for $350. There are networking dinners and plenty of interaction opportunities at no extra cost.
Europe
February 24-27 | Mobile World Congress, Barcelona, Spain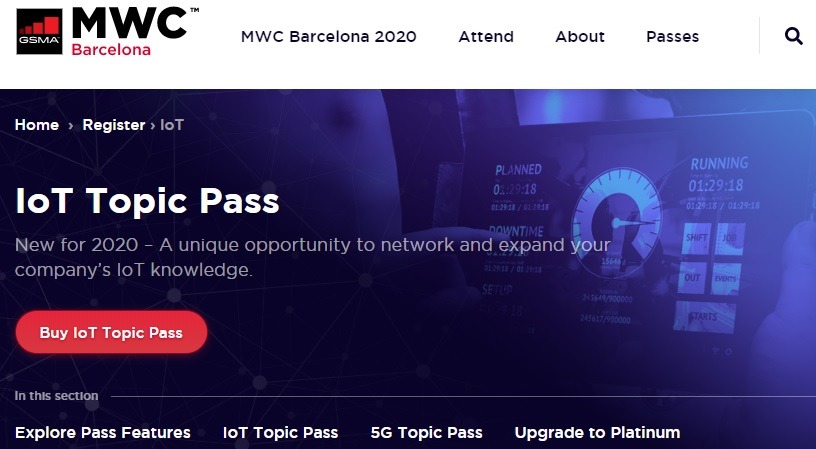 The biggest trendsetting event in the telecom world, MWC 2020 is expected to blaze the path with new announcements in 5G and other communications technologies. This year you can buy an IoT topic pass or a 5G pass which is slightly expensive at €1868. If you can't make it to the event, we will cover it because of its sheer importance.
March 11-12 | Smart IOT London, London, UK
With over 20,000 expected attendees and more than 750 exhibitors, Smart IOT London is expected to be a major draw this year. Registration is free on the site, and more information will be available as the event dates draw near.
April 20-23 | International Conference on Fog and Mobile Edge Computing, Paris, France
The fifth International Conference on Fog and Mobile Edge Computing covers the trends in Fog and edge computing which, will be of interest to industries. Many new ideas will be discussed including Dew-based computing, cloudlet-based computing and more. Registration starts at $600 per person.
June 10-11 | Internet of Things World Europe, London, UK
IoT World Europe Summit is of massive interest. It's a massive multifarious event which covers almost all topics in IoT and should be a good knowledge-gain session for attendees. You can register and follow key developments on the official site.
July 1-2 | IoT Tech Expo, Amsterdam, Netherlands
IoT Tech Expo is one of the most popular global series of IoT events. The Amsterdam version is expected to be a major draw. Registration is free, and you can have some steep discounted access entries for as little as € 109.
September 21-22 | Industry of Things World, Berlin, Germany
One of the biggest industrial IoT events this year, Industry of Things World will see major focus from attendees wanting to know more about smart manufacturing practices in the IoT age. A minimum three-member team pass is available for €1.147,50.
Conclusion
Although there are a few more important IoT events which we could not cover here, these are the ones which we expect to bring out the major trends this year.
Are you planning to attend any IoT events this year? Do let us know in the comments.
Subscribe to our newsletter!
Get the best of IoT Tech Trends delivered right to your inbox!