Smart coffee machines are the perfect way to wake up faster and fill your home with the rich aroma of freshly-brewed coffee. Forget having to walk across cold floors and wait for what seems like forever to make a cup of coffee. Use your phone to program your coffee maker to wake up before you do and have your coffee ready.
1. Smarter Coffee
Smarter Coffee ensures you always have a freshly brewed cup when you want. By using the convenient app, you can filter and grind your coffee. Choose the perfect strength for when you may need a little extra pick-me-up or something a little weaker right before bed.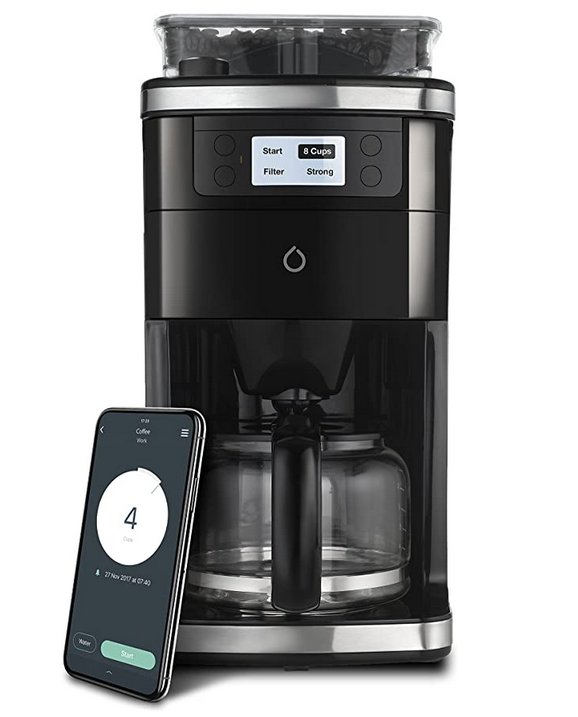 Brew enough for multiple cups or just one. Get a custom cup of coffee remotely by using the app anywhere you may be. Or set the "Wake Up Mode" to start brewing just as you wake up.
2. Hamilton Beach Smart 12 Cup Coffee Maker
Hamilton Beach is a well-known appliance brand, so it shouldn't be a surprise that the company has joined the effort to make smart coffee gadgets. The Hamilton Beach Smart 12 Cup Coffee Maker works with your smartphone and Amazon Alexa.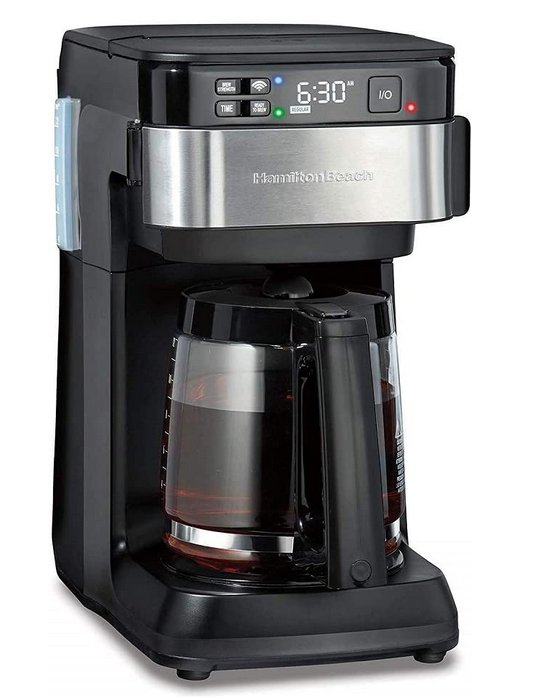 While it looks like a normal coffee maker, you can brew up to twelve cups of coffee using just your voice. The easy front-fill lets you prep the machine quickly. Use the app to brew the strength you want and choose when to brew as well.
TopBrewer
TopBrewer is one of the most unique smart coffee machines. Instead of sitting on top of your counter, the machine goes under the cabinet. A swan neck tap delivers one hot steaming cup of coffee after another. This one is made more for businesses than individuals, but you can buy one for your own home. It's a great addition if you're starting a small business, too.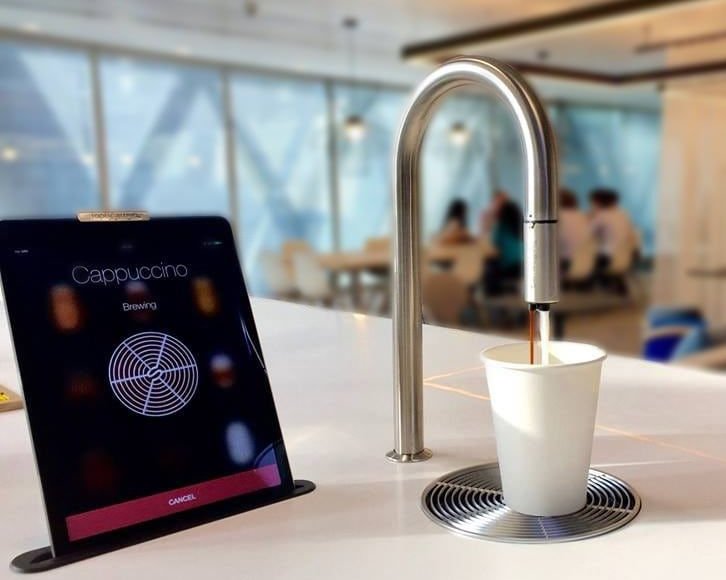 Use the app to create a variety of custom coffee drinks. All you have to do is refill the coffee beans and milk each day. The machine is ready to start brewing in less than a minute.
Saeco GranBaristo Avanti Super Automatic Espresso Machine
Would you rrather have a rich espresso over black coffee? The Saeco GranBaristo Avanti Super Automatic Espresso Machine has you covered with eighteen built-in drink recipes. Despite the long name, the machine is surprisingly easy to use.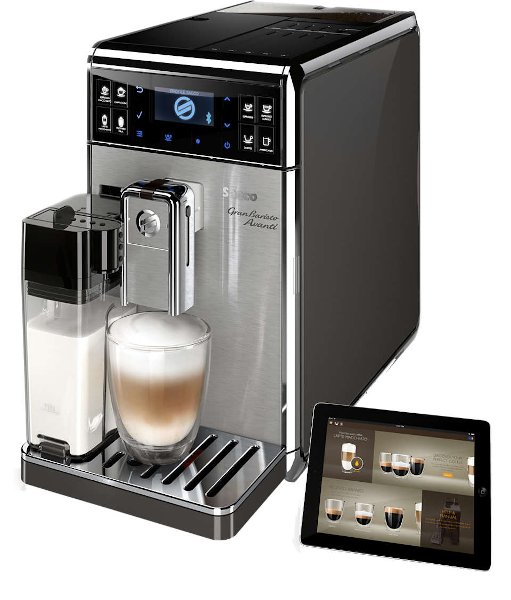 The companion app makes it easy to program and perform regular maintenance, such as cleaning. The best part is the machine stores up to six user profiles for quick one-touch drinks based on a user's preferences. Of course, you can also do everything from the app, too.
Atomi Smart Coffee Maker
The Atomi Smart Coffee Maker looks like a normal coffee maker, but it integrates with both Amazon Alexa and Google Assistant. It's one of the smallest smart coffee gadgets on this list, so it's great for small spaces.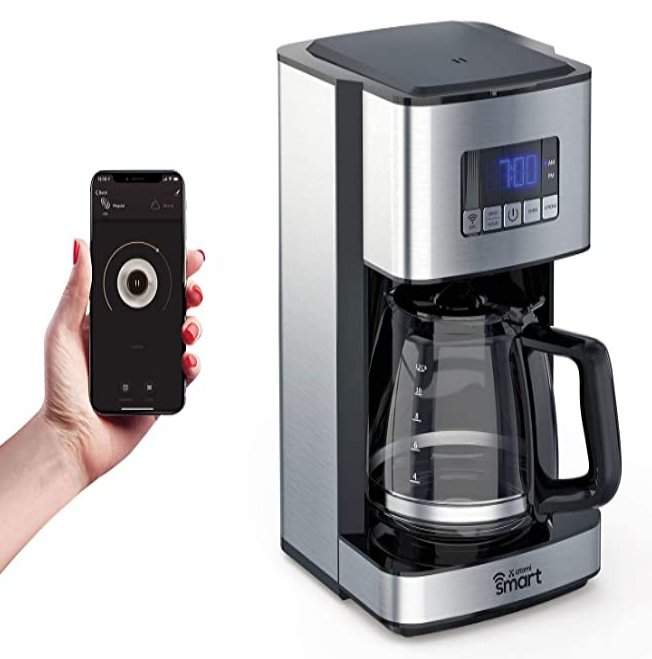 The app doesn't offer quite as many options as some other smart coffee makers, but you're still able to control the strength of the brew. Use the app or your voice to easily wake up to freshly brewed coffee each day.
Barisieur Coffee Alarm Clock Coffee Maker
If you truly want to mix a great cup of coffee and an alarm clock, the Barisieur Coffee Alarm Clock Coffee Maker has you covered. While there isn't an app or voice assistant integration, it's still a smart device.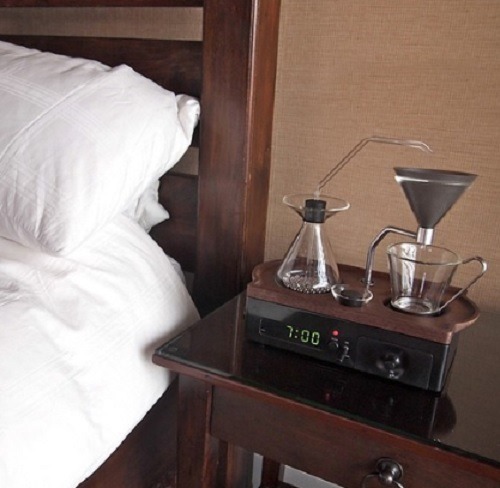 The alarm clock portion works as you'd expect. However, the machine also brews a cup of coffee right beside your bed. You don't even have to get up to get your coffee. Simply sit up, reach over, and enjoy.
Forget the days of a simple coffee maker. It's time to brew smarter and wake up to a great cup of coffee.
Image credit: designmilk