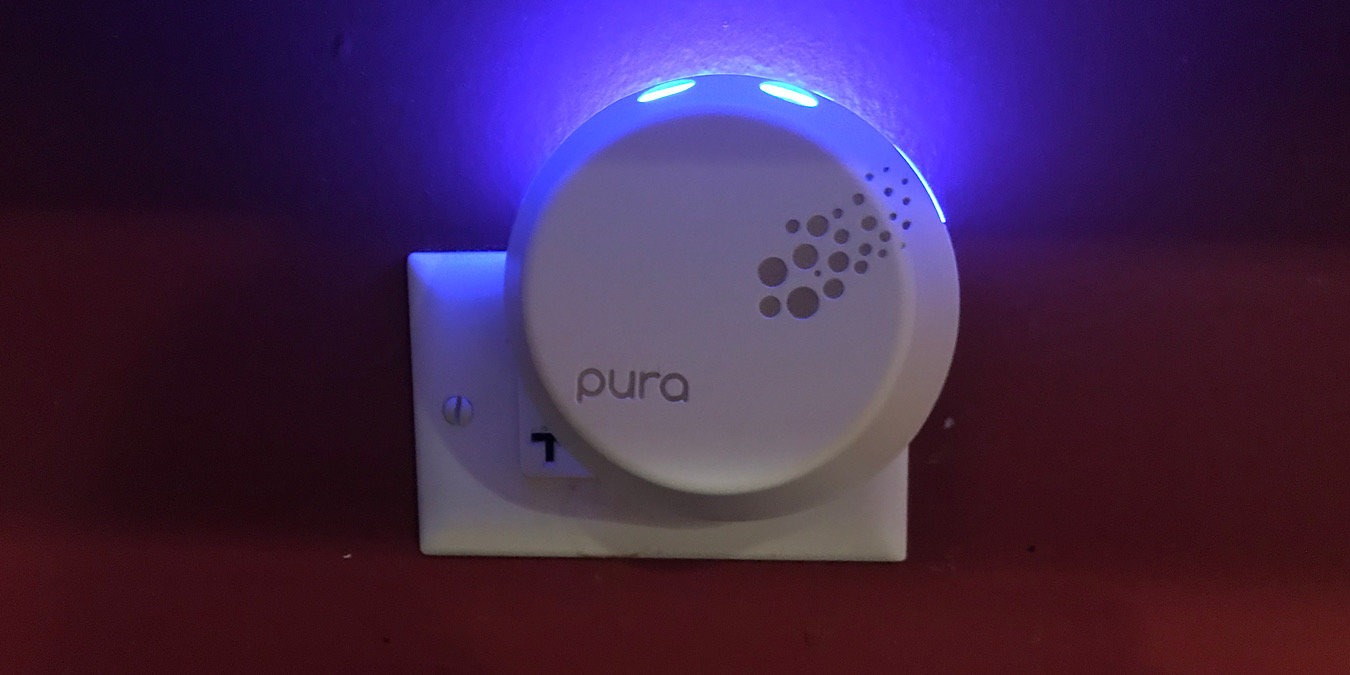 Everyone knows the value of lighting a candle in their home. Other than the romance of the lighting, it's nice to have the added scent to cover cooking odors or bathroom odors, or just to help set a certain mood as a reminder of fall, Christmas, spring, the beach, etc.
With the Pura Smart Home Fragrance Diffuser, you don't have to leave it up to a candle and the danger of an open flame.You can have the scent of your choice whenever, wherever you'd like. Best yet, you can control it all with your smartphone.
Introducing Pura Smart Home Fragrance Diffuser
The Pura Smart Home Fragrance Diffuser allows you to set the mood, cover cooking odors, and disguise bathroom odors via iOS and Android apps. You can even switch back and forth between two scents via the app, meaning you don't even need to be at home to do so.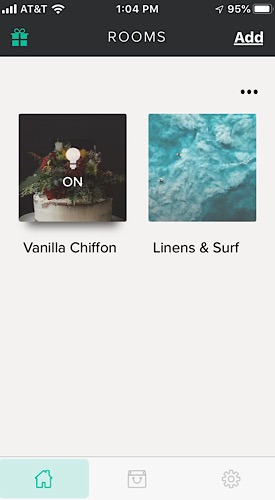 Along with adding a pleasant scent, the device also adds an LED light that can be set to any color of your choice. You can make the light as bright or dim as you'd like as well.
The Pura is the perfect IoT accessory for the kitchen, bathroom, bedroom, living room, or office.
Using the Pura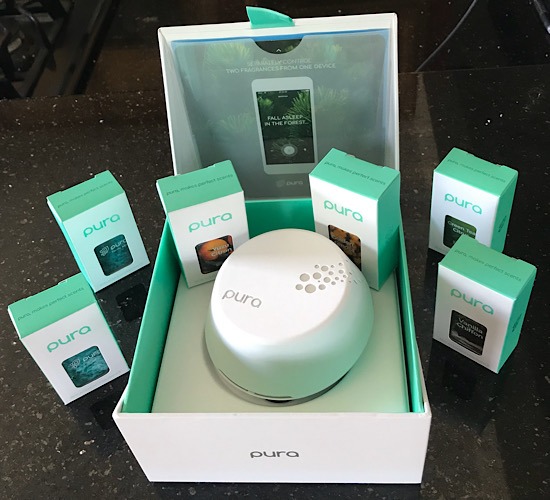 Using the Pura is a very simple process. You'll be up and going within minutes of opening the box. The Pura itself ships alone, but you will of course want to buy some scents to use with it. It handles two at a time, so you will want to buy at least two. I was blessed to have received six scents with the one I reviewed.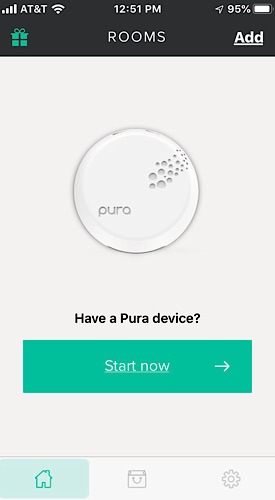 After downloading the app, it's a very short process to get started. After creating an account, the app recognizes the diffuser and connects it to your Wi-Fi very easily.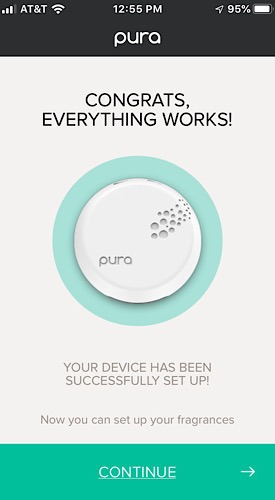 The Pura determines which scents you are using through QR codes. The vials have a QR code on them, and you simply scan that in through the app. Optionally, you can also type in a three-digit code.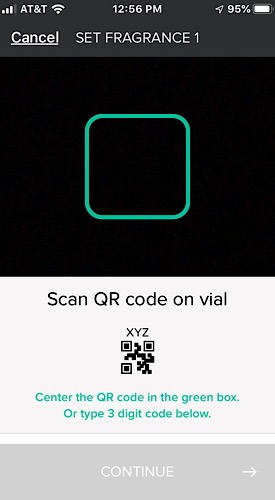 It shows you a picture of what you scanned in, then shows you the directions of how to insert them into the device.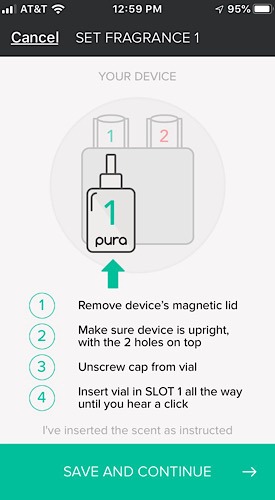 This is done by removing the lid of the Pura while making sure it remains upright so that the vials don't spill. Unscrew the cap of the vial and insert it into the first slot. Then repeat the process with the second scent and replace the lid.
Choose what room you are using your Pura in, and the device updates.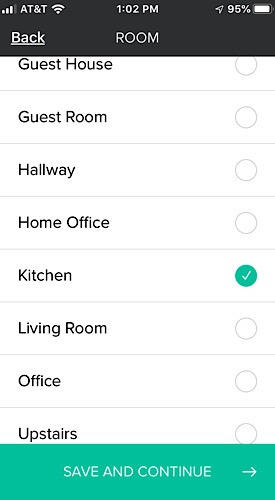 After adding the scents, they both appear in the app, and you can create schedules for them, choose the strength of the scent, and also set the color and brightness of the LED light.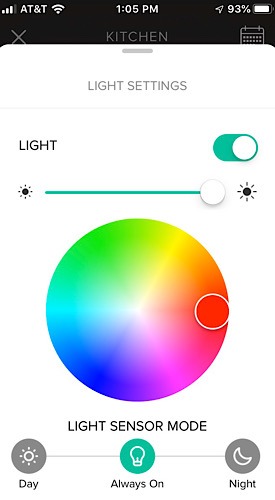 The great thing is that it has two scents, so you aren't confined to just one scent throughout your day. I've been using one in the morning, then another in the evening. I set the second to start before I get up in the morning and end in early afternoon. The second scent I scheduled to start late afternoon and shut down after midnight.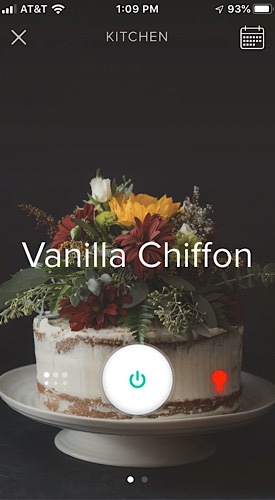 This is Monday through Friday. I just wing it through the weekends. But at any time I could change it through the app, even if I'm not at home.
Currently, there is no smart home integration through Alexa, Google, or Apple HomeKit, but Pura says integration is coming soon.
What I found particularly impressive is that I ran both scents every day Monday through Friday and at times during the weekend for a month, and I still did not run out of the scent in the vial. They both still had about 1/3 left. Pura says they both last 700 hours. I changed out the scents anyway for a change of pace, but I could easily switch back to those.
Looking at their store, I see they have pumpkin and apple for the fall and also have a holiday scent. I'll be buying those soon!
Pricing
The Pura Smart Home Fragrance Diffuser is very reasonably priced. The diffuser itself sells for $34.99 and carries a one-year warranty. The fragrance vials cost $12 apiece, which initially sounds a little high, but again, they last more than a month, 700 hours for two. Ask yourself if a candle would last that long and how much it would cost to make sure it did.
They have great programs for adding new scents as well. You can become an ambassador and earn a discount, commission, swag, etc. Additionally, you can gift two fragrances to a friend, inviting them to use Pura, and if they sign up, you'll both earn two free fragrances.
Mood Is Set, and It's Great!
The Pura Smart Home Fragrance Diffuser will set the mood for you. You can have your choice of scents, the intensity you want, and also a night light. And it all works from your iPhone or Android phone, allowing you to put a Pura in every room if you want.
Subscribe to our newsletter!
Get the best of IoT Tech Trends delivered right to your inbox!