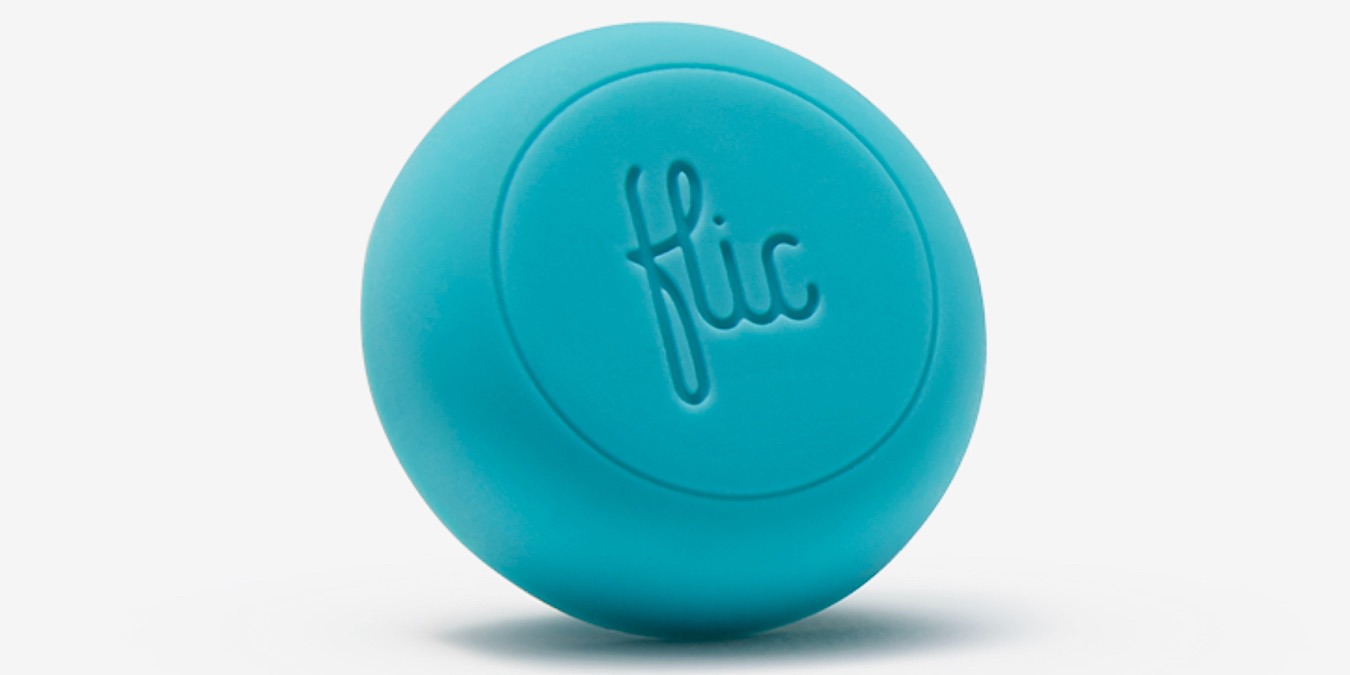 Many of the positive aspects of smart devices revolve around convenience. They have the ability to make our lives a little easier by doing tasks or tasks. The Flic button fits right into that realm, offering you convenience from just one tiny button.
Not only does it give you convenience, but it gives you multiple options. That's key to a Flic, all the different ways you can use it, as implied by the name. It suggests using it is nothing more than a "flick" of your fingers, and it can't be any more simple than that. It's an easy solution to add a little bit of convenience into your life. All you need to do is push the Flic button, and it will perform your action of choice, and you'll be up and going in less than 5 minutes.
Setting Up the Flic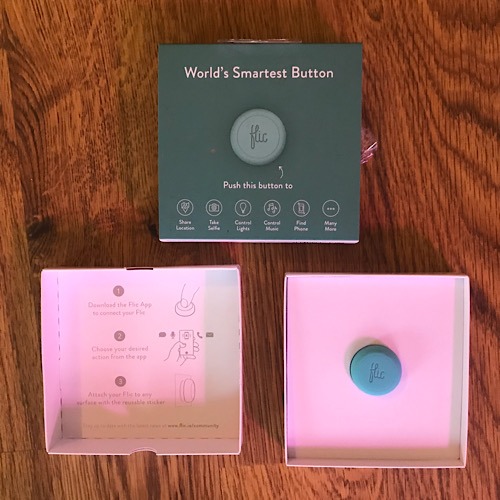 There are two ways to set up a Flic button: with a hub and with your phone. Choosing your particular setup option depends on how mobile you want your Flic to be and if you want others to use it as well. If you want to only use your Flic at home and want other people in your family to use it as well, it's best to use a hub, as it can be set up to use without your phone. But if you want to use it while on the go, set it up with your phone so that it won't matter if you are away from home. Buy the particular Flic package you want accordingly.
With your Flic ready to be set up, download the appropriate app for your use case: either iOS Android or even a Mac. Currently, they offer a Flic and a Flic 2; I had the opportunity to review the Flic and chose to set it up with my iPhone through iOS.
Download the app and set up an account.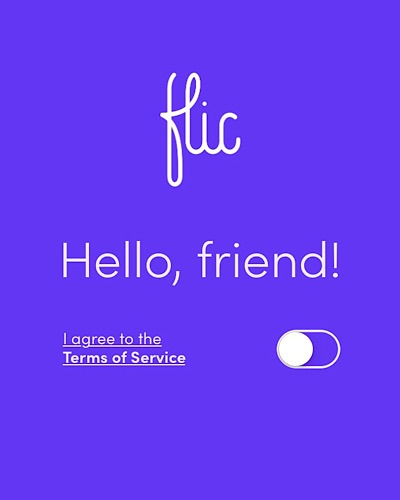 At this point you need to choose whether your Flic will operate through the hub or your phone.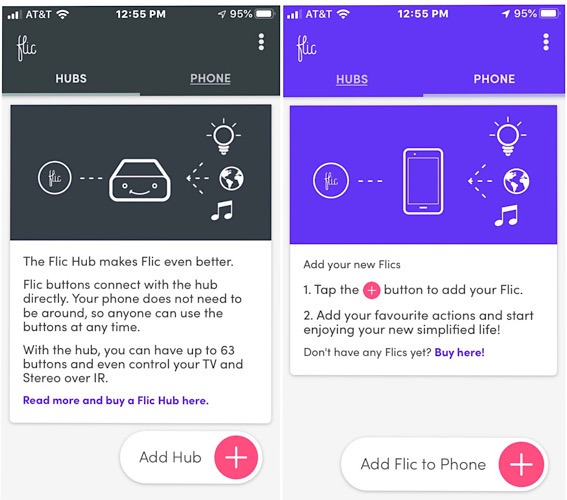 Again, I paired with my phone. This led to a screen where it asked me to click the Flic button and hold it until it paired up via Bluetooth.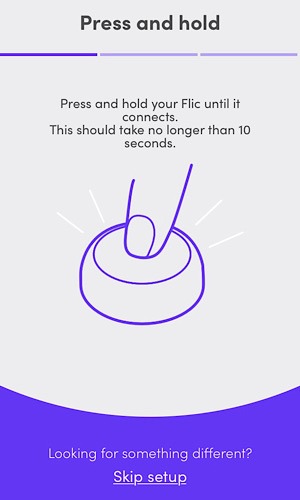 This leads you to a screen where you can start choosing how your Flic button will be used. There are three separate actions: "Click", "Double Click", and "Hold". Each one of these actions can hold different functions you want the Flic to carry out for you. You can even have multiple functions for one action. For the click action, I decided to have it find my phone. Now I just need to click the button, and a sound will play.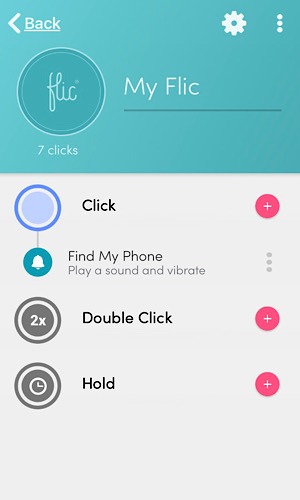 There are so many different functions you can map to the actions, more than 1000, and again, you can even pile them up and have them do multiple ones in each action. There are so many options, it's almost overwhelming trying to decide which ones to choose.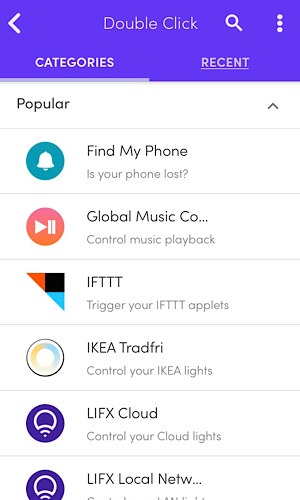 Other than finding your phone, you can use it to set a certain timer. I work out for 45 minutes ever day, so I set the "Hold" button action to a 45-minute timer. I set the double click to play a favorite song of mine. But what I could have done was chain them together, I could have set the "Hold" button action to start the timer, then play that song.
Again, there are more than 1000 functions the button can be programmed to do. You can set it to trigger an IFTTT applet, use it as a trigger button for your camera, which could be helpful in selfie mode, or you could text your location to someone in particular. It can also control your Philips Hue lights, control your Chromecast, send a Gmail, or even just display a random number.
Using Flic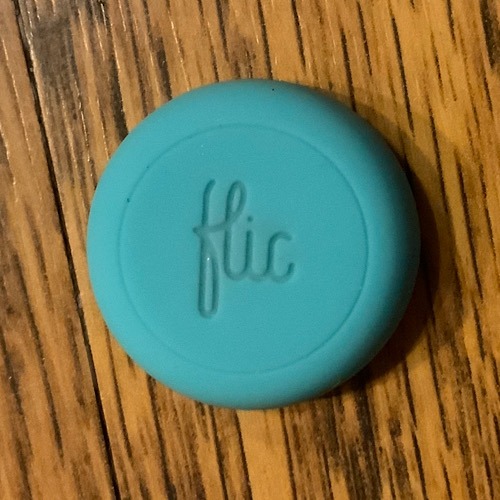 There really isn't much to explain about how to use the Flic button. Again, you simply click, click twice, or press and hold. It's that simple, yet it can do so many different actions. There is adhesive on the back to stick it nearly anywhere, including your car. There is also a clip provided so you can attach it to the zipper of your backpack or perhaps the zipper on your clothing. I missed the clip when I first unboxed the Flic. It was buried underneath everything in the box.
Buying Options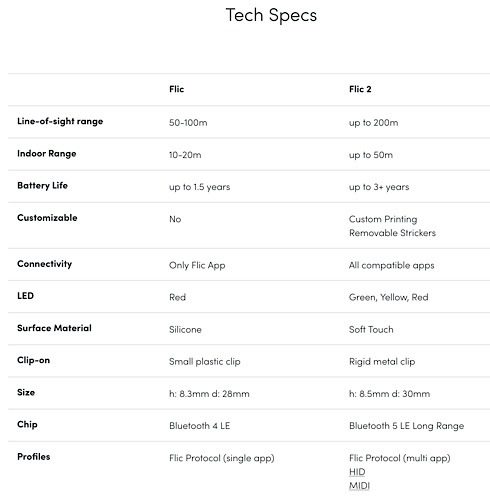 The image above shows the differences between the Flic and the Flic 2 to help you decide which one you need. Mostly the differences are needed advancements. The line-of-sight range is doubled in the Flic 2, while the indoor range is more than doubled. The battery life is more than doubled as well. It will also connect to those apps providing the functions instead of just connecting to the Flic app. Most importantly, if you have multiple Flic 2s, there are stickers you can print out so that you know which ones do what actions.
After you decide which Flic you want, you can move on to whether you need a hub as well as how many you need. They offer with and without the hub and also offer them in single- or multi-packs.
There isn't much not to like about the Flic button. It's easy to set up, easy to use, and works well. Along with that, there are so many different options for how you will use the Flic. There are not many negative things to say about it. But again, it's a tool of convenience. It's not necessary, as these actions can be carried out by your phone or smart home devices, but that doesn't take away from the ease of use and flood of options, leading to its convenience.
Subscribe to our newsletter!
Get the best of IoT Tech Trends delivered right to your inbox!