The problem with a smart ring as a wearable is of course the small size. How can you fit a screen pr buttons on a tiny ring, and how can a manufacturer fit all the necessary hardware needed inside it?
An Apple patent shows they may have the answer. It shows that the company is considering a smart ring that is expandable to cover your entire finger. This gives it the landscape that it would need while also being able to resemble a normal ring for the sake of fashion.
Apple Smart Ring Patent
This week the U.S. Patent and Trademark Office granted a patent to Apple for an "Expandable Ring Device." Both the name and the illustrations show the ring expanding into a longer tube that covers the knuckles.
They solve the screen issue by not using it in that manner. Unlike a smart watch, it's not intended to be used independently – it's intended to be used as a controller for other devices so that you perhaps don't need to pick up your phone and can have it check your messages or set an alarm. But you won't be reading those messages on the ring, you'd still be using your phone.
This would be handled by a collection of sensors, including force sensors, ultrasonic sensors, inertial measurement units, optical sensors, and touch sensors. Haptic feedback could be provided as well with elements that create vibration. Control circuitry would manage the transmission of information.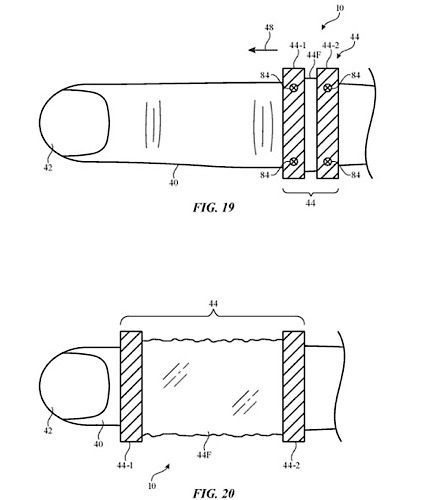 Apple suggests in its patent that the smart ring could include buttons that rotate and other elements in the main housing. Some sensors would only be accessible when the ring is expanded, while others would be accessible whether it's unexpanded or expanded.
It's not always notable when Apple files a new patent, as they do so weekly. However, the patents can be interesting as far as enabling us to take a look at what Apple is interested in developing.
The inventors listed on this patent, Paul S. Wang and Dinesh C. Matthew, have been listed on multiple Apple patents. Along with other patents, Wang was listed on the single glass sheet iMac redesign and an Apple Pencil haptic feedback system. Matthew was listed on a solar-powered MacBook design.
An October 2019 smart ring patent considered a touchscreen that could send commands to another device, a month later a smart ring patent showed how it could help detect a user's motion for augmented or virtual reality.
Other Smart Rings
Apple is not the first to consider a smart ring wearable. Amazon even has one available with the Echo Loop ring that allows users to talk with Alexa via their finger and also has microphones and provides haptic feedback.
Would you be interested in an Apple Smart Ring or any other smart ring? Or do you think this is taking the wearable idea too far? Share your thoughts with us in a comment below.
Image Credit: Wearable Technology Icon Set Infographics by DepositPhotos and AppleInsider