I'll admit: I get a lot of deliveries. I shop online regularly at Amazon, as well as Poshmark, Ulta, and other stores. And I'm not the only one. My daughter gets things delivered as well, so we get packages at least a couple times a week, if not more. Luckily, there is almost always someone here to receive the deliveries, but not always.
LG has a new futuristic door that could take care of deliveries, whether it's regular Amazon purchases or groceries. But deliveries aren't all the LG door takes care of. It handles all the other smart home tasks associated with doorways as well.
LG at CES 2020
LG showed off this revolutionary door at the Consumer Electronics Show (CES) 2020 this week. Along with the door, the company also showed off several TVs, a new refrigerator, a washer/dryer combo, and more.
The door almost looks like a refrigerator itself, with its shiny Chrome front, which admittedly wouldn't be suitable for every home. But it definitely isn't your average front door to a home.
To get past the LG door, you need to scan your face and palm to be recognized, but before you go in, if deliveries came while you were out, they're waiting for you in one of two compartments. But they also open from inside the home so that you don't have to brave the elements to retrieve your packages.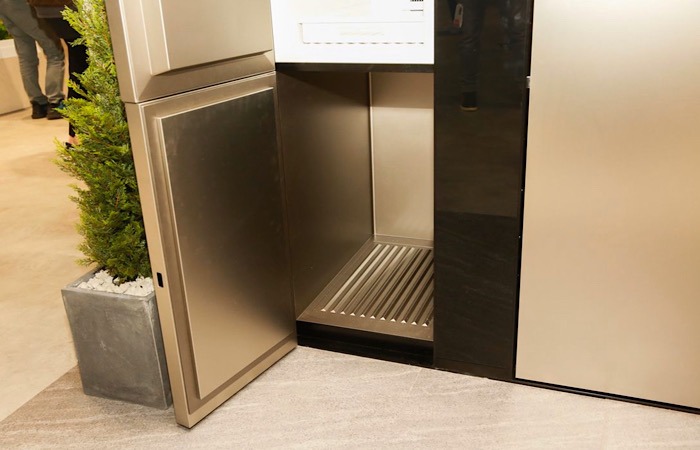 One of those compartments – or door-within-a-door, if you will – is for regular deliveries. You wouldn't have to worry about letting Amazon in your home like the company has been pushing – you can just have them put your packages in the compartment.
The other compartment handles perishables, be it your weekly groceries or Uber Eats. Perhaps instead of groceries or fast food, you have a meal service that delivers meal ingredients to you. Regardless, they can be stored in the compartment until you arrive home ready to make dinner.
The lock and the delivery compartments aren't all that makes this door special, though. A mirrored display on the inside of the door also shows off information you might be looking for as you leave your home, such as weather, traffic, your grocery list, a map to your destination, etc.
Still in the Future
While many of the innovative products LG showed off at CES will be available soon, the door will not be. This is just a concept at this point, but it's definitely an interesting direction for the Internet of Things to be headed.
Is the futuristic LG door something you'd like on your home? Or is this pushing the smart home idea just a little too far for you? Tell us in the comments what you think of the LG door concept.
Image Credit: CNET