What do you get when you mix a product that keeps you safe with a product that provides you with entertainment? You get the best of both worlds.
This was bound to happen. With all our smart home products, they're beginning to mix together to provide us with great products that have multiple functions, such as keeping us safe and entertaining us at the same time. First Alert offers the Onelink Safe and Sound smoke alarm that has ApplePlay 2 support so that it doubles as a smart speaker.
Best of Both Worlds
Luckily, most of us never even realize the smoke alarm is in our home, save for the burnt pizza that sets it off or the alert from the battery that has died. So why not give it extra functionality, so that even if it's not needed, it's still getting daily use?
First Alert offers the Onelink Safe and Sound that provides all the same features you look for in a smoke alarm while also being Alexa-enabled and Apple HomeKit compatible and having ApplePlay 2 support.
This device is a hardwired photoelectric smoke and electrochemical carbon monoxide alarm to focus on the safety of your family. It also provides remote notifications of an emergency in your home, allows you to customize nightlights, and tracks carbon monoxide levels.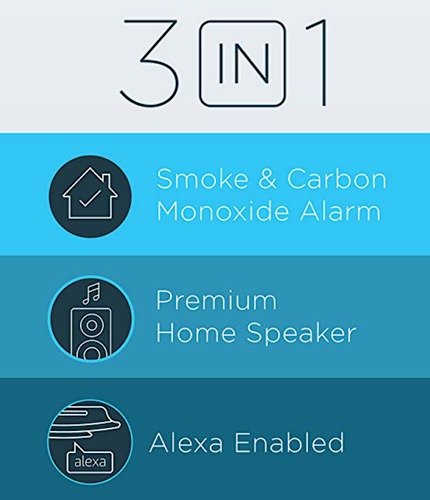 Battery levels are tracked as well in the accompanying app, adding to the safety so that you know when it's time to replace the batteries instead of relying on beeps. Voice location technology will announce the type of danger in your home, as well as the location.
The AirPlay 2 compatibility enables you to set up a wireless multi-room audio system. You can stream music anywhere in your home to your iOS devices and other AirPlay 2 compatible devices.
You'll get great acoustics from the ceiling placement of the alarm and can even use it with Alexa to play music, podcasts, read audiobooks, or listen to the news or weather. You can also control your other smart home devices.
The Onelink Safe and Sound alarm installs quickly and easily using the included AC adapter plugs that replace your existing hardwire alarms without requiring rewiring.
Availability
The First Alert Onelink Safe and Sound smoke alarm is available now at just $178.25, down from $249.99, a 29% discount, and is available with Amazon Prime's free one-day shipping, meaning your house can be safe tomorrow while you enjoy the speaker's many added benefits.
Can you see the value of adding the Onelink Safe and Sound to your home? Tell us int he comments below.