Taking notes has changed much in the past 15 years. No longer do you have to take out a paper and pen. You can do it all on your smartphone or tablet. But since there are some diehards who refuse to give up the paper and pen, there are smart notebooks. The Roceketbook Smart Reusable Notebook is one such product, and if you're one of those diehards, you can try it now at 15% off.
Feasibly, you'll never have to buy another notebook – it's reusable after all. The Rocketbook also comes with a Pilot Frixion Pen and microfiber cloth so that you'll be all set up.
The reusable notebook is executive sized, 6″ x 8.8″, and comes in an array of cover colors, though only the ones in deep space gray, beacon orange, scarlet sky, and terrestrial green are discounted.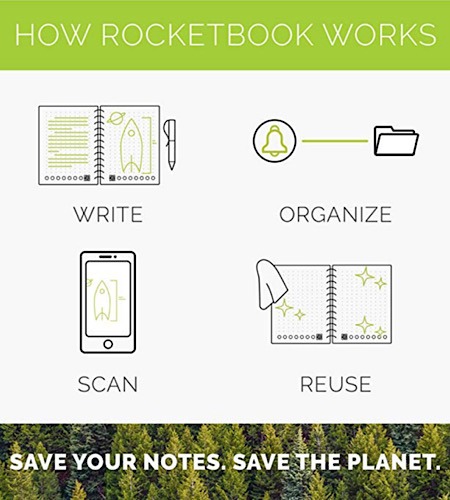 This 32-page lined notebook can be used repeatedly, since it wipes clean with a damp cloth, making it environmentally friendly since you're not wasting paper.
After you handwrite your notes with the Frixion pen, you can send them to cloud services such as Evernote, OneNote, iCloud, Dropbox, Slack, etc., and even email using a free Rocketbook application for both iOS and Android. Smart titles, smart search, and email transcription make searching for notes easier.
You need to allow 15 seconds for the ink from the Frixion pen, a marker, or highlighter to dry for it to bond to the Rocketbook notebook.
Those four colors of the executive size Rocketbook, the Frixion pen, and microfiber cloth can be purchased for 15% off. Even still, the full price of $32.00 is still not a bad deal either for the other colors. Letter size is available as well for just $2 more.