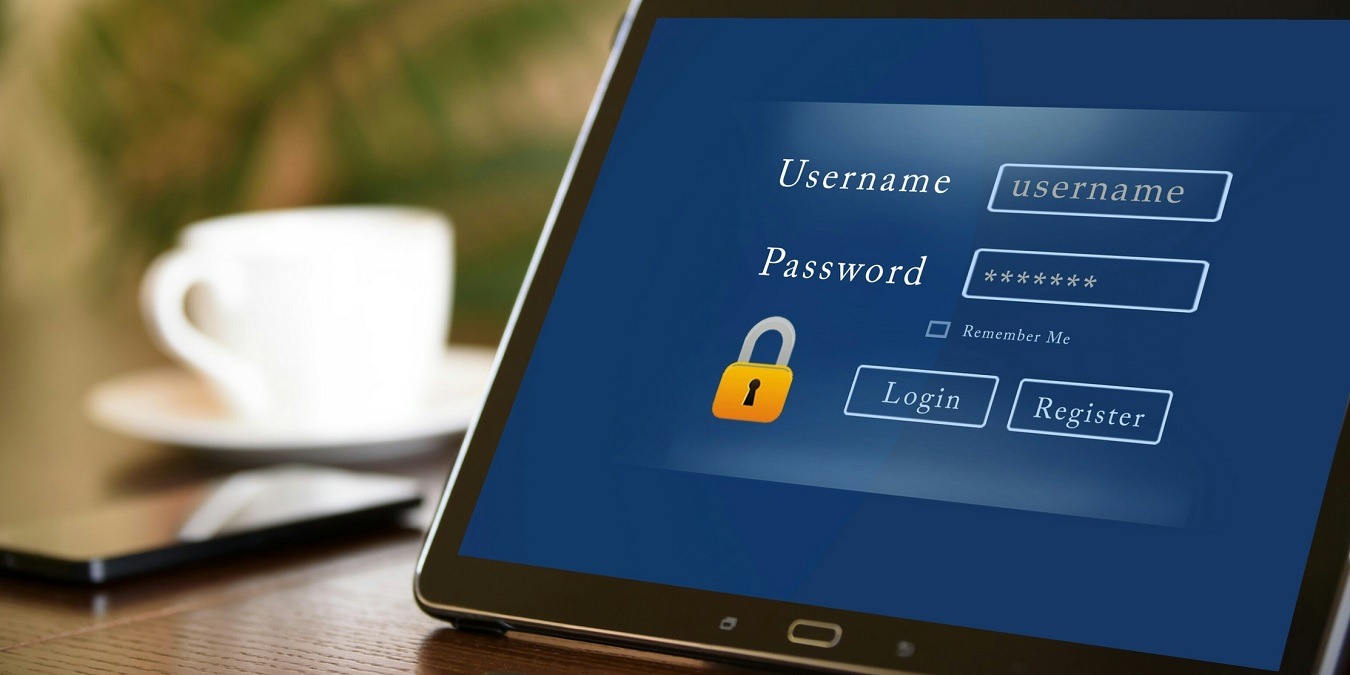 A smart display is a gadget that provides a data presentation counter to manage and run various smart home devices. It may include features such as videoconferencing.
To operate a smart display, you can use various input sources: an always-listening voice assistant, a smartphone app or a touchscreen.
Here we have rounded up the best smart displays for 2019. Each of these will give your home a statement look without spending a fortune.
1. Facebook Portal
Do you regularly video call your friends and family? Facebook Portal is the perfect accessory that will ensure you never miss out on the latest news. At the moment, it's only available for $129 which is a real steal.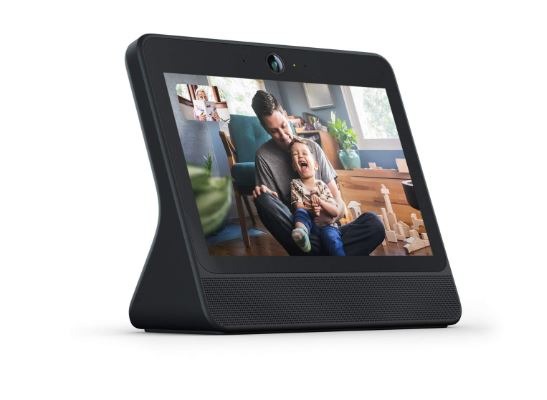 Equipped with built-in Alexa, Portal is self-sufficient for hands-free video calling, which means you don't need a separate Amazon speaker. While you have to use your Facebook account, the calls on Portal are encrypted, and you can block the camera and microphone with a single tap.
Portal also doubles as a smart speaker in its own right, helping you experience music, weather alerts and more. With a 1080p HD resolution on a 12 MP camera with a 140-degree field of view, the overall experience has been compared to augmented reality.
For an upgrade, you can go with Facebook Portal Plus which has a bigger 15.6 inch screen, a higher resolution and 20W speakers.
2. Google Nest Hub Max
Google Nest Hub Max is an entertainment hub, smart speaker, online streamer and video conferencing unit rolled into one. This versatile connected home device lets you adjust the thermostat while taking video calls and playing YouTube on a 10-inch screen with 3″ woofer.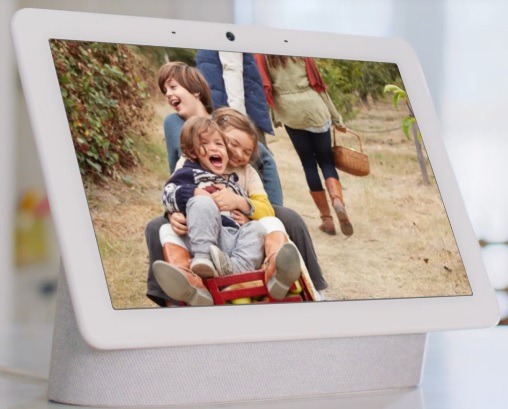 With built-in Google Assistant, Chromecast and 6.5 MP Nest Cam, Nest Hub Max offers both Wi-Fi and Bluetooth support. It is compatible with both Android and iPhones.
For privacy, you can turn off the microphones and camera or just one of them. You can periodically review and delete all your audio and video recordings from "My Activity" in your Google account.
3. LG XBOOM AI ThinQ
If you're looking for a really affordable smart display unit from a well-known brand, LG XBOOM AI ThinQ provides all the features you'll need. Available for less than $120, It comes with Google Assistant built in along with an 8-inch touchscreen and a camera for video calls.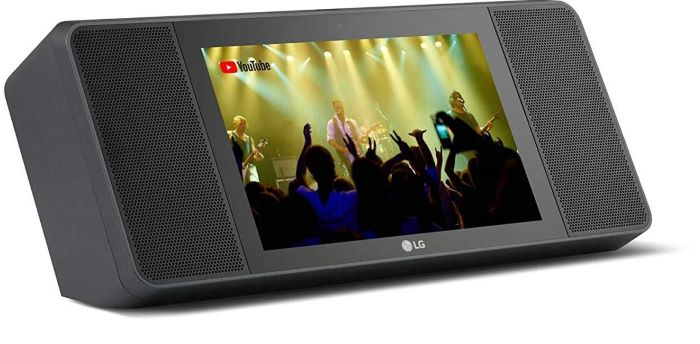 While at first glance you may not expect too many features from the LG display, it won't take you long to appreciate what is under the hood. Google Assistant support means the display unit can control over 5000 smart home devices.
For an elegant high fidelity sound, the device uses UK-based Meridian Audio which has a strong legacy in audio engineering dating to 1977. To manage privacy, you can delete all your video recordings from "My Activity" in Google.
4. GE Kitchen Hub
Most smart display units are designed to be operated from the bedroom or living spaces. How about the kitchen?
GE Kitchen Hub is the world's first smart display unit from a major consumer appliance company intended to support its entire range of products. At 27″, the unit is a massive touchscreen that comes with built-in Google Assistant and supports Alexa, Apple HomeKit, Sonos and IFTTT.
Slaving away in the kitchen is now a thing of the past as the GE Kitchen Hub allows you a Netflix break. Also, with two built-in cameras, you can video chat with loved ones on social media.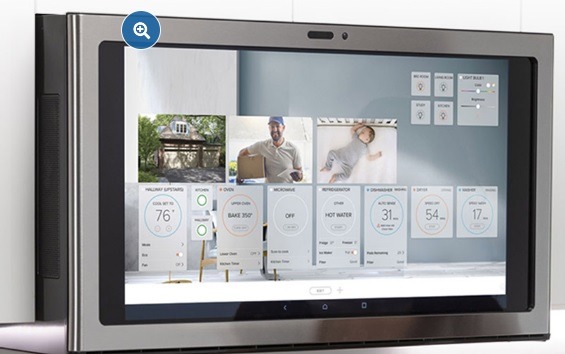 With GE Kitchen Hub, you can manage refrigerators, ranges, wall ovens, dishwashers, washers and dryers, and air-conditioners. More consumer appliance companies including Samsung and Whirlpool are expected to come with their own smart display devices.
Currently, this product is only available with authorized GE resellers.
5. Lenovo Smart Display
Closely integrated with Google Home and Assistant, Lenovo Smart Display is a powerful smart display that can control up to 5000 smart home devices. It is available for 8″ and 10″ display screens.
The device runs on Wi-Fi as well as Bluetooth, comes with a 5 MP camera, 10 W speaker and has an 86-degree wide-angle view. It supports Spotify, HBO now and Nest cameras.
If you're someone who is not comfortable with the idea of a camera watching your every move, Lenovo Smart Display can be turned off with a physical shutter as well as a simple command, "Turn off the screen."
6. Echo Show 5
If you're looking for a smart night stand, Echo Show 5 gives you a versatile edge. The device is compatible with Spotify, Pandora, Amazon Music, Apple usic, Audible, Prime Video and NPR. It allows you to make video calls as well as manage compatible smart-home devices just like Echo Dot.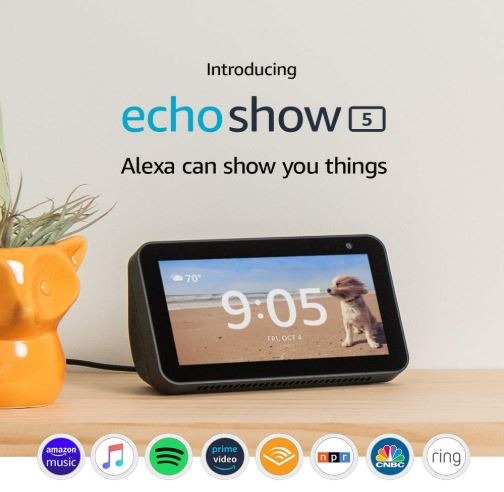 Conclusion
Smart displays are nothing less than a revolution in the making. They are increasingly a statement of a hands-free future.
Are you excited about smart display-enabled devices in your future home? Please let us know in the comments.
Subscribe to our newsletter!
Get the best of IoT Tech Trends delivered right to your inbox!