A key finder is a smart little electronic device that helps you recover missing keys or misplaced items. You can connect it to your keyring and pair it with your smartphone via Bluetooth and activate the alert on your key finder so you can know the exact location of your missing or misplaced keys or other items.
It uses a transmitter or phone app to pinpoint the location of your missing items. Some can help you do a reverse search if your phone is missing, while others can make your phone ring even if it's on silent mode.
If you're tired of losing your keys around the house or at the office, a key finder can help you locate them quickly. It isn't extremely accurate, but it'll give you peace of mind so you can keep your sanity and get on with your day.
Read through to find out the best key finders you can buy in 2020.
1. Tile Mate
Tile is one of the first companies to enlist Bluetooth capability to help people find their missing keys or other misplaced items. It's the world's best-selling Bluetooth tracker, loved for its small size, plus it's less bulky, so you can carry it with you everywhere, and we loved it very much.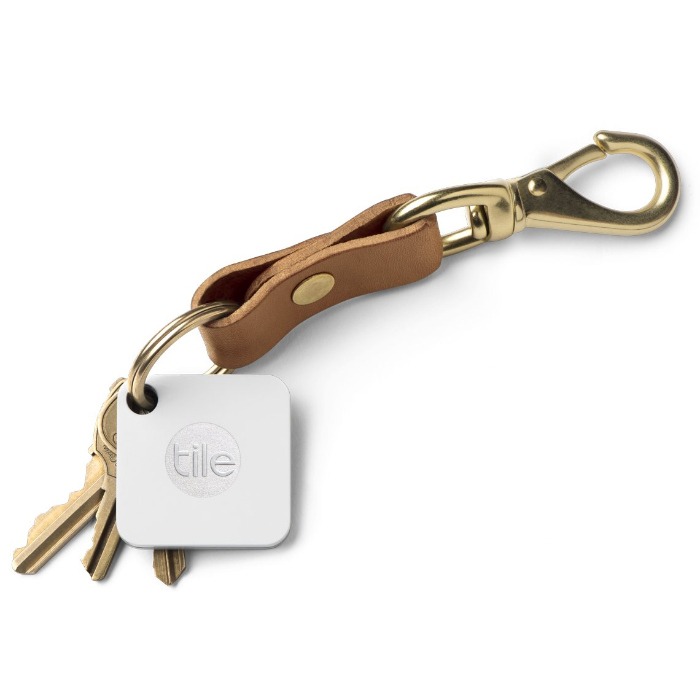 This key finder loops easily onto keychains and attaches to your keys, wallet, or other valuables you don't want to lose, so it's easier to find them.
It has a smartphone app to help you find anything nearby, plus a loud alert tune to help you pinpoint the exact location of your missing items. You can even stick it on your phone using adhesives to activate its ringer and find your items.
In case your missing items are out of range, the key finder is able to track its location history so you know where they were right before you discovered they were lost or missing.
You can also report your missing items on the app and get help from its extensive community of more than five million customer, who can report the items' location so you can find them.
Its battery can last up to a year on a single charge, so you won't need to worry about replacing your battery or recharging it for a long time.
What we like
Affordable
Battery lasts long and is replaceable
Active and helpful user community
Decent range
Not bulky
What we don't like
Not easy to open and replace the battery
2. Key Ringer Key-Finder Pair
This Key Finder Pair by Key Ringer is perhaps the loudest of the bunch.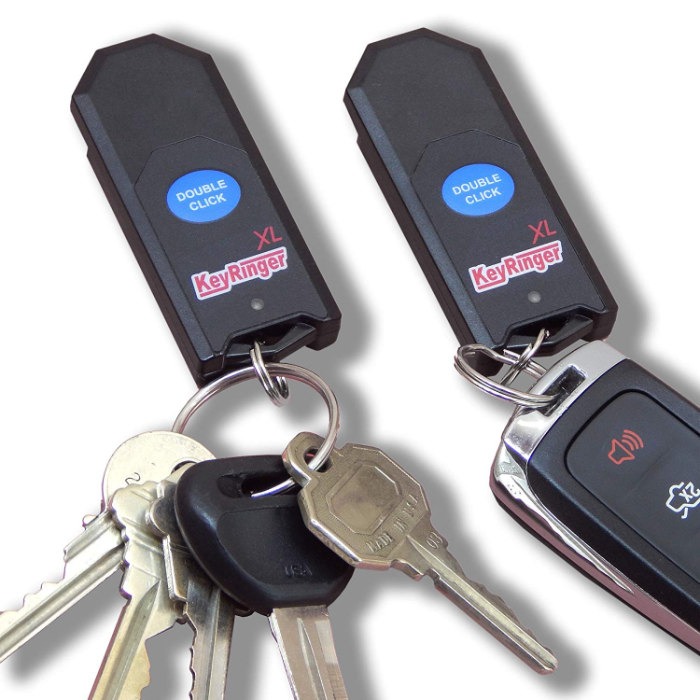 It comes as a pair almost the size of a thumb drive and attaches to your keys so that one set of keys can call the other set when you need to find your missing keys.
A range of up to 300 feet is available for you to activate one device from the other, and it makes a screeching sound so you know exactly where your missing item is located.
It's a durable product built with a high-impact case that won't break easily, with a two-year warranty in case it fractures. Plus, its battery is replaceable and can last up to 18 months.
What we like
Easy to use
Reliable
Two-year warranty and money-back guarantee
Doesn't need setup or programming
Durable
What we don't like
May be too loud
Big and clunky
Can be inadvertently activated
Some users complain about the battery life
Other users say it may stop working after some months
3. Click 'n Dig Model F6 Key Finder
The Click 'n Dig key finder comes as a pack of six brightly colored and stylish receivers – three flat receivers and three key-ring shaped – that serve different purposes depending on your needs.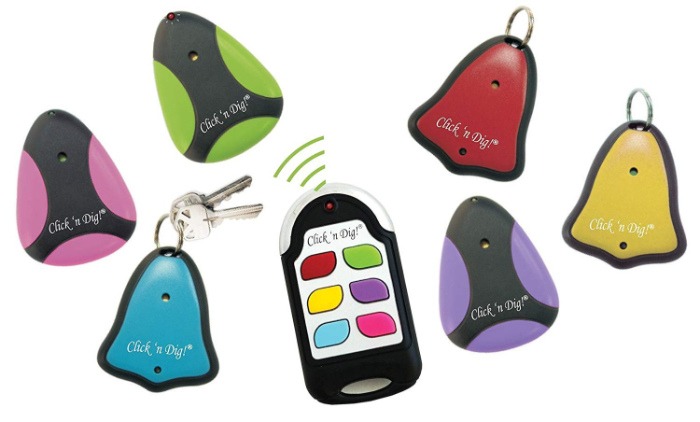 They're small in size and have a sturdy build so you can carry them around with you without them breaking or fracturing easily.
An RF (radio frequency) transmitter is included that penetrates cushions, walls, or leather so the receivers beep when hidden deep in your couch or sofa, or the other side of the wall.
To use it, just press and hold down the color button on the transmitter until a corresponding colored receiver beeps loud enough for you to find your missing item.
It comes with a 12-month warranty on both the key finders and batteries, plus includes a thin double-sided adhesive tape to attach to your items, including laptops.
What we like
Stylish and colorful
All receivers have flashing LED lights
Batteries readily available
Simple and easy to use
What we don't like
Limited range (up to 80 feet)
No app
May start beeping spontaneously
Bulky if you have a car clicker on your keyring
4. Esky
This is a remote key finder or tracker that attaches to your keys and other items like a purse, umbrella, or remote so you can find them easily.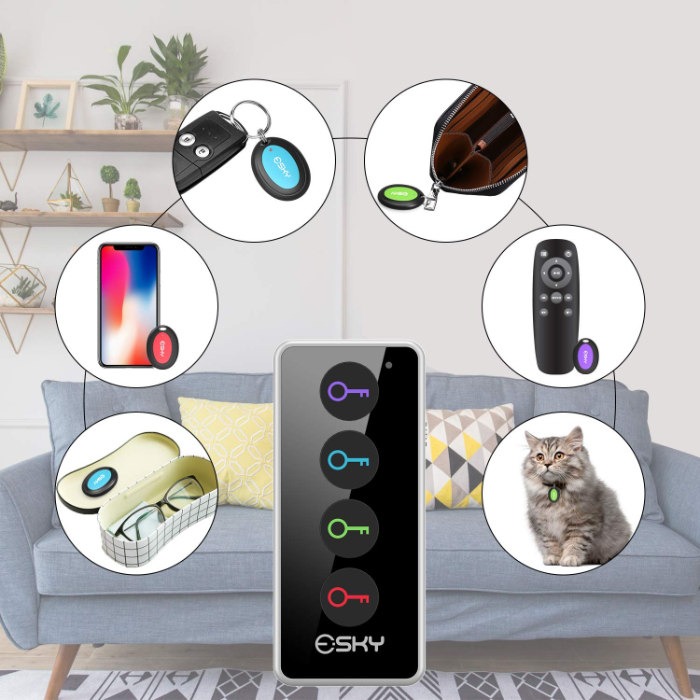 To use it, just push the colored buttons, and an audio beep sound will be produced to draw you to your lost items.
It offers a range of up to 30 meters, though, unlike other similar devices here with larger ranges. An LED light is included so you can find your lost items easily in the dark, plus a remote stand.
It's a clever and colorful way of tracking your lost valuables and uses radio frequency, which means it can penetrate walls, cushions, doors, and other interference between you and your items.
What we like
Affordably priced
Replaceable batteries
Useful for multiple items, including pet tracking
What we don't like
Limited range (up to 30 meters)
Hard to find items if you don't remember the color code
Not good for finding items lost outdoors
Wrap-Up
Key finders are inexpensive, easy to use, and help reduce stress, and save time plus the money you'd otherwise have spent to replace your keys. However, they also drain your phone's battery fast, but this is nothing compared to the peace of mind you get knowing your items can easily be found. Any of these four key finders can help you locate your missing items, but before picking one, consider the range, battery life, availability of a phone app, audible alert plus light, and price to find one that's suited to your needs.
Subscribe to our newsletter!
Get the best of IoT Tech Trends delivered right to your inbox!