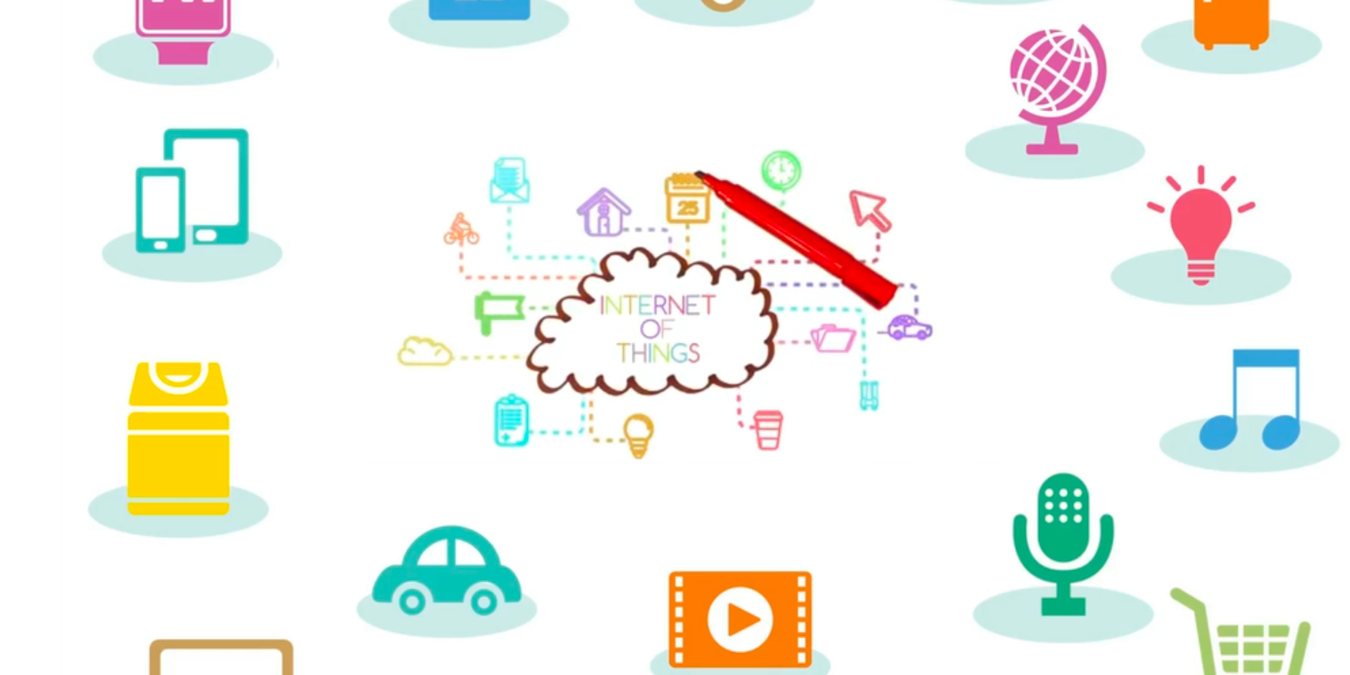 Developing for the Internet of things can be both interesting and lucrative. While it's similar to programming in any other field, you need to know some specific knowledge. It's not just about code.
If you want to develop for IoT, you'll need the skills first. Fortunately, this doesn't mean you need to take a course at your local college. With the courses on this list, you can learn to develop for IoT from the comfort of your own home and on your own time.
Programming Internet of Things – Beginning to Advanced Level
The Programming Internet of Things course from Skillshare assumes no prior knowledge, as the name implies. Starting from the basics, it eventually moves on to cover more advanced concepts.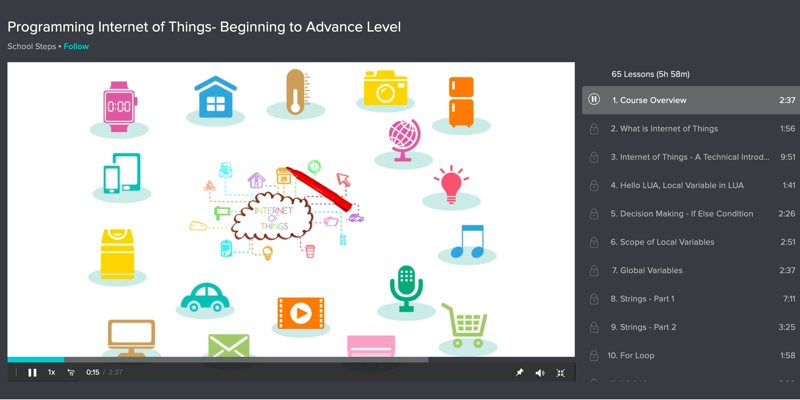 This course uses the Lua language, which is also used in game scripting, so if you've ever played with free game engines, you may be familiar. Even if you've never used it before, Lua is easy to learn and you'll be productive with it very quickly.
Microsoft Professional Program for Internet of Things
As you might imagine, the Microsoft Professional Program for Internet of Things is heavily reliant on Microsoft technologies. These include Visual Studio, Azure, and Azure IoT Services. If you're already familiar with one or more of these technologies, you'll be right at home with this program.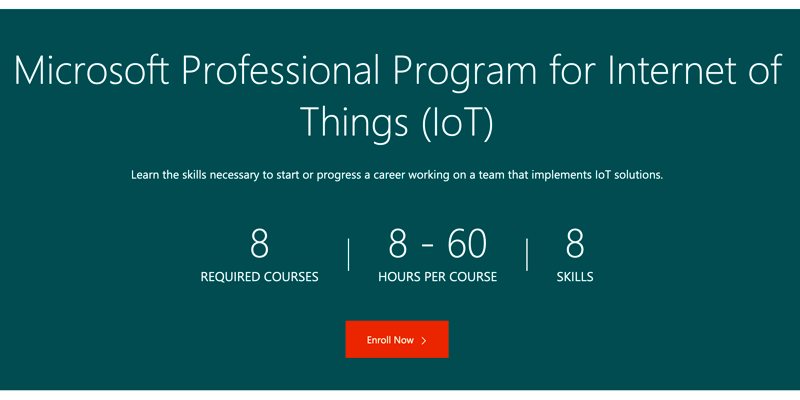 This actually consists of eight different courses, with each lasting from eight to 60 hours. It's quite the time investment, but at the end you'll have a very solid understanding of developing for IoT.
Programming the Internet of Things with iOS
If you already develop for iOS, the Programming the Internet of Things with iOS course from LinkedIn Learning is perfect for you. You'll learn to understand sensors, how to connect inputs and outputs, and how to use Apple iBeacon.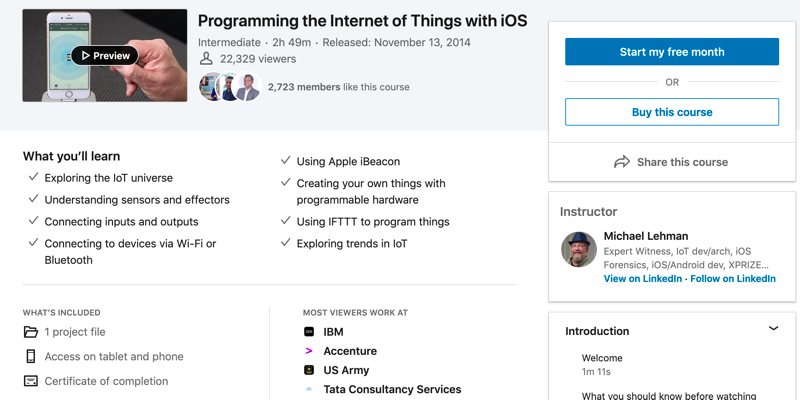 This class is for those with intermediate skill and will only take you around three hours to complete.
IoT Programming and Big Data
There are a ton of IoT-related courses on EdX, but the IoT Programming and Big Data course should be useful to learners of all skill levels. The course applies to programming in any language, though Python is used for the examples. This makes them easy to read.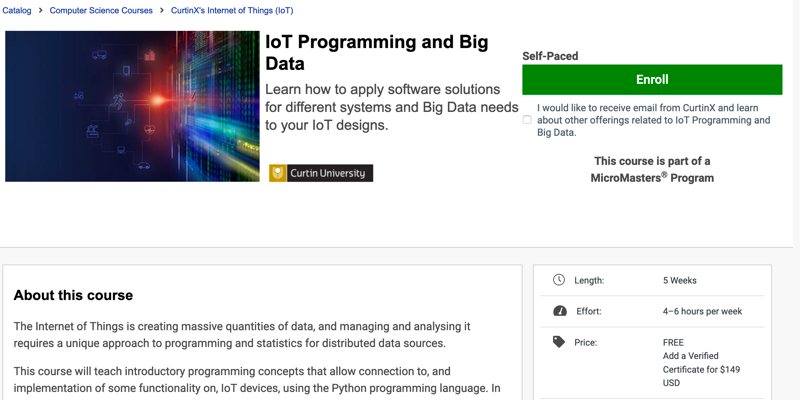 The course lasts for five weeks and should take you roughly four to six hours per week.
Programming with Cloud IoT Platforms
Like EdX, Coursera has plenty of IoT courses. The Programming with Cloud IoT Platforms is an especially good one, as it introduces IoT platforms from Samsung, Microsoft, Amazon, IBM, and Google. This should prepare you for a wide variety of scenarios.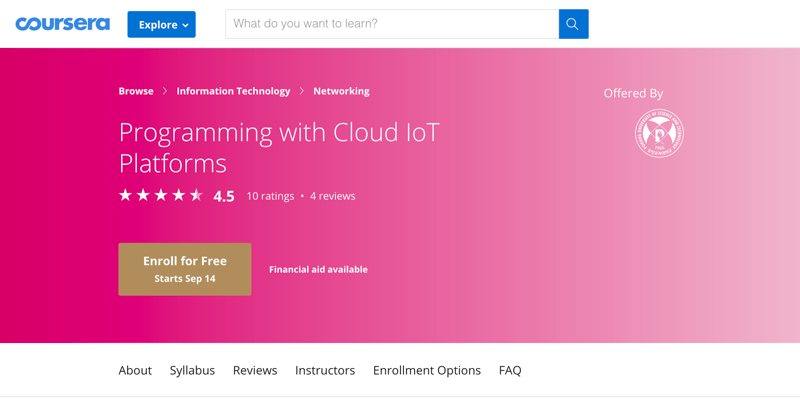 The course takes roughly nine hours to complete but is entirely flexible, so you can make it work with your schedule.
Conclusion
Plenty of the above courses overlap with each other, so you don't need to take all of them. You may be fine just taking one or two that appeal to you the most. Start slow, as you don't want to overwhelm yourself and burn out on the course.
Subscribe to our newsletter!
Get the best of IoT Tech Trends delivered right to your inbox!