For many of us, when we think of a "smart shoe," we think of the Nike sneakers worn by Michael J. Fox in "Back to the Future." But a smart shoe should do much more than just lace itself up, shouldn't it?
ASICS seems to think so, if you look at the smart shoe concept they debuted at the ASICS Energy Research Lab at the Consumer Electronics Show (CES) 2020. Instead of self-lacing, it's a performance shoe helping runners work out more efficiently.
ASICS at CES 2020
The ASICS booth at CES 2020 highlighted the work being done by the researchers at the ASICS Institute of Sport Science with the purpose of showing how technology could help runners be more efficient in their workouts through its partnership with sensor technology startup no new folk studio Inc. Their smart shoe combines the multi-dimensional sensors with expertise in human movement.
ISS and nnf presented the prototype of the ROPHE TRACK sensor embedded in ASICS' EVORIDE running shoes that include kick strength and stability inputs to give runners real-time feedback and actionable insights that will lead to them becoming better runners.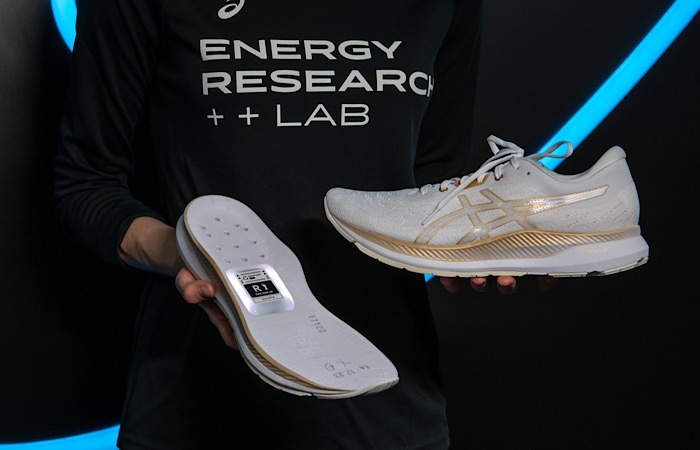 ASICS's first smart shoe will be released this year, though the EVORIDE shoe that launches will not include the innovative sensor that was highlighted at CES. The EVORIDE follows along in the ASICS lineup of energy-saving shoes, with the predecessors being METARIDE and GLIDERIDE.
The intended message of the ASICS Energy Research Lab booth at CES is "energy efficiency is essential for runners who want to perform and stay healthy. For both everyday runners and elite athletes, shoes and digital solutions that help them to run efficiently not only increase their performance and leave them energized for the next challenge but also protect them from burnout and injury."
Visitors to the ASICS booth at CES witnessed tests that will give runners real-time feedback and analysis from ISIS scientists. They were able to get hands-on with the smart shoe prototype and EVORIDE shoe and were also able to try out the Running Analyzer app, which is available in the company's flagship retail stores.
Enriching Sports Through Digital Technology
Kenichi Harano, the executive officer and senior general manager of ISS, shared that "one of our core strategies of ASICS is to enrich sports experiences through digital technologies," and the company was excited to "share what we've been working on" with the smart shoe technology.
Is ASICS's idea of a smart shoe the same thing you have in mind when you imagine such a thing? Are you interested in learning about better performance through technology? Tell us what your smart shoe ideal is in the comments below.
Image Credit: ASICS